Division 4 What's New!
District Elections
Sun, 23 Sep 18
RESULTS OF THE DISTRICT ELECTIONS:

DCO - Bill Bowen
DCOS - Mark Stone
DCAPT SECLIS-N - Paul Pronovost

DCAPT SECLIS - John Traganos
DCAPT SECNY-N - Michael West
DCAPT SECNY-S - Valerie Ramsberger

DCAPT Sector New York South Elect Valerie Ramsberger being frocked by DNACO Gus Formato and DCO Elect Bill Bowen. — at USCG Sector New York.
DCAPT Sector New York South Michael Rebek delivers his final DCAPT Report. Thank you for your service to the District. — at USCG Sector New York.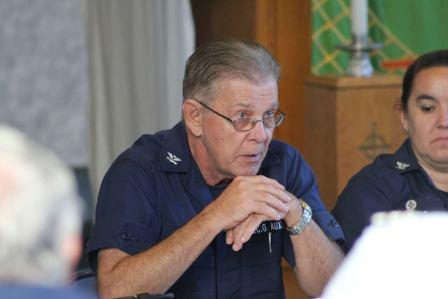 XXX

SECNY Change of Command
Sat, 09 Jun 18
Members of Division 4 attended the United States Coast Guard Sector New York Change of Command Ceremony on June 8, 2018

Mike Rebeck D-Capt SECNY-S, Dave Ten Broeck PD_CAPT SECNY-S George Reilly ASC SECNY Valerie Ramsberger DCDR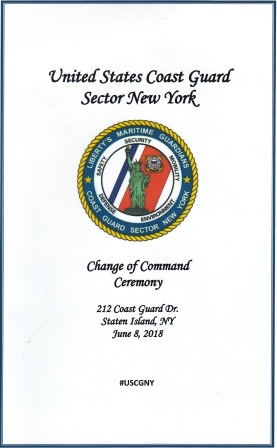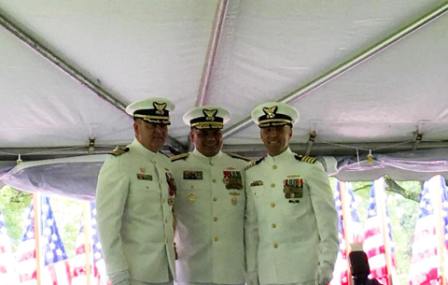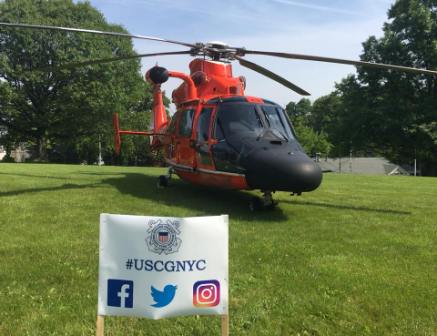 TO:
ALAUX
From:
CHDIRAUX
SUBJ: ANNOUNCEMENT
OF THE 26TH COMMANDANT AND THE 31ST VICE COMMANDANT OF THE U.S. COAST GUARD -
006/18
1. TheCommandant of the U.S. Coast Guard, Admiral Paul F. Zukunft, has issued the
following announcement:
To the men and women of our Coast Guard,
The Secretary selected and President Trump nominated Vice
Admiral Karl Schultz as the 26th Commandant of the U.S. Coast Guard! Please
join me in applauding Vice Admiral Schultz, who will provide the sound
leadership and steady hand needed to guide our global military service further
into this dynamic and extraordinary era of our Nation.
Further, I am honored to announce that Vice Admiral Schultz
selected and President Trump nominated Vice Admiral Charles Ray to become the
31st Vice Commandant of the U.S. Coast Guard.Vice Admiral Schultz and Vice Admiral Ray will lead the world's
best Coast Guard as our incredible men and women ensure the security andprosperity of this great Nation far into the future.
Semper Paratus.
Admiral Paul F. Zukunft
2. The purpose of this list is to keep Auxiliarists as well as all other interested
parties abreast of current developments, policies, manuals, etc. All
information contained herein and linked is OFFICIAL policy and Information.
3.Internet Release and Distribution is Authorized
XXX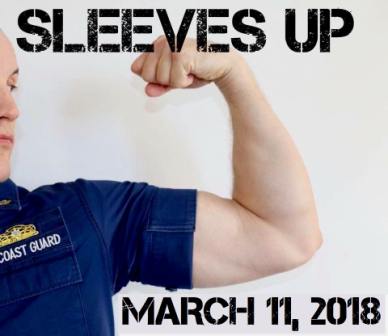 XXX

THINK TWICE ABOUT ICE

It's crucial to be prepared for emergencies on New Jersey's ponds, lakes and reservoirs this winter if you're ice fishing, waterfowl hunting, skating or snowmobiling, according to the Sewaren Flotilla of the U.S. Coast Guard Auxiliary.

Here are some safety tips:

Dress for the water. Hypothermia sets in quickly. Let a friend or relative know where you are headed and when you intend to return. Wear a Coast Guard-approved flotation device. Choose bright colors to be easily seen.

Pay attention to the weather forecast. New Jersey winters can be unforgiving. Check ice conditions. Ice thickness is not consistent. Stay away from cracks, seams, pressure ridges, slushy areas and darker areas -- all evidence of thin ice.

Carry a cell phone or a marine VHF handheld radio. Wear a whistle to alert people to distress. Maintain situational awareness and consider packing a GPS device.


Remember this acronym: ICE. It stands for Information, Clothing, and Equipment.
XXX


NJSBA president assists at New York City Marathon
through U.S. Coast Guard Auxiliary affiliation
New Jersey State Bar Association
President Robert Hille used his down
time on Nov. 5 to assist with security
and crowd control at the New York
City Marathon.

As a member of the U.S. Coast
Guard Auxiliary, Hille was attached to
a U.S. Coast Guard Police Unit at the
race, which drew more than 2 million
spectators and over 50,000 race participants.
Security at the annual event,
which is already tight, was intensified
further after the terrorist attack in
lower Manhattan earlier in the week.

"I volunteered in the wake of Tuesday's
NYC attack with a desire to assist
in the event additional personnel were
needed," Hille said, noting he had participated
in a similar capacity after the
2013 Boston Marathon bombing.

"I was proud to assist with a great
branch of the service and some of the
best active duty and reserve personnel
America has. I think we provided a significant
measure of comfort to participants
and spectators and were an
effective deterrent."

XXX

Boat Hits Rocks in Arthur Kill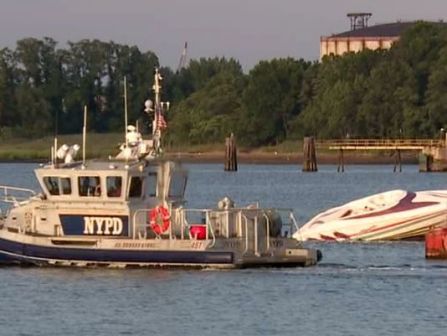 WOODBRIDGE — Five people were injured, but none critically, in a boating accident in the Arthur Kill Channel on Sunday afternoon, according to New Jersey State Police.

New Jersey State Police were called to 1 Ferry St. in Woodbridge at 5:41 p.m. for an accident in the Arthur Kill, according to Trooper Alejandro Goez.

Goez said a 27-feet Baha vessel was traveling south in the Arthur Kill when it struck rocks, resulting in injuries to five of the eight people aboard. Goez said the five people, ranging in age from 16 to 40, were transported to Robert Wood Johnson University Hospital in New Brunswick. Three people were not injured.

Goez said a 35-year-old woman, initially thought to have life-threatening injuries, was airlifted to the hospital. It was later learned that none of the injured people had life-threatening injuries, Goez said.

Beside the 35-year-old woman, also injured were four men, ages 16, 35, 39 and 40. Goez did not have the hometowns of the injured and also did not have information about where the boat trip started.

The cause of the crash is under investigation,

xxx

Fri, 14 Apr 17
Valerie Ramsberger receives her Watchstander certificate
from OTO Bosn John Phllips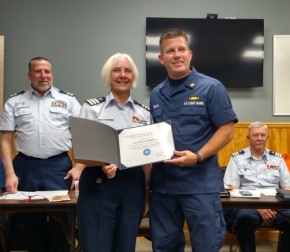 Fri, 10 Mar 17
2016 District Captain Award presented by Gerard Andrews to Jim Dry
XXX

Congratulations to Gus Formato on his appointment to District Commodore
and to Valerie Ramsberger as Division Commander with Dean Ferraro as Vice Division Commander
xxx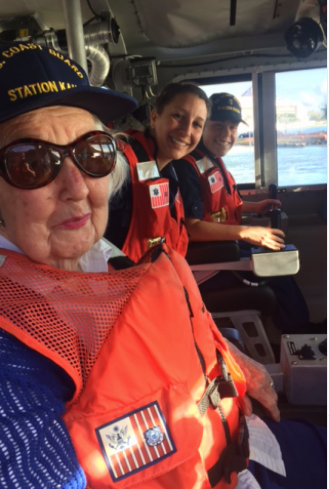 Happy 99th birthday to Genevieve Andersen, Kauai's oldest female veteran!

Ms. Andersen was born in 1917. She was one of the original members of the Coast Guard's Women's Reserve - also known as the SPARS.

Last February, she took the helm of a 45-foot Response Boat-Medium (CG45762) and finally got to go underway aboard a Coast Guard vessel.

###

New DNACO LANT Area East
Alex Malewski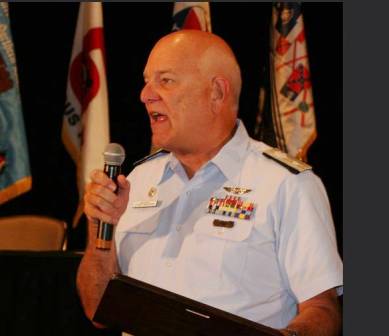 #

my.cgaux Member Portal Launches
This morning our new my.cgaux member portal was launched. This is a key step as we seek to make it easier for members to collaborate, communicate, and lead our organization. Ultimately the goal of my.cgaux is to make your service as an Auxiliarist easier and make all of us more effective.
To explore my.cgaux visit https://cgaux.org/swl/login.php and login with your Member Zone login.