Welcome to the Division 4, District 1SR Web Site

---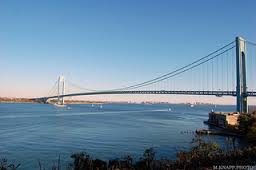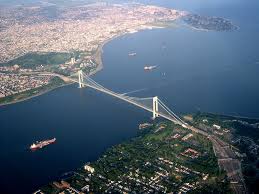 The Verrazano–Narrows Bridge (sometimes called simply the Verrazano Bridge) is a double-decked suspension bridge in the U.S. State of New York.

The bridge establishes a critical link in the local and regional highway system, and also marks the gateway to New York Harbor. All cruise ships and container ships arriving at the Port of New York and New Jersey must pass underneath the bridge.

Construction on the bridge began August 13, 1959, and the upper deck was opened on November 21, 1964 Total length 13,700 feet (4,176 m) Longest span 4,260 feet (1,298 m) Clearance below 228 feet (69.5 m) at mean high water.

---
Who We Are
The Coast Guard's philosophy is to be SEMPER PARATUS (ALWAYS READY) against all threats and all hazards. The Coast Guard Auxil
iary is an integral part of that philosophy and the Coast Guard Forces. We conduct safety patrols on local waterways, assist the Coast Guard with homeland security duties, teach boating safety classes, conduct free vessel safety checks for the public, as well as many other activities. The Auxiliary has members in all 50 states, Puerto Rico, the Virgin Islands, American Samoa and Guam.
Our Vision
As a component of the U.S. Department of Homeland Security,U.S. Coast Guard, and a servant of the public, the U.S. Coast Guard Auxiliary, in its role as the designated National Recreational Boating Safety Coordinator, is a leader in improving the boating experience of the maritime public. We are an organization noted for working in partnership with all stakeholders within the waterways activity spectrum and across all modes of transportation to reach consensus solutions. We measure our success by our customer satisfaction, and our customers' needs help define our workload and priorities
.
Our Mission
To minimize the loss of life, personal injury, property damage, and environmental impact associated with the use of recreational boats, through preventive means, in order to maximize safe use and enjoyment of U.S. Waterways by the public.
Are you looking for an adventure while serving your country and your community?
Then consider joining the U.S. Coast Guard Auxiliary. Wherever your interests lie, and whatever life skills you have, chances are that the U.S. Coast Guard Auxiliary can offer you an area to serve that will enrich your life in ways you may not have imagined.
The U.S. Coast Guard Auxiliary offers you a unique opportunity to make a real difference in your local community and across the country.
We welcome and recognize your past experience, skills and talent. We challenge you to have fun learning new skills and qualifications in company with a very special group of volunteers.
The U.S. Coast Guard Auxiliary offers a number of opportunities, but the tasks can generally be divided into three service areas:
Recreational Boating Safety

Operations and Marine Safety

Mission Support
U.S. Coast Guard Auxiliarists are able to partake in training and perform missions in any of these areas.
For more information
on joining our mission
contact: