Required Training For New Auxiliary Members
Required minimum training for new members
Posted by: Timothy Czeisel
(Auxiliary Classroom) Minimum training requirements for new or prospective members
ALL new members will have to take the BQ 2 class. Please follow the link below for more information:
http://wow.uscgaux.info/content.php?unit=T-DEPT&category=basic-qualification
How and when your status changes once you join,
AP Status: This is where all new applicants start off. When a person joins the Coast Guard Auxiliary they fill out an application, complete a short open book quiz, and undergo an initial security check called a Personal Security Investigation or PSI. This process could take a couple of month and at this time the member is in AP status or Approval Pending.
If the PSI comes back approved then the member moves into either IQ or BQ status. If the member takes a few required classes they will be in BQ status. BQ allows the member to head toward more operational activities.
IQ Status (Initially qualified)-The member's PSI came back favorable and they have not completed the BQ mandated courses below. If an IQ ID is already received and then the courses below are taken after a new ID is usually automatically issued with the passing and completion of the below courses.
BQ Status (Basically qualified)-To become BQ an Auxiliarist must have completed their application, have a favorable PSI, and must have completed the Basic Qualification course.
(these are in addition to the PSI above)
2016 BQ course +Video Auxiliary Classroom
The Basic Qualification Course includes:
ICS100 and IS700 (See image below)
Mandated Training – 8 courses See Link


A NASBLA certified Boating Safety Course e.g. ABS, BS&S, SS&S


ADM Papp Leadership Series Videos (Video Links Can Be Viewed/Downloaded Here)

A Member Involvement Plan (See Link)
View BQ Course Study Guide
FEMA/NIMS course visualization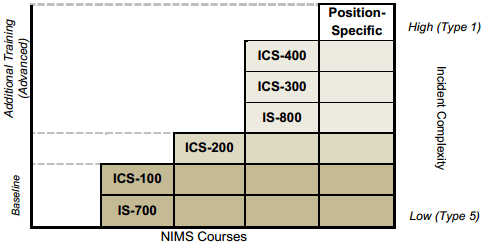 FSO Job descriptions
Mon, 01 Jan 18 Posted by: Timothy Czeisel
How to be a staff officer and (FSO) job descriptions.
FSO positions include:
Aids to Navigation
Communication Service Officer
Communications Officer
Finance Officer
Human Resources Staff Officer
Information Systems Officer
Marine Dealer Visitor Officer
Marine Safety and Environment Protection Officer
Materials Officer
Member Training Officer
Operations Officer
Public Affairs Officer
Public Education Officer
Publications Staff Officer
Secretary
Vessel Examinations Staff Officer
How to be a Vessel Examiner
Wed, 10 Feb 16 Posted by: Timothy Czeisel
How to become a V.E in the Coast Guard Auxiliary
The following information outlines how to become a Certified Vessel Examiner in the United States Coast Guard Auxiliary:
1. The member must be at least Basically Qualified (BQ).
2. The member/trainee must pass the Vessel Examiner Test, either online http://cgexams.info/testing or hardcopy, with a score of 90%. If taking the test online, read the test instructions carefully. Hardcopy VE tests must be ordered from the DSO-VE 13. Either test can be taken "open book"
*** I suggest before taking the test and doing the 5 training VSCs, check out the workshop site that is attached to this memo.
3. The member/trainee performs 5 Vessel Safety Checks with a qualified, mentor, Vessel Examiner. These 5 VSCs can be with more than one mentor. The VSCs are entered on the ANSC 7038 form listing the mentor as lead and the student as trainee. Note in the 7038 REMARKS section that the VSCs were performed as training for qualifying a new VE. The FSO-IS needs to enter this information into AUXDATA before the trainee can receive their Certification. Ask your FSO-IS to process the 7038 asap, as DIRAUX will not issue the VE Certification until the 5 mentored VSCs are in AUXINFO.
After completing the above:
4. The District 13 VE Qualification form must be signed by the mentor and sent to the DSO-VE13 who will verify that all the steps needed to become a Vessel Examiner have been accomplished, and then will sign and mail the form to DIRAUX. The form is attached and my address is noted below. The DSO-VE must verify the BQ status, VE Test and the 5 VSCs before submitting the D13 Qualification Request Form to DIRAUX.
5. Keep copies of all your paperwork associated with your Vessel Examiner training.
Read more about this here. Link also contains training manuals for your reference.

How to become an Interpreter
Wed, 10 Feb 16 Posted by: Timothy Czeisel & Lukasz Bator
Speak multiple languages? become an interpreter for the USCG Auxiliary!
What is an Interpreter?

What does an interpreter do? Click here
To download the application or for more information refer to this link http://icdept.cgaux.org/questionsandanswers.htm
To view Interpreter program guidelines click Here.
For information about the USCG Aux Interpreter Corps click here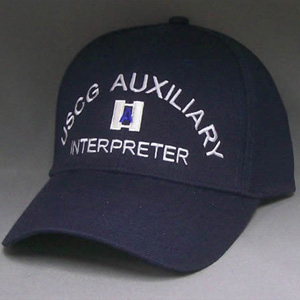 Auxiliary interpreters are most commonly used to support Coast Guard operations. The missions
vary from translations of simple documents to comprehensive guidelines to long shipboard
deployments.
Interpreter activities include:
• U.S. Coast Guard cutter deployments.
• U.S. Navy ship deployments.
• Foreign visitor escort specialist program.
• Foreign VIP tours.
• Foreign SAR Subject Matter Expert Exchange (SMEE) events.
• Foreign border guard events.
• Foreign conferences.
• Foreign marine safety and prevention training events.
• Foreign language teaching at Coast Guard training centers.
• Communications watch standing.
• Translations of incident investigating documents.
• Translations of marine safety and prevention guidelines.
• Other missions, as authorized by the Commandant of the Coast Guard.