Welcome to the Flotilla 1-2, District 1SR Web Site
Flotilla 1-2 is located in Amityville, NY. We help patrol the Great South Bay and support US Coast Guard Station Fire Island. Our meetings are usually held on the first Wednesday of each month at the Amityville Memorial High School, Student Library, 250 Merrick Road, Amityville, NY 11701. Doors open and the meeting starts at 7:30pm.
Our October flotilla meeting will be held at Amityville High School on Wednesday, October 3, 2018, starting at 7:30 pm. All are welcome to attend.
If you don't want to attend a meeting, you can still take advantage of the services we provide to boaters. Our most popular are the Boating Safety Classes and Vessel Safety Checks. Please check the Four things you can do to make your boating safer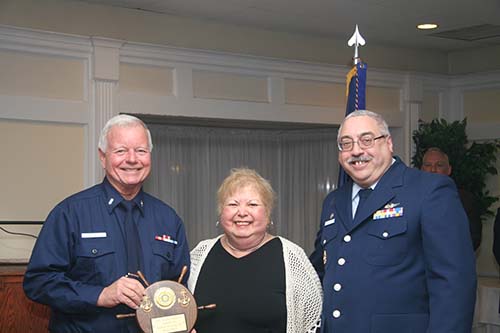 Vice Commander Michael Doncer (left) receives his Auxiliarist of the Year plaque for 2017 from Flotilla Commander Diane Ortiz (center) and Division 1 Commander Mark Stone (right) at the Division Change of Watch Ceremony on February 4, 2018.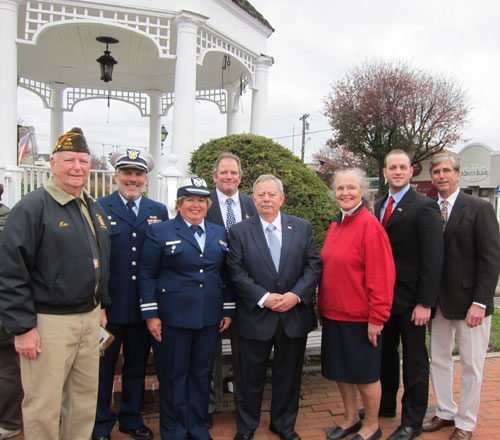 Flotilla Commander (2015-2016) George Tranos and Vice Commander Diane Ortiz represented the USCG Auxiliary and the Amityville Flotilla at the annual Veteran's Day ceremony at the Gazebo in Amityville Village on November 11, 2015. Shown (left to right): Ken Budd of the John Kreyer VFW Post in Amityville, FC George Tranos, VFC Diane Ortiz, Village Trustee Dennis Siry (in back), Amityville Village Mayor Jim Wandell, Deputy Mayor Jessica Bernius, Tyler Parks (Legislative Aide to Assemblywoman Kimberly Jean-Pierre) and Village Trustee Kevin Smith.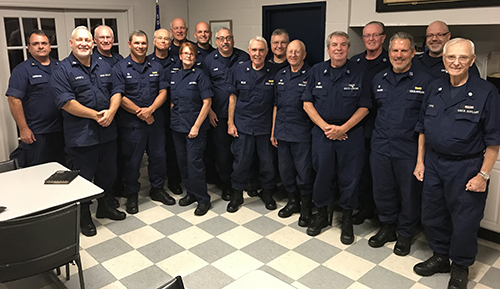 US Coast Guard Auxiliary Division 1 Bridge and Staff 2017 at Coast Guard Station Fire Island.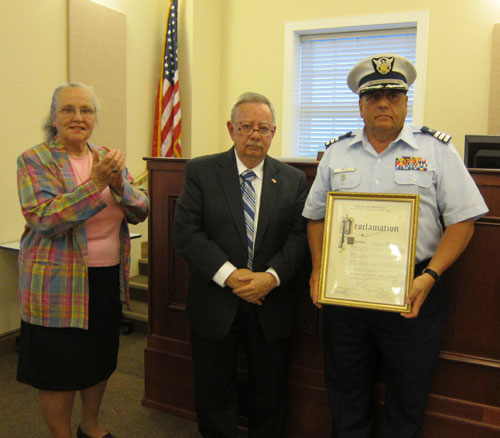 Amityville Village Mayor James Wandell (center) presents a proclamation to Amityville Flotilla Commander (2013-2014) Rick Aimetti (right) at the June 2014 Amityville Board of Trustees meeting as Deputy Mayor Jessica Bernius (left) looks on.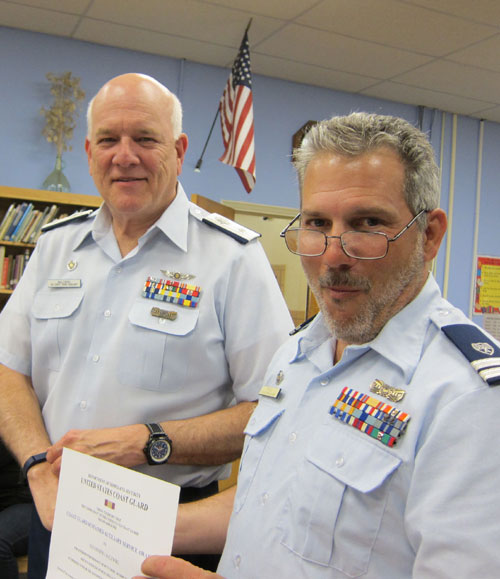 Deputy National Commodore Atlantic Area Alex Malewski and Immediate Past Flotilla Commander George Tranos
Membership in the Coast Guard Auxiliary is open to U.S. citizens, at least 17 years old, and pass a basic background check. There are no upper age limits or height/weight standards, although for operational activities, you must be physically able to perform certain tasks. There are no minimum service hours – you can serve as little or as much as you want.