Request a Courtesy Vessel Safety Check of Your Boat or Paddle Craft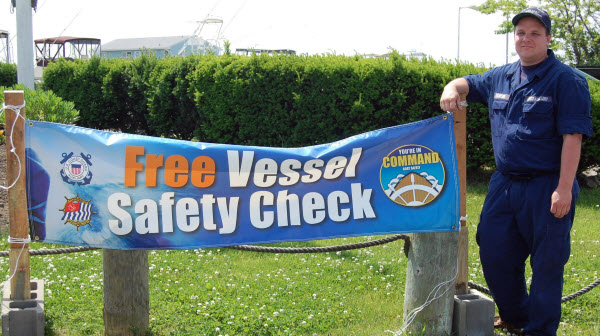 The US Coast Guard Auxiliary has certified vessel examiners who will perform a free Vessel Safety Check, VSC, of your boat or paddle craft. Upon successful completion of the VSC you will be awarded a USCG Vessel Safety Check sticker to display on your boat's windshield or your paddle craft.

There is no charge for the VSC and no consequences if you don't pass. Our goal is simply to help make boating as safe as possible for you, your family and your friends by ensuring that you meet all USCG requirements for safety equipment.

Vessel Safety Check Video
(Link to US Coast Guard sponsored video on Boating Magazine web site.)

Safety Check Requests

To request a vessel safety check, please visit this web site: http://cgaux.org/vsc/
Click on "Find an Examiner" on this page. Be sure to include your contact information and the zip code where you moor or dock your boat. We conveniently perform the VSC wherever your boat is in the water and at a time that is mutually agreed upon.

After you make an appointment for your courtesy vessel safety check and before that day, you can prepare your boat by using the Coast Guard's Virtual Vessel Examiner: http://wow.uscgaux.info/content.php?unit=v-dept&category=virtual-safety-check. You will not be awarded a VSC sticker after using the Virtual Vessel Examiner.

We wish you a fun and safe boating season!

Sincerely,

Division 1, USCG Auxiliary
"Honesty - Dedication - Devotion to Duty"