Why Join?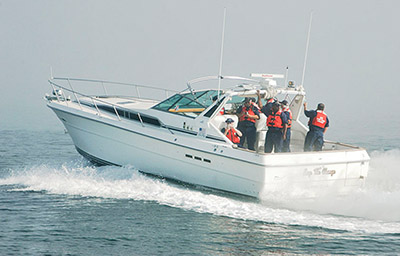 This patrol is headed on a mission under the command of the coxswain. They have assessed the risk, formulated a plan, and have communicated with the nearby Coast Guard Station. The code words are safety, teamwork, and situational awareness.
One Member's Story
I joined the auxiliary because of the people, and because in these troubled times, I enjoy being with people who love this country as much as I do. Meetings begin with a hand over your heart and the pledge of allegiance to the flag.
11 years ago at a boat show in the auxiliary booth I asked the amiable man in uniform "can I join the auxiliary?
He answered "absolutely."
I asked, "What would I do?"
He said I could go on patrols, and take classes.
This appealed to me because I love the ocean, salt air, and boating, but I didn't own a boat.
That was the beginning of a most enjoyable, worthwhile two years of classes in boating and seamanship, as well as crew qualification classes. After each lesson unit, you had to answer questions correctly, confidently, and without hesitation.
Classes covered team leadership, how to recognize and treat physical conditions like dehydration, burns, bleeding, heat stroke, fatigue, hypothermia, etc. Physical task requirements included hoisting an anchor, lifting someone out of the water, tying knots, securing a line to a cleat, and how to tow another boat. Other modules covered fires on board, the use of flares and mirror signals, and procedures for radio calls to the Coast Guard Station. We wore appropriate uniforms for meetings and patrols, and we also practiced wearing dry suits in the water.
The Auxiliary is not just classes; there are also social events where members get together and enjoy a fellowship that comes from the excitement of sharing the same goals.
If I ever move to another city in this country I will join a flotilla because it's an immediate source of new friends; like-minded, interesting, intelligent, capable people who exemplify the Coast Guard ethos of serving the people of the United States, by helping them, and protecting their safety and well being. Auxiliarists are proud to make a difference.