Division 12 What's New!
Passing of Anne Keating.
Read notice
in the Boston Herald.
---

Safe Boating Classes: Classes through the US Coast Guard Auxiliary will be held at Hingham high School on Wednesday evenings starting February 28-May 9 from 6:30-8:30pm. Class costs $55 and curriculum includes: LINES AND KNOTS, AIDS TO NAVIGATION, BOAT HANDLING, PILOTING (CHARTS) WEATHER, MARINE ENGINES, MARINE RADIO COMMUNICATIONS,TRAILERING AND MORE! If interested please contact Paul Milone at pmilone@weymouth.ma.us or at 1-781-682-6109. We promote Safe Boating!
Weekend navigator classes: Classes through the US Coast Guard Auxiliary will be held at Lillian Jacobs Elementary School on Tuesday evenings starting 6 March to 09 May from 7:00 - 8:45. Class costs $65. Navigation charts and books will be supplied. Curriculum includes: Basic Navigation and Piloting. Student supplies their own navigation equipment (dividers, parallel ruler, triangles, items they use for navigation) Select boating safety covered (weather, tides and currents). If interested please contact Paul Milone or Dave Clinton at pmilone@weymouth.ma.us or at 1-781-682-6109. Dave Clinton at uscgacm@comcast.net or at 781 706 2726 We promote Safe Boating!

---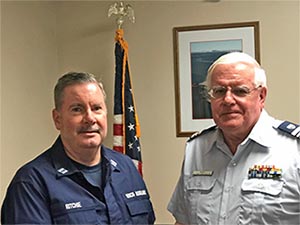 Election October 26, 2017. Leadership for 2018.
Gerard Bogus DCDR, and Kevin Ritchie VCDR
Change of Watch will be January 14, 2018, Hingham Yacht Club.
---
On Thursday August 10th, the 1st District Team Coast Guard Color Guard Unit presented colors for
the first pre-season game of the 2017 season for the five time Super Bowl Champion New England Patriots
at Gillette Stadium in Foxboro Ma.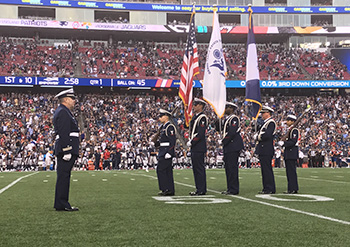 The combined team of Division 12 Auxiliarist and active duty members from Station Boston, Station Pt. Allerton and Station Gloucester has been working with the Kraft organization for nine years, completing over thirty presentations at Gillette Stadium for the Patriots, Revolution and several other special events this year including the NCAA Division 1 Lacrosse Championship and Monster Truck event.

In early July, Division 12 Color Guard Commander Kevin Ritchie was notified that the Patriots, after consultation with their internal public affairs team and the NFL, were selected to present colors for the opening game of the pre-season, and one regular season game. This is the second season in a row where Team Coast Guard was asked to present at two games for the season including the opening pre-season game, a honor not granted to any other color guard unit.

The six member team was required to arrive at Gillette Stadium at 4pm, three and a half hours before the 7:30pm game time. Upon entry to Gillette Stadium members were scanned and checked in and all equipment was searched by law enforcement and K-9 units. The unit was then escorted to a private conference room down the hall from owner Robert Kraft's office. At 5pm the team was brought on the field for a briefing and walk through for the opening ceremony and presentation of colors. The team was then escorted back to the conference room they shared with country music star Timmy Brown who was singing the national anthem. Members of his entourage included DJ's from the country music station The Bull 101.7fm.
At 7pm,
the Color Guard team members along with special assistant Lauren Suraci were escorted back
down to the field for the presentation. At 7:24pm SK2 Justin Gatson called the unit to attention and the unit began it's single column march to the the fifty yard line. After the presentation, several members stayed and enjoyed the game and the surrounding entertainment of Patriot Place. The team as always looks forward to future presentations at Gillette Stadium.

Photo's by Lauren Suraci . Team Members (photos 1,2,3,5,6,7 L to R) Aux Kevin P. Ritchie, MK3 Ryan Scandurra, OS2 Tony Lombardi, SK2 Justin Gatson, Aux Craig Hall, SK3 Rupica Avinizis.
---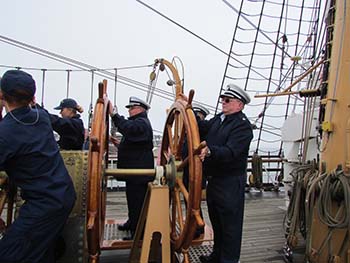 Matt Mulvey at the helm of the Eagle during Sail Boston, June, 2017.
---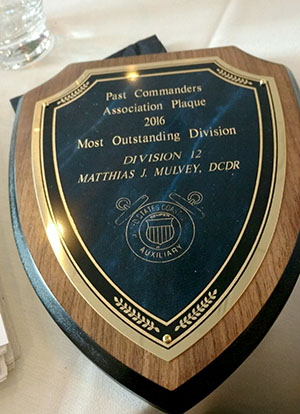 Congratulations Division 12 1NR!
---
BOATING SAFETY. Useful information on regulations, accident statistics and much more.Every year the U.S.Coast Guard compiles statistics on reported recreational boating accidents.
Eight out of every 10 boaters who drowned were using vessels less than 21 feet in length.

Operator inattention, operator inexperience, improper lookout, machinery failure, and excessive speed rank as the top five primary contributing factors in accidents.

Alcohol use is the leading known contributing factor in fatal boating accidents; where the primary cause was known, it was listed as the leading factor in 17% of deaths.
2015 Recreational Boating Statistics
---
SECTOR BOSTON AWARDS
Congratulations 12-5 for a clean sweep of the categories.
Auxiliarist of the Year: Kevin Ritchie, VFC, Flotilla 12-5
Trainee of the Year: Connor James Quinn, Flotilla 12-5
Flotilla of the Year: Flotilla 12-5

---
COLEMAN FLASHLIGHT RECALL due to fire hazard. Coleman CTAC Lithium-Ion flashlights. The lithium-ion batteries can overheat, posing a fire hazard to consumers. Consumers should immediately stop using the recalled flashlights and contact Coleman for instructions on returning the flashlights for a full refund.
---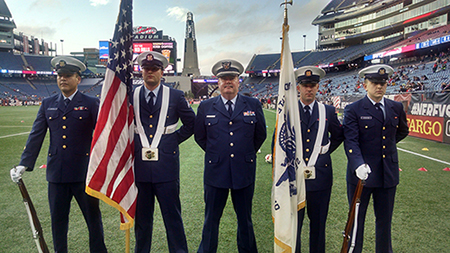 Color Guard at the New England Revolution, Gillette Stadium, Foxboro, MA.
---
Photos
of three carrier groups. Plus USS New York.
---
Nor'Easter,
First District Northern. ME, NH, MA, RI. Volume 66, Issue I
---
MANDATORY TRAINING VIDEOS now available. Go to D1NR webpage, click on Members, click on National Website Upgrade. At the top of the screen you will see videos for Mandatory Training topics.
FACEBOOK
for U..S. Coast Guard Northeast
COAST GUARD BLOG.
New and very interesting. Full of information and connections to Instagram. Youtube. Flickr.
| | |
| --- | --- |
| | BOSTON - The United States Coast Guard released its first boating safety mobile phone app as part of the kickoff of National Safe Boating Week in May 2015. Read more here. New Mobile app for Boating Safety. |