Flotilla 11-2 Member Training
Member Training is a Priority of 11-2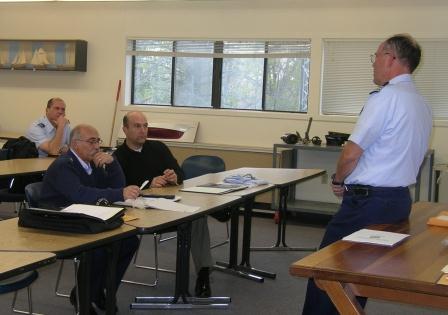 Throughout the Auxiliary, recruiting and training Members is a priority.
Training is available in many courses including; Boat Crew, Coxswain, Air Crew, Vessel Examiner, Instructor, Aids to Navigation Verifier, Radio Watchstander and Auxiliary Chef as a few examples. Study and training in one of these specialty areas, followed by an examination, leads to QUALIFICATION in that area. Qualifications are then maintained by active participation in that specialty area.
Whatever your interest, you will find a structured and comprehensive path to advancement as a qualified member of Team Coast Guard.
Training of Auxiliary members is accomplished in several ways:
On-Line in self study programs or in "WEBEX" courses;

Group instruction in classroom settings;

Individual or small group hands-on training by qualified Auxiliarists;

Workshops and training sessions;

Advanced training in specific areas. Available at "C-Schools" conducted by the Coast Guard and by "on the job" training alongside USCG active duty personnel;

Training by affiliated organizations such as FEMA (Incident Command System training).

Many Auxiliarists are qualified in a number of different areas depending on their interest and they can continually pursue new training challenges. The opportunity to achieve higher levels of competency is one of the finest benefits of Auxilary membership.
The Flotilla Staff Officer for Member Training (FSO-MT) is available to provide additional information and resources. The Auxiliary's National Training Department has a useful webpage. New Members will find information in the New Member Reference Guide.