Welcome to the Flotilla 5-8, District 1NR Web Site
Serving the Dorchester, MA. Area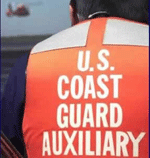 Semper Partus
(Always Ready)
Flotilla 5-8 was founded as the Old Colony Flotilla, part of the Hub Division (Division 5). Our Mission is to Serve the Coast Guard, the maritime community and the boating public with skilled, knowledgeable, and willing members.
Flotilla 5-8 conducts Vessel safety checks, harbor patrols, safe boating courses, search and rescue missions. These are just a few of the services provided by Flotilla 5-8 and the Coast Guard Auxiliary.
Membership in the Auxiliary is open to persons 17 years of age and older. We are organized into 16 districts nationwide, comprised of 171 divisions with approximately 980 flotillas. No matter where you live, there is a flotilla near you. Find the unit nearest your Zip Code by clicking on "Units" at the top of this page. And for dozens of reasons why you should join, visit "Recruiting" again at the top of this page, or join us at our next Flotilla meeting. See our Meeting Schedule page for directions and meeting date and time. You will not be sorry!