Flotilla 4-6 What's New!
New Modern Marine Navigation Online Course
The Coast Guard Auxiliary and the BoatU.S. Foundation have released a new state-of-the-art online interactive course known as Modern Marine Navigation.
This comprehensive course provides the recreational boater with a navigation training program approved by the Coast Guard Navigation Center in a completely online format. To learn more about the course, and to enroll, go to: http://www.boatus.org/navigation/. Remember to enter the promotional code 0130406 to receive a 10% discount on the course.
Whether you want to improve your navigational skills on your local waters, or you're longing to cruise in foreign and exotic locations, Modern Marine Navigation will help you on your way to become a better boater conveniently, in your own home. With this course you will learn the basics of plotting, reading charts, identifying ATONs and using them to find your way on the water as well as an introduction to electronic navigation all presented online where you can study at your own pace. This is the only navigation course to be completely vetted by the U.S. Coast Guard Navigation Center.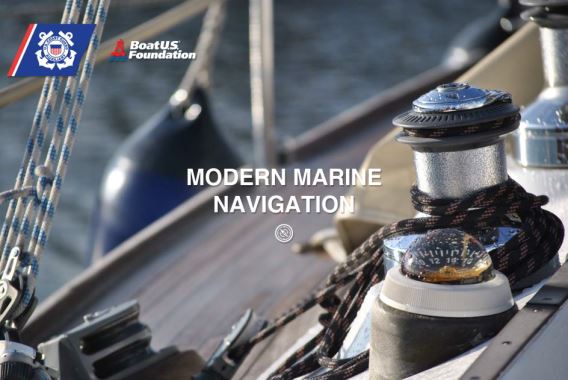 Free
Interested in the Coast Guard Auxiliary?
Are you interested in learning more about the United States Coast Guard Auxiliary?
If you are looking for some adventure in your life, consider joining the U.S. Coast Guard Auxiliary. Wherever your interests lie, and whatever life skills you have, chances are that the Coast Guard Auxiliary can offer you an area to serve that will enrich your life in ways you may not have imagined.
The Auxiliary offers you a unique opportunity to make a real difference in your local community and across the country. We welcome and recognize your past experience, skills and talent. We challenge you to have fun learning new skills and qualifications in company with a very special group of volunteers. Sound interesting? Get more information on joining here.