Flotilla 4-6 What's New!
USCG Station Gloucester Safe Boating Day Open House
Coast Guard Station Gloucester will host its annual
Safe Boating Day Open House
on 18 May 2013. Local marine vendors, safe boating displays, flare demonstrations, and tours of Coast Guard assets will be available. Free to the public. Recreational boaters, commercial boaters, Cape Ann residents - bring the kids!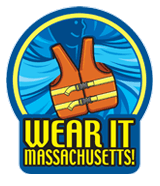 Free If Found - Contact Stickers for Labeling Small Paddle Craft
Interested in the Coast Guard Auxiliary?
Are you interested in learning more about the United States Coast Guard Auxiliary?
If you are looking for some adventure in your life, consider joining the U.S. Coast Guard Auxiliary. Wherever your interests lie, and whatever life skills you have, chances are that the Coast Guard Auxiliary can offer you an area to serve that will enrich your life in ways you may not have imagined.
The Auxiliary offers you a unique opportunity to make a real difference in your local community and across the country. We welcome and recognize your past experience, skills and talent. We challenge you to have fun learning new skills and qualifications in company with a very special group of volunteers. Sound interesting? Get more information on joining here.