Welcome to the Division 2, District 1NR Web Site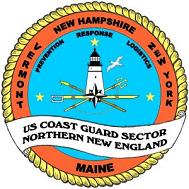 Division 2 of District 1NR (Southern Maine) is located in U.S. Coast Guard Sector Northern New England and is made up of four Flotillas with a total area of responsibility (AOR) extending from the NH-MA border to Boothbay Harbor including all navigable rivers. We draw members from all over Maine and New Hampshire, and from all walks of life. We are ordinary people; your neighbors, co-workers, retired military, boat owners, and citizens who want to contribute to boating safety and homeland security. A cornerstone of the Auxiliary is the fellowship with others who share an interest in our missions supporting the Coast Guard and boating safety.

Please visit each of the Flotilla websites to learn more.

Search templates (CTRL+Space)