Welcome to the Distance Education Training Web Site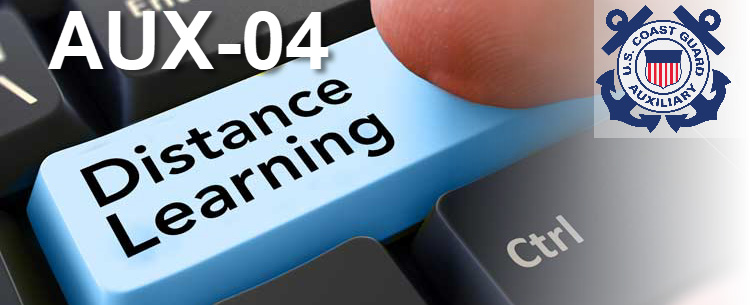 What is AUX-04?
Auxiliarists completing the AUX-04 "C" school are qualified to design, develop and deliver Online training courses within the Auxiliary Classroom (or any other system) in accordance with the standards set by the Training Directorate. AUX04 graduates will be involved in developing auxiliary -wide training at the national level.

National staff members from all directorates who are involved in developing training for their area of expertise are encouraged to apply.
This course will be delivered using a blend of instructor-led, virtual-led and web-based instruction. Module 1 will be delivered via Web conferencing.
Modules 2-4 will be delivered online via the AUX Classroom and Modules 5-6 will be delivered in-person at a designated location.
The entire course will be managed within the AUX Classroom.
How to Apply:
If you are interested in attending, please complete the AUX-04 Pre-STTR Application.
Your application will be reviewed and if you qualify, you will be directed to submit a STTR for the course.
Who to Contact:
(after completing the survey above)
Any questions regarding the AUX 04 class should be directed to Jonathan Ahlbrand, Division Chief, Advanced Distant Learning Management (DVC-TM).
Notes:
Students MUST bring a laptop capable of connecting to Wi-Fi (iPads or similar devices will not meet the course requirement) with them to this course. If you don't own one, you must arrange to borrow one in order to attend the AUX-04 C-School!!!
Uniform of the day per Coast Guard C-School Directive – Tropical Blue (TROPS) for Instructors and Students. If a student does not have a complete and proper TROPS Uniform (no dickie slacks, black tennis shoes, etc.) they should consult the AUXMAN for appropriate uniform substitutions and also contact the course coordinator.