Vessel Safety Check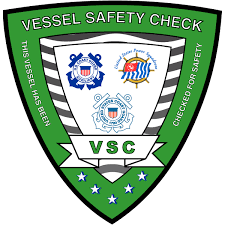 Vessel Safety Check
A Vessel Safety Check (VSC) is a courtesy examination of your boat (Vessel) to verify the presence and condition of certain Safety Equipment required by State and the Federal regulations. The Vessel Examiner is a trained specialist and is a member of the United States Power Squadrons or the US Coast Guard Auxiliary. They will also make certain recommendations and discuss certain safety issues that will make you a safer boater.
This is not boarding or a law enforcement issue. No citations will be given as a result of this encounter. We will supply you with a copy of our evaluation so that you may follow some of the suggestions given.
Vessels that pass will be able to display our distinctive VSC decal. This does not exempt you from law enforcement boarding, but you will be less likely to be selected for a random boarding because a boarding officer can see that you cared enough to have had your vessel checked and if boarded you will be prepared to make it a positive encounter.
Examples of some of the items checked include:
Personal Flotation Devices (life jackets)
Registration and numbering
Navigation lights
Ventilation
Fire extinguishers
Distress signals (flares, horn, etc.)
Battery cover and connections
All of these items are currently required by state and federal laws and, if missing or non-operating, can result in a citation if your vessel is inspected by the Coast Guard.
The VSC gives you a risk-free way to check that you meet the legal minimums and to potentially avoid a citation later.
To receive a free VSC please click on the link above and provide your boat & contact information . A certified VE (Vessel Examiner) will then contact you to arrange a date, time and location to provide the Vessel Safety Check.