District Elects New Commodore, Installs 2017 Leadership Team
Fri, 23 Sep 16 Posted by: Robert Stronach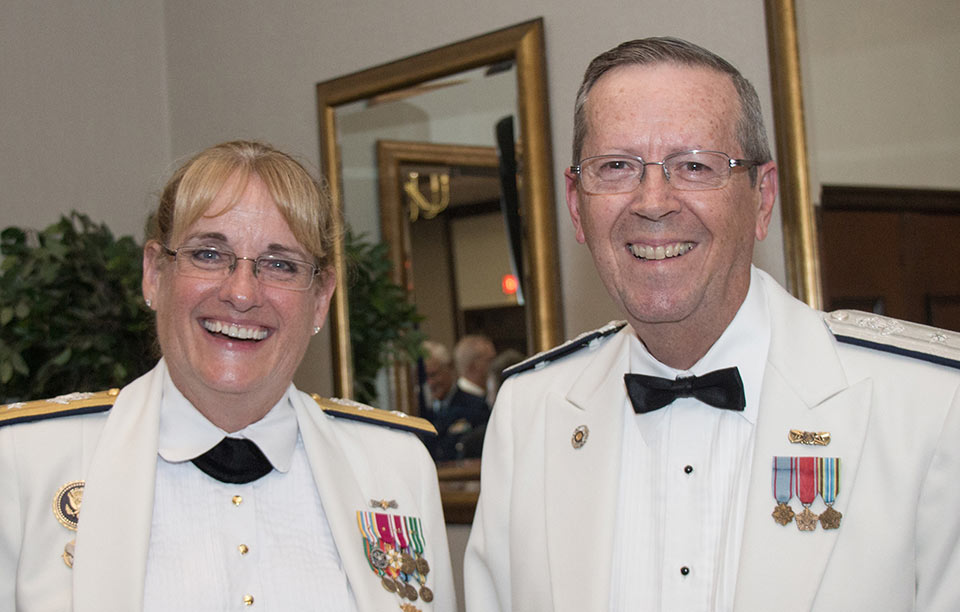 Rear Admiral June Ryan presided at installation of Commodore Robert Scofield.

DUNKIRK, NY – Robert Scofield of Hammond, NY is the new 2017 commodore of the U.S. Coast Guard Auxiliary's Ninth District Eastern Region (which stretches from Toledo, Ohio, east to the St. Lawrence Seaway). Scofield succeeds Edward Monaco of Cuyahoga Falls, OH, at the district helm and will serve a two-year term, starting Jan. 1. (District Conference Photo Gallery)

Also elected to the senior leadership team were:
-- District Chief of Staff
Joseph Sopko
, M.D., MBA, of Shaker Heights, OH.
-- District Captain
Clark Godshall
, of Barker, NY.
-- District Captain
Glen Harman
of Canton, OH.
-- District Captain S
tannard Baird Pfahl Jr.
, M.D., of Huron, OH.
They were installed Sept. 17 during a Change of Watch ceremony at the District Fall Conference in Dunkirk. Rear Admiral
June E. Ryan
, commander of the Ninth Coast Guard District, presided.
Scofield, a member of Flotilla 15 in Ogdensburg, served as chief of staff for Commodore Monaco, and prior to that, as a district captain for two years. Joining the Coast Guard Auxiliary in 2003, Scofield has served in various flotilla staff officer positions and was elected commander of Flotilla 15 in 2007 and 2008. In 2010 and 2011 he served as Division 1 commander. Scofield is the retired superintendent of schools for Hammond Central School, having served in that position for 21 years. He graduated with a bachelor's degree in education from SUNY Oswego and a master's degree and certificate of advanced standing from St. Lawrence University. Scofield and his wife, Jolene, reside in Hammond, NY and have two daughters Jackie, who is a Coast Guard auxiliarist, and Heather.
Sopko is active with Flotilla 7-16 in N. Cleveland in a number of roles; among them, boat coxswain, qualification examiner, vessel examiner, instructor, and food service specialist. He has served as district captain and has held leadership roles on the flotilla and division levels. A specialist in pulmonary and critical care, Sopko attended medical school at Tufts University and did both his internal medicine residency and pulmonary fellowship at University of Iowa Hospitals and Clinics.
Godshall, district superintendent for Orleans/Niagara Board of Cooperative Educational Services, is active with Flotilla 31 in Youngstown, NY as boat crew member, personal watercraft operator, CPR/First Aid provider, instructor, and vessel examiner. He also has served as a division commander and district training officer, and is national deputy director for the public education directorate.
Harman is active with Flotilla 61 in Akron, OH as a boat crew member, CPR/First Aid provider, and vessel examiner. A former flotilla commander and division captain, Harman worked in sales for 37 years before joining Oakwood Middle School in Canton as a mid-day custodian.
Pfahl is active with Flotilla 65 in Huron, OH as a boat coxswain, instructor and vessel examiner. He has served as flotilla and division commander. An eye surgeon, Pfahl attended medical school at University of Pittsburgh and did specialty training in ophthalmology at Ohio State.