The Message of N-Train 2013
Better Training, Improved Communication, Focus on Members
Tue, 12 Feb 13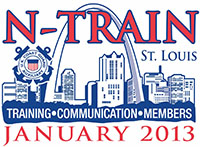 ST. LOUIS - The theme of the National Training Meeting (N-Train 2013) was to develop (1) improved training for members and the public, (2) more effective communication at all levels of the Auxiliary and (3) renewed focus on member recruitment, satisfaction and retention.
The N-Train theme reflects the national commodore's watchwords for the Auxiliary -- Training, Communication and Members. N-Train took place Jan. 19-27 in St. Louis, MO.
Nagivgator Express provided a summary of the overarching message of N-Train.

Training
Encourage training beyond the qualification and sustainment levels so that members can strive to become completely proficient in their activities.
Re-evaluate public education courses to ensure the ones offered are those the public desires.

Make more up-to-date courses available to members and provide training needed to enhance proficiency. Mini courses are being developed to provide value-added training for members to explore new information that is interesting and of value in Auxiliary, professional and personal life. These courses are or will be available on the Training Directorate website classroom.cgaux.org/moodle/
N-Train workshop presentations are available on the Training Directorate website classroom.cgaux.org/moodle/
Communication
Promote enhanced communication among all levels of the Auxiliary by opening lines of communication and by clarifying expectations.
As a division commander, what do you expect from your flotilla commanders? Are they aware of your expectations? Do you know what they expect from you? Do you know what your District Commodore expects from you? These questions apply within each district, division and flotilla among commanders, staff and members.
Improved communication makes us more effective by clarifying strategy, goals, objectives, job descriptions, expectations, etc.
Members

Our members are our most important resource. As a volunteer organization member's pay is the pride, satisfaction, sense of accomplishment he or she gets from serving and the recognition of job well done. As an organization, our survival depends on recruiting new members and retaining current ones.
The following points from the Auxiliary Strategic Plan and N-Train 2013 are the highlights of member issues: first encourage retention through mentoring and awards programs, let members know they are needed and appreciated, cultivate leadership skills and succession management so members can follow an advancement path if they want it. In addition we need to adapt to changing member's interests and abilities, recognize and adapt to the needs of younger members by taking advantage of the Auxiliary University programs. We need to promote the use of communication technology – leverage websites and social media and conduct member satisfaction surveys.