9th District Eastern Region Elects New Leaders
Fri, 04 Jan 13 Posted by: Robert Stronach
Robert Laurer
of Williamson, NY is the new commodore of the Coast Guard Auxiliary's Ninth District Eastern Region (which stretches from Toledo, Ohio, east to the St. Lawrence Seaway). Laurer succeeds Nancy L. Rudiger of Ogdensburg as commodore and will serve a two-year term. Also elected to the senior leadership team are:
District Chief of Staff Edward Monaco of Cuyahoga Falls, OH.

District Captain Michael McGrath of Newfane, NY.
District Captain Robert Scofield of Hammond, NY.
District Captain Anthony Ruque of Mentor, OH.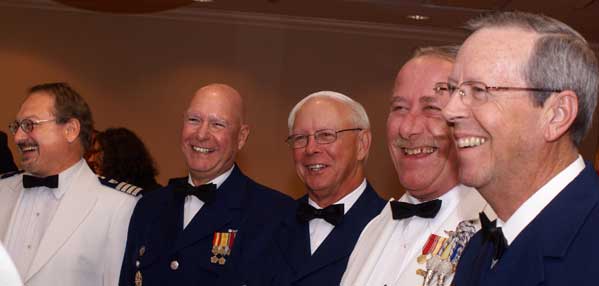 From left: Ed Monaco, Anthony Ruque, Michael McGrath, Commodore Robert Laurer, Robert Scofield.

LAURER takes over as commodore after serving as Rudiger's chief-of-staff. Laurer joined the Auxiliary in 1999. Working out of Flotilla 1-6 in Alexandria Bay, NY, he held staff jobs including public education officer and publications officer. During that time he also functioned as division publications officer. He held leadership posts as flotilla commander and Division 1commander before moving up to district chief of staff. Laurer is a qualified coxswain and air crew member. He also is a vessel examiner and instructor. His career outside the Auxiliary includes 31 years with Eastman Kodak and the past eight years with Ortho Clinical Diagnostics in Rochester, NY. Laurer resides in Williamson, NY with his wife Carmella and daughter Arline, both of whom are active in the Coast Guard Auxiliary.
MONACO, the new chief of staff, began his Auxiliary career in 1999 in what was Flotilla 8-1 in Akron, OH, and quickly became division information systems officer, staying in that position for 10 years. He served as commander of Flotilla 8-9, followed by terms as vice commander and commander of Division 8 (now Division 6 as a result of a merger with Division 9 which he helped to orchestrate). Monaco was elected district captain in 2010 and 2011, and then appointed as district staff officer for communications. Monaco is a registered architect who has operated his own firm in Akron, OH for the past 28 years. He graduated from Canon McMillan High School in Canonsburg, PA and attended Penn State University in State College, PA for a year before transferring to Kent State University where he received both bachelor's and master's degrees in architecture. Monaco and his wife, Jodi, reside in Cuyahoga Falls, OH, and have two daughters, Amanda and Lauren.
SCOFIELD begins his second term as a district captain. Joining the Coast Guard Auxiliary in 2003, Scofield has served in various flotilla staff officer positions and was elected commander of Flotilla 1-05 in 2007 and 2008. In 2010 and 2011 he served as Division 1 commander. Scofield is the retired superintendent of schools for Hammond Central School after serving in that position for 21 years and after being in education for 34 years. He graduated with a bachelor's degree in education from SUNY Oswego and a master's degree and certificate of advanced standing from St. Lawrence University. Scofield and his wife, Jolene, reside in Hammond, NY and have two daughters Jackie, who is Coast Guard auxiliarist, and Heather.
McGRATH begins his second term as a district captain. A member of the Auxiliary since 2002, McGrath has served as Division 3 training officer as well as elected positions of flotilla commander, division vice commander and division commander. He also served for six years on the District level as members' training officer, coordinating bi-annually the Eastern Region District Conference training and also assisting in the District 9 combined symposium that was first held in Pontiac, Michigan in 2008. Originally from Detroit, Michigan, McGrath served in the U.S. Air Force from 1966 to 1970, and in 1968 he was transferred from duty in Vietnam to Lockport, NY to a radar site detached out of Niagara Falls Air Force Base. This is where he met his wife Elaine Jack from Lewiston, NY and then married in 1969. They have two married daughters and four grandchildren. He is retired from Delphi/Harrison Radiator in Lockport, NY and he currently resides in Newfane, NY.
RUQUE, the newest district captain, began his Coast Guard Auxiliary career in 1995 in Flotilla 7-6 in Fairport Harbor, OH, and immediately became active in the boat crew program. In the next couple of years he would gain qualifications as crew, coxswain, communications watch stander, 41-foot Utility Boat (UTB) crew and engineer, instructor, and vessel examiner. He also served as vice commander and then commander of Flotilla 7-6, followed by terms as vice commander and commander of Division 7. Ruque is a 47-foot Motor Life Boat (MLB) engineer, and 25-foot Response Boat crew member for Coast Guard Station Fairport. He is also an officer of the deck (OOD) in training for the station. He holds a Coast Guard 100 Gross Tons Master's License. He is the Area Qualifications Examiner (QE) Coordinator for Divisions 5-7, and serves as national Branch Chief for Response, Surface, Qualifications. Ruque is a tenured computer science professor at Lakeland Community College in Kirtland, OH. He is also 50 percent owner of a small computer company in Euclid, OH. He holds associate's, bachelor's, and MBA degrees. Ruque and his wife, Laurie, reside in Mentor, OH, and have two sons, and a daughter, Nelson, Steve, and Kate.