Boating Safety Partners
Recreational Boating Safety is "Job #1" for the Coast Guard Auxiliary.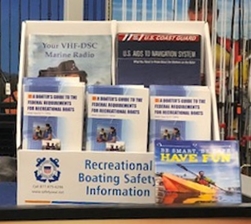 One of the ways we accomplish this is by distributing State and Federal boating safety literature.
Recreational Boating Safety (RBS) Partners have provided us space in their business to display boating safety literature. Some of these partners also invite us in for special events, where we can support the boating public one-on-one, or provide us space for teaching one of our boating safety courses.
If you own a business and would like to join the RBS Program, click Join the Recreational Boating Safety Dealer / Partner Program. The program is free.
The businesses below are RBS Partners with Flotilla 44. If you stop by their location, you will find a display with a variety of boating safety information, all free for the taking.
Program Partners
| | | | | |
| --- | --- | --- | --- | --- |
| Academy Sports + Outdoors | 3001 Louisiana Ave. | Lafayette | LA | 70501 |
| Academy Sports + Outdoors | 4232 Ambassador Pkwy. | Lafayette | LA | 70508 |
| Atchafalaya Welcome Center | 1908 Atchafalaya River Hwy | Breaux Bridge | LA | 70517 |
| Bayview Inn | 492 Bayview Dr. | Cypremort Point | LA | 70538 |
| Black's Outdoor & Marine | 1423 NW Evangeline Thwy. | Lafayette | LA | 70501 |
| Boat City USA | 1006 Cotton Gin Rd. | Henderson | LA | 70517 |
| Diver's Destination | 201 Guilbeau Rd. | Lafayette | LA | 70506 |
| Field & Stream | 110 Old Camp Rd., Ste. B | Lafayette | LA | 70508 |
| Gander RV & Outdoors | 2310 N. Frontage Rd. | Breaux Bridge | LA | 70517 |
| Himel Marine | 336 W. St. Peter St. | New Iberia | LA | 70560 |
| Iberia Outboard & Marine Services | 2703 Hwy 90 E | New Iberia | LA | 70560 |
| LA Dept. of Motor Vehicles | 101 Berard St., Ste D | Breaux Bridge | LA | 70517 |
| Lafayette Power Sports | 612 Beau Pre Rd. | Lafayette | LA | 70508 |
| Lafayette Visitors' Center | 1400 NW Evangeline Thwy | Lafayette | LA | 70501 |
| Lake Fausse State Park | 5400 Levee Rd. | St. Martinville | LA | 70582 |
| Louisiana Welcome Center | 41300 Crawford Landing Rd. | Slidell | LA | 70461 |
| Louisiana Welcome Center | 6212 West I-10 | Vinton | LA | 70668 |
| M&S Deer Processing | 2720 Louisiana Ave. | Lafayette | LA | 70501 |
| Mike's Marine and ATV | 2300 East Main St. | Broussard | LA | 70518 |
| P&A's Coteau Mart | 3612 Coteau Rd. | New Iberia | LA | 70560 |
| Pack & Paddle | 601 E. Pinhook Rd. | Lafayette | LA | 70501 |
| Pineville Marine | 1330 Military Hwy. | Pineville | LA | 71360 |
| Red River Marine | 621 N. 3rd St. | Alexandria | LA | 71301 |
| Redmond's Marine | 1724 General Mouton | Lafayette | LA | 70508 |
| The Backpacker | 1916 Kaliste Saloom Rd. | Lafayette | LA | 70508 |
| The Prop Shop, Inc. | 1501 General Mouton | Lafayette | LA | 70501 |
| The Sportsman | 1915 S. State St. | Abbeville | LA | 70510 |
| TRAIL | 413 Coolidge St. | Lafayette | LA | 70501 |
| Trails Yamaha Service Center | 1061 Frank Wyatt Rd. | Breaux Bridge | LA | 70561 |
| West Marine | 2668 Johnston St., #B-2 | Lafayette | LA | 70503 |