Navigation Charts
NOAA Navigational Charts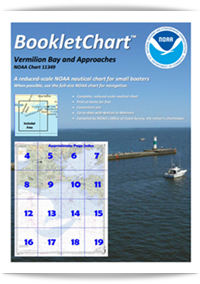 The Office of Coast Survey at NOAA (the National Oceanographic and Atmospheric Administration) has created PDF navigational charts you can print at home for free.
The charts are reduced in scale and divided into pages for convenience, but otherwise contain all the information of the full-scale nautical chart. Most chart notes are consolidated on a single page for easy reference. Emergency information for the charted area is printed on the back cover.
BookletCharts™are updated every week with Notices to Mariners.

Click the thumbnail image at left to go to NOAA's BookletChart™ for Vermilion Bay and Approaches.
Click here to go to the NOAA Office of Coast Survey Chart Locator page. There, you can find BookletCharts™ as well as electronic chart information for the Atlantic Coast, Gulf Coast, Pacific Coast, Alaska, and the Great Lakes.
Note: BookletCharts DO NOT fulfill chart carriage requirements for regulated commercial vessels under Titles 33 and 46 of the Code of Federal Regulations. Also note that NOAA will no longer produce paper nautical charts as of January 2025.
U.S. Chart No. 1
There's an enormous amount of information contained on a nautical chart. NOAA's U.S. Chart No. 1 is a 132-page book explaining all the symbols, abbreviations and terms used on both electronic and paper navigation charts. It is an essential reference to anyone using a navigation chart.
While you may not want to print the entire document, you can download it and save it electronically for reference. (PDF, 132 pages)