Public Information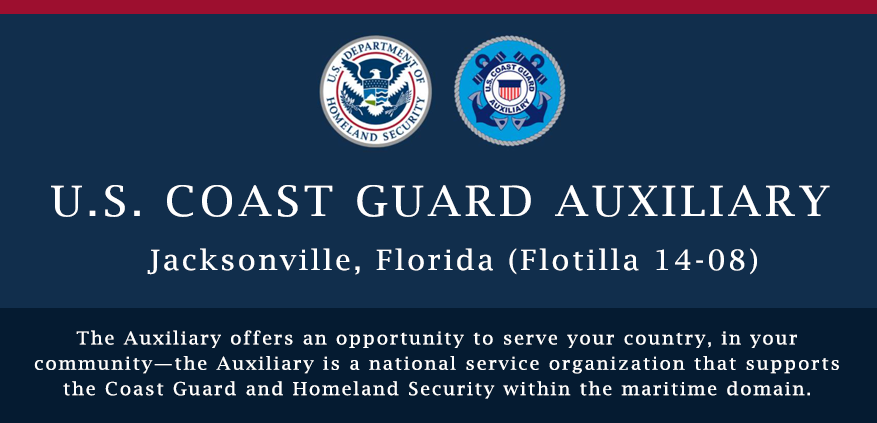 Flotilla Commander: S, Scott Alfassa, MPA (2023)


Vice Flotilla Commander: Nancy Brown (2023)


FLOTILLA COMMANDER'S INTENT
Jacksonville, Florida – 1 Jan 2023 – D7-14-08

These are exciting transitional times for Flotilla D7-14-08. Changes of command allow us to reflect on accomplishments over the past several years and look ahead to where we need to go. For the first time in six years the elected leaders are new with both the commander and vice commander being elected without having previously served as elected leaders in this Flotilla. Oftentimes, with new leadership, comes a new vision toward the future and that is what I would like to share with you today.

The Coast Guard is adapting to once again a rapid rate of change in the maritime domain, and because of such, service readiness has been, and remains, the Coast Guard's top priority for 2023. Our mission as Coast Guard Auxiliarists, is to act as a force multiplier in support of their missions. As Auxiliarists, the efforts and commitment we put in each year contributing to the safety and security of American citizens, pays dividends for the American public.


Over the past year, the successful deployment of Auxiliarists to the border to support U.S. Customs and Border Protection, clearly demonstrated that the Auxiliary is capable and forward deployable. Yet, while our men and women are ready to work, we remain stretched tightly in overall membership numbers, due to both the pandemic and many recent retirements. Therefore, to maintain viability as a force multiplier to the Active Duty Coast Guard (Gold Side) and the Department of Homeland Security, this year, our Flotilla will focus on membership growth and retention with the goal of being able to enrich our overall augmentation capabilities to the Gold Side.
While the workforce we develop and train here in Jacksonville will focus on the traditional primary mission of the Auxiliary—boating safety, we will also place emphasis on the greater mission of the Department of Homeland Security—which is also our mission—to ensure our nation remains safe, secure, and resilient against terrorism and other hazards, especially within the maritime domain.
Maintaining vigilance via patrols from the sea, from the air, and through Artificial Intelligence, are all significant activities that can contribute to mitigating disruptive incidents at our ports and waterways which can affect the nation's economy and safety. Insomuch, this year we will use pinpoint strategic recruiting opportunities, primarily through local universities and technical colleges, to engage new talent within a few key sectors which will provide Auxiliarists to best prepare for supporting the Gold Side and the American citizens; these includes those in the information technology / cyber security sector, and operations both on the sea and in the air. Auxiliarists who are qualified professionals operating within the I.T. world may contribute to enhancing the Coast Guard's understanding of the increasingly complex maritime domain, and potentially can contribute to the service's ability to address modern threat streams.


As we look ahead, we will require the assistance of every Auxiliary member. We plan on continually recruiting, assisting all of the new Members, guiding them in their development, championing them in their successes, and supporting them in their deficits. The Auxiliary offers us an opportunity to serve our country, in our own community; the Auxiliary is not a boating or yacht club—it is a national service organization that supports the Coast Guard and Homeland Security within the maritime domain.

The principal challenges ahead are two-fold. The first is maintaining morale and a sense of mission for all members. The second is recruiting and retention. I plan on working with all members to overcome these challenges and develop our local Flotilla into an invigorated group filled with purpose.


This coming year it is expected that we will see an increased number of Coastguardsmen from the Active and Reserve components be deployed outside the continental United States for increased force protection and other missions; therefore, we as a team should strive to step up whenever and wherever we can to backfill and support the Coast Guard here at home.


As we welcome a new year, I expect all of you to dedicate some time to be the best productive Team Members you can be, while also having fun working together, and being proficient at what you strive to do within your capacity as a Flotilla Member or Flotilla Staff Officer.


Respectfully,


U.S. DHS / U.S. Coast Guard Auxiliary
National Branch Chief, Emergency Management
SEC JAX EOC Agency Representative