Div. 11 USCG Meritorious Unit Commendation

Division 11 was recently awarded the U.S. Coast Guard Meritorious Unit Commendation in recognition of its exemplary service from January 2007 to December 2011. These flotillas of Division 11 are all extremely active in their support of the multiple local Coast Guard locations. These include: Station Sand Key, Coast Guard Cutter Vise, Coast Guard Air Station Clearwater and Coast Guard Sector St. Petersburg

The Coast Guard Meritorious Unit Commendation is awarded by the U.S. Coast Guard to units that have distinguished themselves by either valorous or outstanding achievement or service in support of the Coast Guard operations not involving combat. It is especially unique that Division 11 received this award since there have been only five occasions when Auxiliary units were awarded this distinction since its beginning in 1973. And, the award hasn't been given to an Auxiliary unit since 1996!

Division 11's award is even more unique since this is the first time ever that an Auxiliary unit received the award based solely on its own individual accomplishments rather than participating along with active Coast Guard missions.

The award is also unique because of the presentation venue. In an unprecedented action, Chief Warrant Officer Morgan B. Dudley, who was the Commanding Officer of Coast Guard Station Sand Key, chose his formal Change of Command ceremony to have this award presented to the members of Coast Guard Auxiliary Division 11.

The Coast Guard Meritorious Unit Commendation cited Division 11 members for:

• Communications Watchstanding and Officer of Day duty at Station Sand Key
• Assistant Operations Duty Officer at Air Station Clearwater
• Ombudsman for the Coast Guard Cutter Vise
• AUXCHEFs aboard Station Sand Key and the Coast Guard Cutter Vise
• Unit facility maintenance including electrical and plumbing renovations
• Day and night C-130 drop training (saving Air Station Clearwater $525,000 in contracted boat expenses)
• Primary Search and Rescue duties at Station Sand Key two days a week plus all major holidays
• Providing 50% of the force lay down, 12 facilities, to ensure the safety of over 2,500 spectators at the annual International Offshore Super Boat Races
• Performing as instructors for CPR/First Aid and Team Coordination Training to both active duty and Auxiliarists to meet mandated training requirements
• Participation in high profile Public Affairs events such as the Blackthorn Memorial and Propeller Club Salute to the Coast Guard
• Flying hundreds of AUX Air flights providing Search and Rescue support and logistical transport for critical aviation parts
• Conducting two major radar testing protocols for the Coast Guard Research and Development Center, saving the Coast Guard hundreds of thousands of dollars in contracted boat costs. The data collected produced air and surface performance criteria currently being used in computer search planning throughout the Coast Guard.

The award was signed by Rear Admiral Baumgartner, Commander, US Coast Guard District 7, on behalf of the Commandant, U.S. Coast Guard. The award was presented by Captain Sheryl Dickinson, Commander, Coast Guard Sector St. Petersburg. Receiving the award and the accompanying pennant on behalf of the over 320 members of Division 11 were Jim Ryder, current Division 11 Commander and three past Division 11 Commanders; Commodore Don Frasch, Mel Manning and Karen Miller.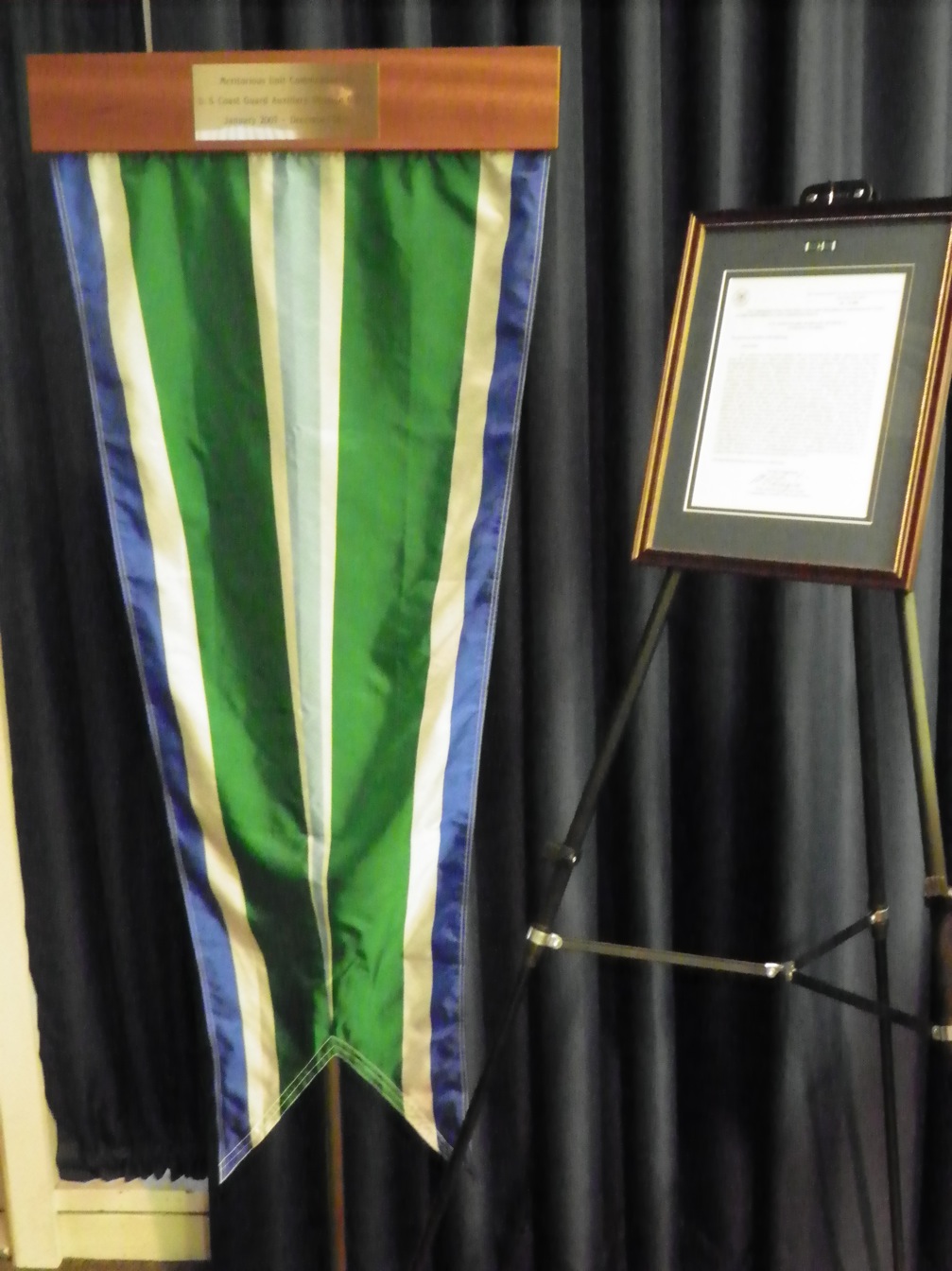 From left to right in foreground: CWO Morgan Dudley; three past Division 11 Commanders and current Commander - Commodore Don Frasch, Mel Manning, Karen Miller and Jim Ryder; Captain Sheryl Dickinson