Think Auxiliary!
Think Auxiliary!
How America's volunteer life-saving service is stepping up its operational roles.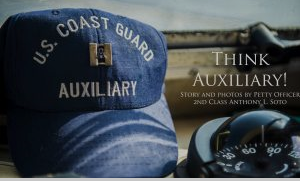 Jan 28th, 2017
By Petty Officer 2nd Class Anthony L. Soto
Teamwork is an essential part of emergency response for the men and women of Coast Guard Sector Charleston, South Carolina. Between Myrtle Beach and Brunswick, Georgia, Coast Guard crews work hand in hand with local, state and other federal agencies to carry out their various missions. One such agency not only shares a common bond with the Coast Guard, it shares a name.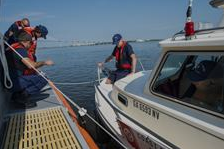 The men and women of the Coast Guard Auxiliary are stepping up their integration in day-to-day operations throughout Sector Charleston's area of responsibility. From responding to search and rescue missions and educating the public to augmenting active duty members at units, the Auxiliary's presence helps extend the Coast Guard's reach throughout local communities. This initiative, known as "Think Auxiliary!", is a response to a goal set by Capt. Gary Tomasulo, Coast Guard Sector Charleston's commanding officer, to perfect and improve mission execution.
"My goal was to have a greater inclusion of the Coast Guard Auxiliary in our mission execution," said Tomasulo. "I did not think in the past we fully leveraged their capabilities."
Beginning within the Sector Charleston command center, the Auxiliary now has a presence during daily command briefings. These briefings give Tomasulo essential information on Auxiliary operations, patrols or community projects throughout the region.
Additionally, Sector Charleston command center watchstanders developed the "Book of Auxiliary", a booklet which allows watchstanders to strategically identify Auxiliary boats, aircraft and personnel throughout the area that could be launched to respond to emergencies. During a search and rescue case on April 15, 2016, two boaters were rescued from a burning vessel by an Auxiliary boatcrew . The Book of Auxiliary helped command center personnel identify which Auxiliary crew was closest to assist. In addition to assisting in operations, Auxiliarists provide direct support to units by acting as unit cooks or by monitoring radios at units, such as Coast Guard Station Brunswick, Georgia.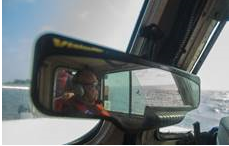 "We have several Auxiliary members from the local Brunswick flotilla who provide immeasurable help to our crew and our operations," said Senior Chief Petty Officer Justin Irwin, the officer in charge of Station Brunswick. "One of the ways they support us is by standing communications watch in our radio room. This provides not only more watchstanders but it allots more time for the active duty members to work on various mission-critical certifications, such as boarding team member and boarding officer."
Irwin adds that several Auxiliary members are coxswains, which provides additional personnel to participate in training exercises such as two-boat training and helicopter operations. Auxiliarists have even assisted in search and rescue missions conducted by the station.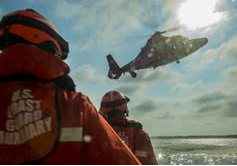 "Overall, the Auxiliary plays a very crucial part of our daily routine at Station Brunswick," said Irwin. "The relationship between the Auxiliary and active duty members is absolutely amazing. In addition to training together, they share great camaraderie with one another. Also, the experience, leadership and guidance the Auxiliary brings to the table is why we are so successful as an organization."
Auxiliarists have also volunteered their culinary skills, providing breakfast meals to station personnel from time to time and even Thanksgiving and Christmas meals for them.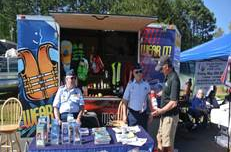 Out on the water, Auxiliarists provide their own boats to be used in training for members of Coast Guard Air Station Savannah, Georgia, whose aircrews frequently train. This allows station to focus more on operations.

"We've been able to reduce our station's small boat hours so they can be used for law enforcement and search and rescue and the Coast Guard Auxiliary has taken part of that load for us," Tomasulo said. "They've basically given us some operational flexibility and at the same time supported the proficiency of Air Station Savannah."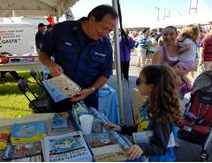 Along with their mission readiness and experience upon the seas, auxiliarists bring with them valuable knowledge of the surrounding communities, since many are life-long residents of these areas, Tomasulo said.
This area knowledge is essential in both emergency responses as well as in the boating safety public education mission the Auxiliary conducts at community events.
It is within the various communities throughout the United States where Coast Guard Auxiliary members serve. Auxiliarists risk their lives responding to distress calls, they assist in environmental responses and they contribute to the Coast Guard's boating safety initiative by educating the boating public. In Sector Charleston, Think Auxiliary! has been a concentrated effort by the command to better leverage the personnel, tools and experience of the Auxiliary more than ever. Outwardly, this initiative represents an increase of equipment and manpower. Internally, it is an opportunity to build upon the already-existing partnership between two Coast Guard components. Overall, the primary focus and dedication of both these life-saving groups remains unchanged—service to people and to the nation.