Auxiliary Culinary Assistant
Thu, 12 Jan 23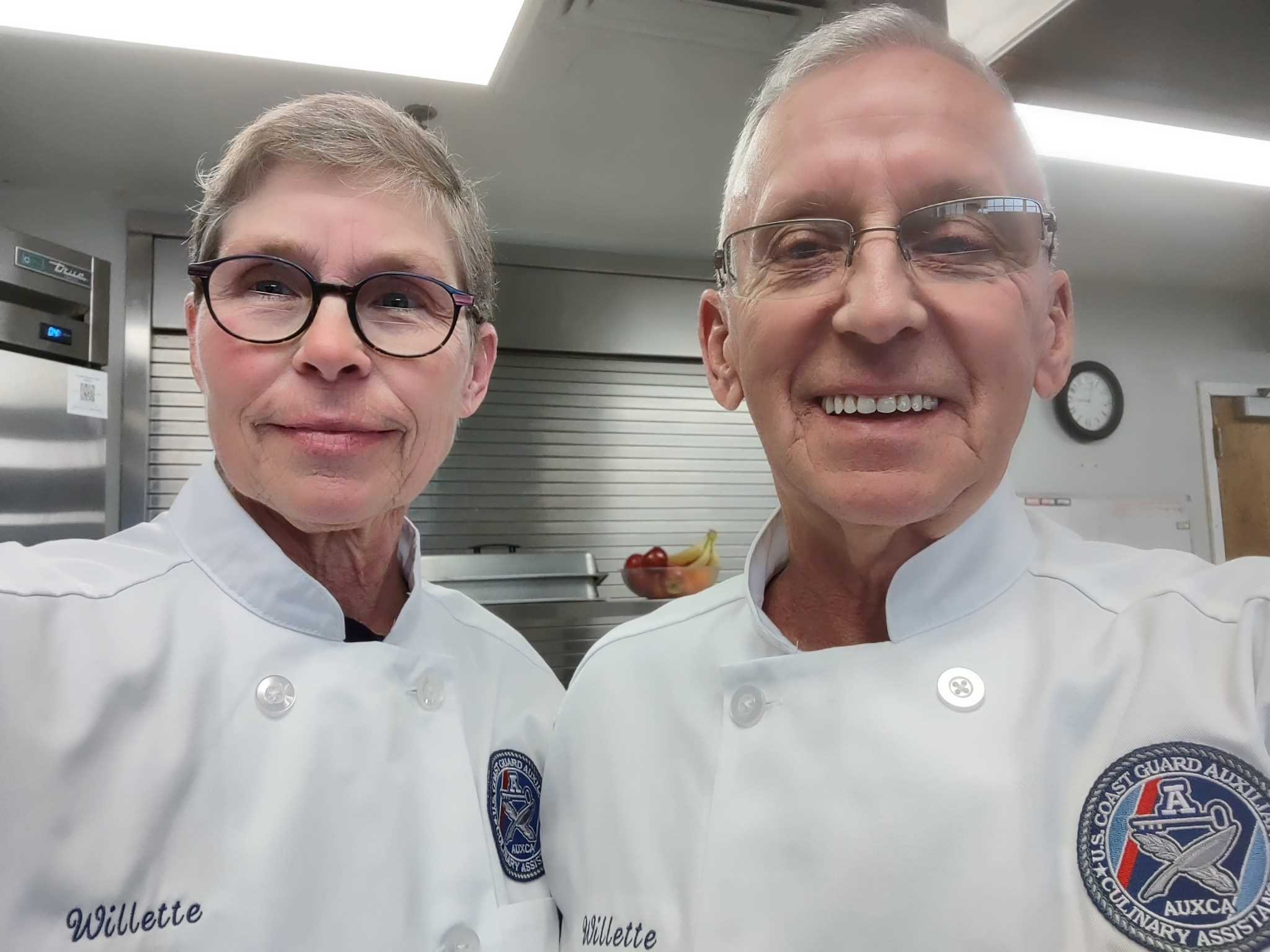 Rhonda and Butch Willette of Flotilla 10-5 supporting Station Oak Island as Auxiliary Culinary Assistant (AUXCA}
AUXILIARY CULINARY ASSISTANCE WORKER (AUXCA)
Note - This program's name was recently change for AUXFS (Food Service) to AUXCA (Culinary Assistance)
What does the fully qualified AUXCA do?
Provide culinary assistance to Active Duty at a small boat station (like Station Oak Island)
Work with Active-Duty Culinary Service Workers (CS) at larger CG Dining Facilities
Provide Food Service assistance for Auxiliary events.
Cover special VIP events for Active Duty and/or Auxiliary.
Serve in the galley of a cutter.
What's required to become AUXCA qualified?
A desire to serve.
A desire and capacity to learn new skills.
A passion for following procedure regarding food safety and sanitation.
The time to be involved at least a minimal amount (12 hours a year)
NOTE - Cooking experience is NOT required.
What's the process of becoming AUXCA qualified?
Complete an 18-hour AUXCA class - offered from time to time around the district.
Take the Introduction to Risk Management Class available on the Auxiliary Learning web site.
Be current with the Mandated Training Courses (MANTR)
Complete an annual on-line sanitation course.
Have a routine medical screening by a CG Medial Officer or a Private Physician
Have a Hepatitis A shot series (2 shots, 6 months apart)
Have a TB test.
Completion of the AUXCA PQS (Performance Qualification Standard)
What about other costs and issues?
Uniforms - AUXCAs normally wear ODUs with member devices while working in a CG Dining Facility VIP event and some larger facilities may require chef whites.
Personal travel costs - AUXCA members may be funded for travel. However, berthing is often available at stations and meal will be provided while working.
What are the rewards?
Knowing that you have provided a good, wholesome, well-prepared meal to Active-Duty members, your fellow Auxiliarists, or even members of the general public is the primary reward.
Interested?
Contact your SO-CA (via AUXDIRECTORY) and let her or him know you are willing to serve.