Job Aid Kits for our Vessel Examiners and Program Visitors
How to be the Best Darn VE Possible!

And Then Become a Program Visitor Too!

Important News Announcement for Vessel Examiners:
---
* Printable Version *
---
Backfire Flame Control Adjusters
Questions about Boating Issues? We have the answers. The Coast Guard Auxiliary National Directorate of Vessel Examinations has a division staffed with a team of knowledgeable professionals explicitly for the purpose of answering your boating questions. Use the Member Q&A link in the menu on the left side of this page.

This forum is open to all, be it Coast Guard Auxiliary Vessel Examiners or recreational boaters, we will do out best to dispel the myths and get the facts, from "anchor buoy" to "yawl". Get the real answer to ever the toughest questions with a timely and accurate reply.
The key to becoming a great VE is all in the training. Becoming a Vessel Examiner can be done by classroom instruction along with hands on training, or by self study along with some hands on training.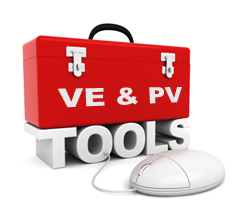 It is very important that you understand that questions on the Open Book Vessel Examiner's Examination come from the Vessel Safety Check Manual (M16796.8), the USCG Auxiliary Facilities Guide, and the forms associated with the VE Department: ANSC 7003, 7008, 7012, 7038, and 7045. All of these items are linked below.


On this page you will find links to training tools and the open book on-line Vessel Examiner examination. These tools can be used by your FSO-MT (Member Training Officer) or your FSO-VE (Vessel Examiner Officer) as well as by you to self study the course.

The first and most important tool is the VSC Manual M16796.8A which can be obtained through your FSO-MA (Materials Officer) or by downloading an Adobe Acrobat version from this link which is 565 KB in size. You should become totally familiar with this manual as it will be your "Bible" to guide you in becoming a great vessel examiner.

You should also download the Forms ANSC-7003, ANSC-7008, ANSC-7012, ANSC-7038 and ANSC-7045 from the forms page at http://forms.cgaux.org/ and become familiar with them. There are questions on the exam taken from some of these forms.

The best tool to prepare you for the examination is the Microsoft PowerPoint VSC Training Presentation which your instructor should use to teach the course. You can use this as a self study tool as well and we strongly encourage you to do so. This is a very large file at 16.28 MB in size but explains everything you need to know and quizzes you in preparation for passing the VE Exam. You can download the PowerPoint from this link.

We also have a PowerPoint presentation for performing VSC's on PWC's and you should download that PowerPoint from this link which is 5.75 MB in size.

We also have a Paddle Craft Addendum to VSC Manual for performing VSC's on Paddle Craft and you should download that Adobe Acrobat PDF file from this link which is 191 KB in size.

We also have a paper to help you understand the requirements for small size Rental Boats (canoes, kayaks and paddle boards) and you should download that Adobe Acrobat PDF file from this link which is 7.3 KB in size.

Another good compilation of study materials is the Annual Workshops from this link.

Once you have used the above tools and feel you are ready to take the exam, go to http://ntc.cgaux.org/ and take the on-line Vessel Examiner Course Exam. This is an open book exam and you will get your results as soon as you complete the exam. You can retake this exam as many times as you need if you don't pass it the first time around. The great thing about the results you get is that it tells you what pages to study when you get questions wrong. Once you have passed the VE Exam, you will need to perform 5 VSC's under the supervision of a qualified VE who will then report it through the IS chain. Note supervised VSCs for initial qualification or requalification must be performed using ANSC for 7012 and cannot be performed on paddle craft (form 7012a). Becoming certified may vary in the different districts. Your FSO-VE would know what your local process is to complete your certification.

Flotilla Training Officers Get your new members involved with the VE program as early as possible with the VE BOOT CAMP - A COMPREHENSIVE REVIEW which is a great tool to use to introduce new members to the Vessel Examiner Program. This is a great PowerPoint to use to get your new members interested and on the road to becoming a VE. Click here.

That's not all... As we said above, you must have some hands on training. You need to go out with a qualified Vessel Examiner and perform 5 exams under the supervision of that qualified examiner. After this is completed, the examiner must notify your Flotilla Commander who will in turn notify your DIRAUX (Director of Auxiliary Office) that the task has been completed. Your DIRAUX will then certify you as a qualified VE and you can start performing exams on your own.
Print Vessel Examiner Business Cards By clicking here you can download a ZIP file containing a number of Word files where you can print your own VE Business cards. Please use the instructions found in the ZIP file as the V Department cannot assist with support for this tool.
Your Local and State Regulations... Each state and many localities have their own rules to compliment the Federal regulations. This information you should get from the qualified VE (your mentor) that you work with. You can also generally find the state rules on the Internet of your state's website. It's good to print that information out and have it with you when you perform VSC's.
I Want a VSC System...
Once you have become qualified, make sure that your SO-IS officer gets your qualification submitted to AUXDATA as each week our on-line "I Want a VSC" database gets updated and you will become part of our volunteer force where the public can locate examiners near their ZIP code. You can download this
PDF file
and learn more about this system.
But don't stop here...
Did you know that to become a
Program Visitor
many of the questions on the PV Exam come from the VSC Manual that you just mastered? So why not take that additional step and become a Program Visitor too?
This is the time to take that step since you are already half way there with the knowledge you just gained in the above steps. Download the RBSVP Manual - M16796.3C from
this link
. Along with what you learned from the VSC Manual, study the RBSVP Manual and take the RBSVP Exam linked on this web page
http://ntc.cgaux.org/
. Once you've passed the exam, get together with a qualified Program Visitor to perform two visits under his or her supervision. Once that is done, the qualified program visitor must notify your Flotilla Commander who in turn must notify your DIRAUX Office that you've completed your visits. Your DIRAUX will then qualify you as a Program Visitor.