Paddlecraft Safety
Tue, 29 May 18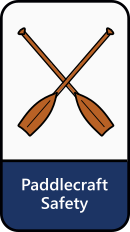 Check out our many paddlecraft safety resources below. Auxiliary educators can visit our many resources for paddlecraft safety outreach. If you are interested in recreational boating safety on the water, visit our Information for Boaters page.
Auxiliary educators looking for Auxiliary Paddlecraft Program (AUXPAD) resources should visit our AUXPAD Materials page.
Important Safety Resources
A beginner's guide to safer paddling. Always wear your life jacket, carry the essentials, know your limits, dress for immersion, tell a friend and take a paddling class.
Whether you are a power boater or kayaker, the USCG Float Plan works for you. Set up a basic plan ahead of time and save it on your computer. Update it when you decide where and when you're going to go. Then, email your completed plan to whoever you choose to follow up should you not return or check-in as planned.
Paddlers should be aware of a few "Rules of the Road" when sharing resources with other marine traffic. Importantly, keep a proper lookout, and remember to be courteous to other boaters and law enforcement officers. They're there to help you to be safe and have fun.
Everyone wants to have fun on the water. The important thing to remember is staying safe while having fun. Paddling.com has partnered with the United States Coast Guard to bring you this nine-part "Safer Paddling" video series that shares valuable safety guidelines, paddling technique pointers, and other various gear tips.
Rebecca Giddens, winner of the 2004 Olympic Silver Medal for whitewater kayaking, knows to expect the unexpected when she's on the water. Rebecca and the U.S. Coast Guard urge you to follow these 10 simple tips to having fun while paddling.
Safety Checklists and Forms

Safety checklists: Paddler's checklist | Kayaking | Stand up paddlers
Boating accident form: no one wants to use it, but everyone should be familiar with it.
Paddle tip reflector kits: Paddle Smart tips | Safety checklist and kit