Public Information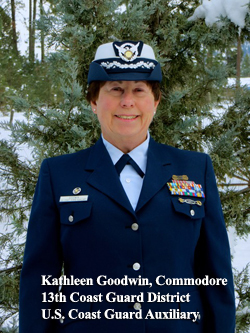 As Commodore of District 13 and I invite you to explore our site and learn more about whom we are and what we do to be 'Semper Paratus,' Always Ready! Examine our site and learn how our volunteers serve as America's Volunteer Lifesavers. Our district 13 consists of the states of Montana, Idaho, Oregon and Washington, 400,000 square mile with and approximately 1700 members.
The USCG Auxiliary was established by an act of Congress in 1939. The United States Coast Guard Auxiliary is the uniformed civilian element of the Coast Guard of the United States. Our mission is Recreational Boating Safety! Our goal is to make boating experiences safer for those who use our waterways. You will find our members throughout the four state areas, patrolling in boats on the salt waters, the rivers and the inland lakes, flying patrols in the air and providing Vessel Safety Examinations to private vessels using the waterways of our district. We conduct Public Education courses on all aspects of boating, with an emphasis on safety and safe boating practices. We work alongside the active duty Coast Guard in many areas. You will see us at public events, boat shows, in schools, on the water and in the air. We are the United States Coast Guard Auxiliary!
Join us to experience our four cornerstones: Recreational Boating Safety, Operations, Marine Safety and Fellowship. We work hard and have fun in fellowship during our activities!