Meet Your Shipmates
Flotilla 76 has many active members, however we don't all know one another. Even when we are introduced to a flotilla shipmate over the course of a meeting, an operation, a class, or another function, we sometimes know only a tiny aspect of who that person is. To celebrate the diverse lives, experiences, interests, and, yes, even the quirks of our members, this new column will showcase a different shipmate every couple of months. We would love to know more about you!
If you would like to be featured in this column, please contact me by telephone (503-927-5714) or e-mail (dr.leibq@hotmail.com). Since I realize that people can be shy, over time I will also reach out to shipmates individually to ask if you are willing to either write something about yourself (as our first featured member did) or allow me to interview you in person over a cup of really good coffee or on the telephone. I promise to make it an enjoyable experience! I will also make sure you approve anything I write about you before it ever goes live on our website.
Our newest featured member is Diane Epstein, our very own Human Services Officer. Please enjoy learning more about Diane!
Very Respecfully Yours,
Ruth
Meet Diane Epstein
Sat, 08 Jul 17
Diane Epstein is our flotilla's Human Resources Officer. She was the main person who welcomed me into the flotilla when I first joined, and was a generous mentor during my first year of membership. Thank you, Diane! The information for this story was collected through written information provided by Diane, as well as an interview aboard her school bus in Tigard.
Diane at a Glance:
Current Role in Flotilla 7-6:
Human Resources Officer
Little-known fact:
Diane has a collection of more than 300 swan figurines
Day Job:
School bus driver
Secret Power:
An uncanny intuition for danger
Relationship with water began:
Age four, when her father threw her into a lake
Words of wisdom for new flotilla members
: "Don't be afraid to ask questions."
Diane Epstein was born in Portland, Oregon in January of 1961 to Lyle and Milli Schaber. Her can-do relationship with bodies of water began early in life. By age four, Diane was already able to swim like a fish, after her father threw her into a lake for some quick education.
When Diane was about eight years of age her parents purchased a 16-ft open runabout boat that they used frequently in the ocean and lakes for about six years. "That is when I learned to enjoy the water." Diane especially remembers "the excitement of being out there and going fast through the water."

Water was not the only natural element that Diane came to love. In 1967 the Schabers moved to Anacortes, Washington. "We lived on a two-acre partially wooded property, I learned to climb trees and appreciate what nature had to offer. We would often see does and fawns in the evening come to graze on our huge lawn."

When Diane was 15, her family moved to Vancouver, WA and purchased a 26-foot Bayliner. Due to having various difficulties with this boat (such as problems steering it off the wharf), they decided to take a boating class. Enter the family's long relationship with the U.S. Coast Guard Auxiliary! Both of Diane's parents joined Flotilla 78 and were active for more than 20 years. "Several times my mother tried to convince me to join, saying it would be good for me to meet new people and be involved in worthwhile activities. I attended several events, but when I looked around, I realized there were very few young people my age, so I declined."

Diane remained steadfast in her resistance until, "In summer of 1995, my mother, who was a Coxswain, called me and asked if I would drive over to the 42nd St Ramp, pick up two of her crewman and give them a ride back to Swan Island Coast Guard Station. One of them was Matt Epstein. I met him again in September, when I attended the Fall District Conference. I asked him out on our first date and we were married the following June. Since Matt was deeply involved in the Auxiliary, I decided to join. It would be something we could enjoy doing together." When asked if Diane believed her mother was consciously playing the role of matchmaker, she responds, "Mother doesn't admit to it, but I think it was planned."

Since joining the Coast Guard Auxiliary in 1996 Diane has been a member of several local flotillas and has played multiple roles in previous flotillas including Secretary, CS officer, Division Public Education Officer, and Vice Commander. Since joining our flotilla, she has been Flotilla Commander (2013 and 2014), and most recently Human Resources Officer. Diane describes herself as naturally shy.Taking on these roles has helped her to become more comfortable with reading out loud, teaching (including boating classes) and other forms of public speaking.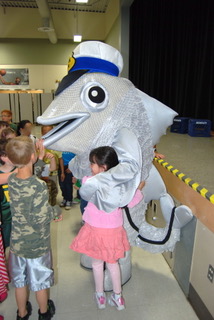 Diane has a soft place in her heart for children, and believes it's important that water education start young. In April 2013 she dressed as Officer Snook and joined Matt at CF Tigard Elementary to speak to first- and second-graders about water safety. She remembers a coloring book that taught children about water safety, however she hasn't seen it around for a long time. The costume she wore for her cameo role belonged to the national organization, and she no longer has it. However this event is immortalized at left for all to see.
In May 2017 Diane put on a children's water safety presentation in her Head Start classroom. She set up four chairs with four life jackets. The students pretended the chairs were in a boat and they tried out the life jackets while Diane taught about the importance of wearing them.
Diane would like to continue to teach children about water safety. She is aware of the existence of a PFD panda costume, and has been trying to find a way to get hold of it for her presentations. If you know how or where, please contact Diane!
Diane has been a school bus driver for more than 10 years, and currently drives for a Head Start program in Tigard. "Since I don't have children of my own, I enjoy interacting with these three to five year olds. They are so inquisitive and well-behaved." In addition to driving the children to and from school, she also has the opportunity to spend an hour and a half with them in the morning, sharing activities such as singing, playing games, and drawing.
Outside of her work and Auxiliary activities, Diane has many interests, including "sewing and crafting, kayaking, gardening and playing with our two cats, Java and Shylo." She is also a collector. "I started collecting swan figurines and now have over 300." So many swans cannot all be displayed at once, so Diane keeps some packed away, rotating which ones are out for view. The swan collection began following one of the regular weekend trips she, her mother, and her aunt used to take to flea markets and antique shops. At an antique mall in an old schoolhouse building, she saw a swan figurine that was beautiful "and I always admired how graceful they are in nature." On that day her swan collection was born.
Diane's family has been supportive of her collection in a variety of ways. For example, her father made her a three-tiered display shelf, and her mother-in-law gifted her with a swan planter that now graces a shelf above her television. A swan topper graced Diane and Matt's wedding cake.
Diane also has strong interests in activities that are no longer part of her life. For example, she was once an avid photographer. When in high school, she met Tom and Pat Leeson, two nationally-known photographers who went to church with her parents. They took her on an expedition to photograph animals in Washington's Olympic National park. Nature photography became a passionate hobby for many years. She still has a framed photograph of a Dall sheep on a precipice that was a gift from the Leesons.
When asked about her "super power," Diane says, "I've had some interesting intuitions. For example, one day I was driving the school bus, heard a fire engine, and didn't know where it was coming from. All of a sudden an inner voice said, 'You'd better slow down, don't go all the way up to the intersection.' Sure enough, there comes a big ladder truck making a turn, and if I had gone all the way up there that ladder truck would have hit my bus."
Diane is our flotilla's Human Resources Officer. She most enjoys "the opportunity to meet new people and to communicate about opportunities in the Auxiliary." When an individual expresses interest in membership, Diane presents the variety of possible roles, activities, and training opportunities, and tries to get a sense of how committed the person is. She provides information about the application process. She's also the fingerprint technician for our flotilla and takes photographs for member ID cards. Diane has taken on an added role this year, that of "reaching out to people who haven't been active or come to a meeting in a while."
When asked, "What are your hopes for 7-6" Diane shares several positive ideas. She would like to see us be more involved in community outreach. For example, she recently got an e-mail from a public relations person at Cabella's, a gear and sporting goods store in Tualatin. The individual invited the Auxiliary's help with information and life jacket fittings, and several members volunteered. Diane would like to see us more involved with "all kinds of companies that put on safety fairs, like Intel. I wish we could get plugged into some of those."
Diane would also like to encourage and see more experienced members volunteering for mentorship roles with new members. If you are interested in playing such as role, please contact Diane!
Words of wisdom for new flotilla members? "Don't be afraid to ask questions -- it can be overwhelming as a new member."
R.Q. Leibowitz
# # #
Meet Jack Tanz
Mon, 10 Oct 16
Our first featured member is Jack Tanz. Jack is a tall, strong, determined man I first met in 2015, when I was new to the auxiliary and our flotilla. He was one of two 76ers who invited me on board his boat as a trainee when I announced being interested in operations, and his generosity with time and teaching helped inspire me to seek crew qualification the following year. Jack was gracious with his time for this profile. First he provided written materials. Then he and wife Julie met me for dinner at Shari's in Milwaukie for excellent food and fellowship.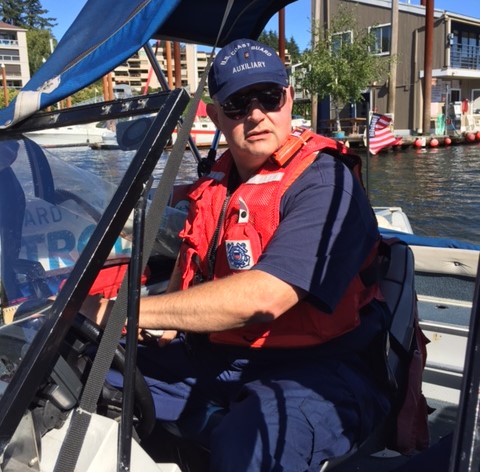 Jack At a Glance:
Joined USCGA:
1983
Joined Flotilla 76
: 2008
Current qualifications:
Boat Crew, Coxswain, Instructor
Favorite auxilliary activities:
Boating safety, surface operations, public education
Advice for new flotilla members:
"Get involved initially in as many activities as you wish – then find your niche and specialize in what you like to do. You've got to find what your niche is, and don't try to be everything to everybody."
Current boat:
The "J&J," a Lowe 1730
Little-known skill:
Can mimic bird calls and store scanners


Jack Victor Tanz was born in Tennessee in 1958 to parents Ralph and Rose, and grew up with brothers Brian and Guy. The family moved to Portland in 1969 when Jack's father became Professor of Pharmacology at Oregon Health Sciences University.

Travel and culture were very much a part of the Tanz family. In 1976 Jack's father was awarded a sabbatical and the family headed to South Africa and Jack experienced his first year of college at the University of Cape Town. There he was exposed to the British education system, which is very different from ours. After returning to the U.S., Jack completed a B.S. in General Studies Science at Portland State University. He also earned an Associate of Applied Science in Electronics Engineering Technology (AAS-EET) from Portland Community College.

Jack lives in Milwaukie, OR with his wife Julie and cats Otis and Oreo. Jack and Julie's marriage in 1999 was a second one for both. The two have a great deal in common, such as placing a high value on supporting rescue services. Julie was a member of the Coast Guard Auxiliary between 2000 and 2005. Along with Jack, she volunteers with Clackamas Fire District #1.




Travel has remained a strong interest for Jack that is also shared by Julie. Locally, they enjoy trips to the coast for fishing and crabbing. Internationally, "We love cruises." They have been to Mexico, Australia, and Canada, and recently returned from a trip to Ireland, Scotland, and England.

Jack's fascination with radios and electronics, as well as boating goes back many years. It began with the Tanz family's first boat, an aluminum "car topper," purchased when Jack was 12 years of age. That boat was traded in for a 16' runabout that was followed about two years later by a 24' fiberform cruiser named "Larus." At family outings to the beach, the Tanz family members were split in their preferences. Half the family enjoyed remaining on the beach, while the others would go boating. As any reader who has met Jack will know, he was in the second group – always up for experiencing the sights, sounds, and motions of boating, and also for operating the communications system.

Jack's parents were aware of his interest in all things radio. At age 13 or 14 Jack was pleased to discover the 23-channel Radio Shack CB radio that awaited him beneath the Christmas tree. "Just play with this," his father invited. Dr. Tanz also shared his 1955 radio amateur's handbook with his bright and curious son. "I started out knowing nothing," says Jack, but with the help of the book and his own experimentation he learned a great deal over the next few years. The handbook was so important to Jack that he has kept it all these years. He continued with his radio electronics hobby through college.

From boyhood on, Jack found he had a natural facility for working with his hands and finding solutions, and he has always been drawn to hands-on and technical types of work. According to Julie, "There isn't anything he can't fix. He has McIver-like tendencies."

Jack's first paid job was "mowing the lawn for a pittance" as a boy, and his first technical job was during high school, when he wired pumps during summer break. He began his professional engineering work in Southeast Portland as a bench test technician for a company that built power supplies and power converters. He worked his way up to process test engineer and ultimately to manufacturing engineer. Jack is currently a quality engineer for a small firm in Canby that contracts for the assembly of circuit boards. There, he enjoys the challenge and variety of his work. His main responsibility is to "Look, identify problems, and inform others 'you've got a problem, go fix it.'" He also sets up the runs, provides sustaining design recommendations, and plans purchasing for new products. As a creative aside, he is also involved in a separate company project related to fluid level s

ensors.

Jack's hobbies include fishing, boating, outdoors in general, and amateur radio. He has a special passion for public safety activities. His involvement in this area started with a small citizen's volunteer group in Southeast Portland that provided First Aid, CPR training, and incident traffic control. Public safety activities over the years for a variety of organizations have included earning an EMT certification, working for an ambulance company, assisting in fire prevention and education, and being a Community Emergency Response Team (CERT) instructor. Jack received a Fire Chief's Award of Appreciation in 2008 and a Support/Rehab Top Responder award in 2013.

And then… there is Jack's involvement with the US Coast Guard Auxiliary! Jack joined in 1983 and has been a member of Flotilla 7-6 since 2008. In the CG Auxiliary world, Jack is most passionate about "boating safety and surface operations, and behind that is public education." Concerning operations, "It doesn't matter if I'm behind the wheel or a crew member." Jack has performed nearly 3,000 hours of on-the-water patrols, and has been credited with nearly 200 assists and several lives saved. He received an Operational Merit Award in January 2008 from USCG Vice Admiral J.P Currier, for action assisting an injured person while on patrol. Jack has also been an instructor of classroom boating safety education. Says Julie, "I've seen him teach, and he has a very easygoing teaching style that people respond to."

Jack's boat is "J&J," a riveted aluminum open bow outboard runabout that he has owned since 2009. It is moored at the Portland Rowing Club in Sellwood. Jack engages regularly in safety patrols. He likes to secure patrol orders at least twice a month during the warmer months. I know from being aboard the J&J several times that Jack's many years of experience are something he carries with directness, gentleness and humor. He shows a strong willingness and facility for sharing knowledge and skills with newbies, and also works alongside more experienced colleagues with respect and good humor.

No member profile would be complete without an answer to the question, "What are some things about you that most people wouldn't know?" While Jack was not quick to come up with a response, Julie provided several. "He's musically inclined," she stated. "He has excellent rhythm and time." Jack also has skills rivaling those of a mockingbird. "He can imitate sounds very easily. He does a very good eagle call and can also mimic a store scanner."

I was fortunate to experience the execution of one of these skills while crewing with Jack in August 2016. While moored at a pit stop on the Willamette, we saw and heard an osprey calling piercingly from a tree along the shore. Jack responded in kind. To my human ear, Jack's call sounded quite convincing. However, we will never know if the osprey agreed.

Last, but not least, Jack relayed a message for new flotilla members. "Get involved initially in as many activities as you wish – then find your niche and specialize in what you like to do," was his sage advice. "You've got to find what your niche is, and don't try to be everything to everybody."

R.Q. Leibowitz

# # #