Free Vessel Exams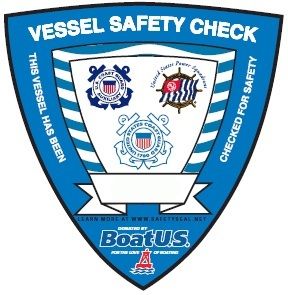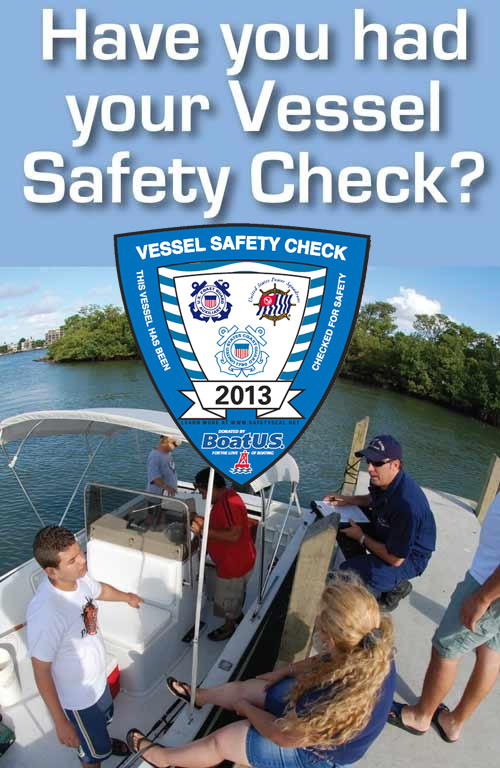 At your request, we can perform a Boat Safety Equipment Examination. This is a "free" inspection of safety equipment on your boat. Only you are told of the results. Our equipment list is usually above and beyond what is required by most state boating laws. If your boat passes the exam, you get a decal you can put on your boat. Our examiners will advise you about important safety equipment which will allow you to boat with confidence.
Call Les Czarnecki 360-431-5505, Dick 360-931-0845 or Bob Thomas 360-849-4519 to schedule your free boat safety check.
A SEAL OF SAFETY decal is awarded to vessels meeting the minimum legal requirements. Complying with all the regulations is in your own interest, both for SAFETY and to SAVE MONEY. Many insurance companies will give a discount to boats that have the SEAL OF SAFETY.
To have your boat examined in the Longview, WA area, Contact
Les Czarnecki 360 431 5505
The SEAL OF SAFETY decal is awarded once your vessel passes a Courtesy Marine Examination performed by the Coast Guard Auxiliary.
The following is a list of the items needed on your vessel in order to obtain a SEAL OF SAFETY.
Numbering(Proper spacing, contrasting color, minimum 3" block letters)
Registration/Documentation (Papers must be on board)
Navigation Lights (Must operate and show proper configuration)
Sound Producing Device (Horn, whistle, or other device)
Bell (Boats 12m [39.4ft] or longer)
Personal Flotation Device (One wearable for each passenger, minimum 2. Boats 16ft and over also one type IV)
Fire Extinguishers(Mounted, minimum size and type for boat, HALON/FE241/CO2 - current tag)
Visual Distress Signals Inland (VDS, flag signal, light, etc.)
Visual Distress Signals International (Minimum flares/aerial rockets or approved signals, not expired)
Ventilation(For closed compartments with potential for explosive vapors and an ignition source. Installed blower must work. Warning posted)
Backfire Flame Arrester (Approved type, tight installation, clean)
Fuel System(Tanks secure, over 7 gallon are considered permanent and must be grounded/vented, hoses in good condition, no leaks)
Anchor and Anchor Line (Suitable for the boat and the boating area)
Alternate Propulsion (Boats under 16ft paddle, oar, etc..........)
Dewatering Device (Pumps must work, extra manual bailer)
Overall Vessel Condition (Bilge and equipment area clean, well maintained. Not overloaded, overpowered, or no automotive parts)
Electrical Systems (Batteries secure, terminals covered, well organized wiring, proper fuses/circuit breakers)
Galley/Heating Systems (Secure system, proper tank installation. No flammable material nearby)
State Requirements (Comply with all state safety requirements)
Marine Sanitation Device (Approved device, overboard discharge sealed)
Marpol Trash Placard (Boat 26ft and over, written plan 40ft and over)
Pollution Placard (Boat 26ft and over, with machinery compartment)
Navigation Rules (Boats 12m [39.4ft] and over)
"FCC Marine Radio License is no longer required for a VSC decal"
The following items are not a requirement for the VSC decal. These additional items are required under Federal and State laws.
CG Capacity Plate (Visible, mono hull power boats, under 20ft)
Certificate of Compliance Label (Mono hull power boats under 20ft, all boats with installed engines, except outboards manufactured after October 31,1972)
Hull Identification Number (All boats manufactured after October 31, 1972)