CoC 20015
The Change of Command Ceremony Station Siuslaw River

June 19, 2015.
The Change of Command Ceremony is a long-standing tradition, and is the formal process by which a new Officer in Charge relieves the previous Officer in Charge of responsibility for a unit. The ceremony offers guests an opportunity to gain appreciation for military character of the Coast Guard, as well as observe the authority and total responsibility of the Officer in Charge.
Moreover, the position of Officer in Charge requires great trust and unwavering loyalty from the crew, and the Ceremony ensures that all hands recognize the transfer of command and render proper obedience to the new Officer in Charge.
Flotilla 52 said goodbye to BMCS James A. Greenlief, wishing him well on his new assignment as the Executive Petty Officer at Station Cape Disappointment in Ilwaco, Washington. The Ceremony was bittersweet as we said goodbye to an excellent Auxiliary partner, sending him on an amazing journey to finish out his Coast Guard Career. The Ceremony was well attended by Flotilla 52, Coast Guard Command Staff, and special guests. City of Florence executives, Law Enforcement Officers and Senior Chief Greenlief's family were also in attendance. Vice Flotilla Commander Norm Hoffman was on hand to Present Senior with an award for Greenlief's commitment and service to the Auxiliary and especially Flotilla 52.
We also welcomed our new OIC BMCS Timothy Tregoning. We knew replacing Greenlief, as a strong supporter of the Auxiliary, would be difficult. Imagine our surprise when we learned that Senior Chief Tregoning was equally supportive and in fact was himself an Auxiliary Member!

BMCS Tregoning is a TCT trainer and certified Boat Crew Member and Coxswain. He is an avid boater and water skier and looks forward to joining Auxiliary Operations Patrols underway on the Siuslaw River.

Flotilla 52 looks forward to the next four years we have with Senior Chief Tregoning and to the benefit of the knowledge he brings as an active member of our Flotilla.
Outgoing Senior Chief James A
Grienlief (L) and incoming Officer in Charge Timothy Tregoning talk with the
crew of Coast Guard Station Siuslaw River after the Change of Command Ceremony
on 19 June 2015. (Photo by Aux Jonathan Yoder)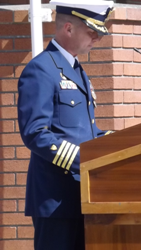 Captain Timpert, Commander, Sector North Bend,
speaks at the Siuslaw Change of Command.(Photo by Aux Jonathan Yoder)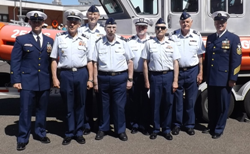 XPO Ben Snider (L) and
incoming Senior Chief Tregoning (R) flank Auxiliarists (L-R) Norm Hoffman, Bob
Remmick, Jim Stutz, Brad Hooper, Bob Ebert, and Bob Graves, all members of
Flotilla 5-2, at the recent Siuslaw Station CoC. (Photo by Aux Jonathan Yoder)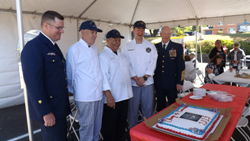 Incoming Senior Chief Tregoning (L) and outgoing SC Grienlief join the AUX-FS crew John Marconi, Tony Rebello and FS-1 Ricketts to admire the special cake made for the Ceremony.
(Photo by Aux Jonathan Yoder)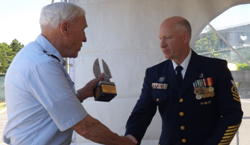 Vice Flotilla Commander Norm Hoffman presents Senior Chief Greenlief with an award
for his commitment and service to the Auxiliary -- and especially to Flotilla 52. (Photo by Aux Jonathan Yoder)