Gunter's Burial at Sea 21APR17
On a sunny and warm afternoon, 21APR17, members of Flotilla 52 Honor Guard were given the honor of performing the Burial at Sea requested by 20 year Auxiliary Member Gunter Bahr. It was most fitting that the men and women of Station Siuslaw River performed the ceremony as Gunter stood the good watch for 15 of his 20 years of service. The crew of Motor Life Boat 47223 included BMCM Tregoning as Coxswain with BM3 Filippi, MK3 Beadon and FA Ortiz as crew. AUX Honor Guard members Hooper, Ladd, Redfern and Yoder were onboard to carry out the mission. The ceremony was coordinated by BM2 Rowan, who remained ashore on the north jetty with Gunter's wife, Jacqueline, and her sister Cookie. We were underway promptly at 1600, en route to the Siuslaw bar. After a smooth transition of the bar, we set our course for exactly three nautical miles west of the S-bouy. We arrived onscene to clear skies and calm seas. Master Chief Tregoning called the crew to attention and performed the ceremony over the Coast Guard radio which was monitored by the family onshore. Honor Guard members performed the laying of the ashes and wreath. Next was a slow, ceremonial hand salute, followed by a moment of silence. We departed the scene and returned to base. Once back onboard Station Siuslaw, Master Chief gave Gunter's wife a commemorative letter marking the ceremony. A solemn occasion on a beautiful day. Thanks to the crew of MLB 47223 and BM2 Rowan for your participation in this mission allowing our friend, Gunter Bahr, to "cross the bar" one last time.
Brad Hooper, FC Flotilla 52
(Below photos by Aux Yoder)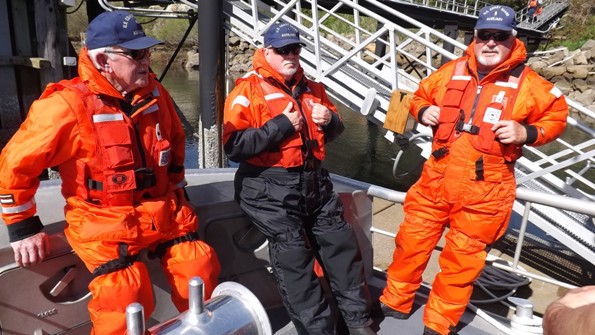 Getting underway.
Leaving the S-Bouy in our wake.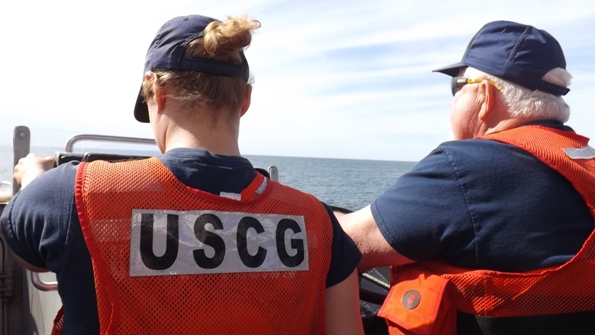 "unofficial" Coxswain Kirby Ladd with BM3 Filippi on radar.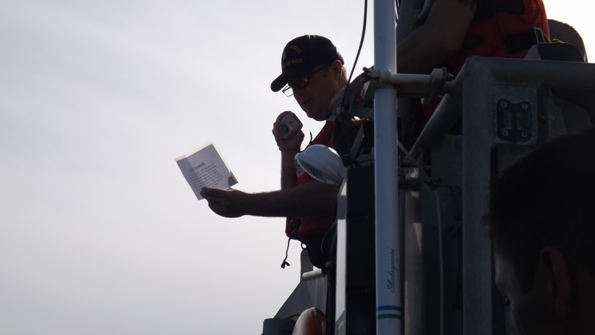 Master Chief Tregoning perfoming the ceremony over the air.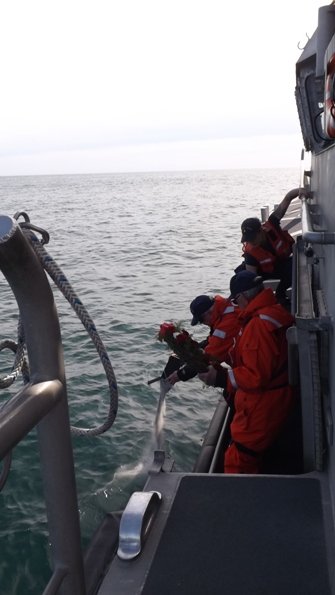 Honor Guard laying the ashes.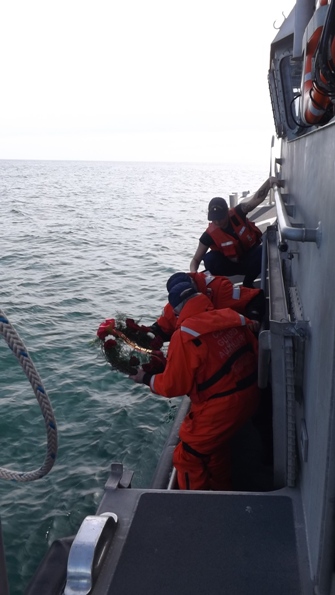 Ready with the wreath.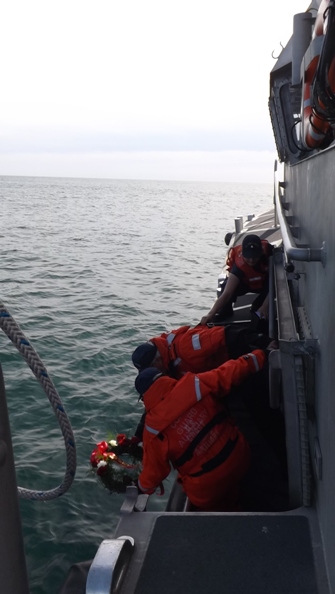 Laying the wreath.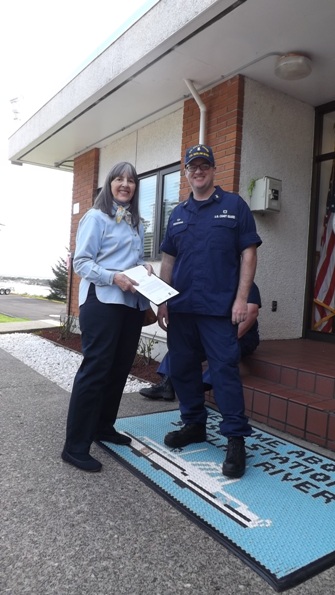 Jackie receiving a Commemorative Letter from Master Chief Tregoning.