Join Us!
Why Should I Join the US Coast Guard Auxiliary?
Are you looking for adventure while serving your country and your community?
If you are looking for some adventure in your life, consider joining the U.S. Coast Guard Auxiliary. Wherever your interests lie, and whatever life skills you have, chances are that the Coast Guard Auxiliary can offer you an area to serve that will enrich your life in ways you may not have imagined.
The Auxiliary offers you a unique opportunity to make a real difference in your local community and across the country.
We welcome and recognize your past experience, skills and talent. We challenge you to have fun learning new skills and qualifications in company with a very special group of volunteers.
The Coast Guard Auxiliary offers a number of opportunities, but the tasks can generally be divided into three service areas:
Recreational Boating Safety
Air and Surface Operations, Marine Safety
Mission Support

Auxiliarists are able to partake in training and perform missions in any of these areas:
Recreational Boating Safety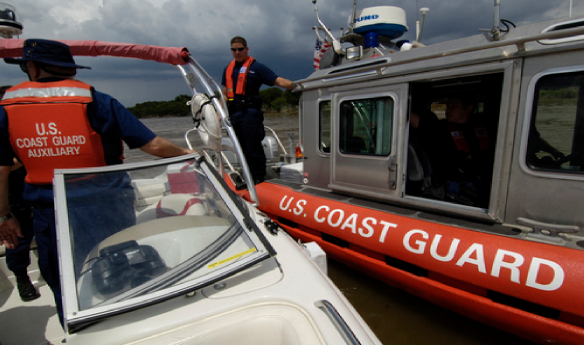 One of the Auxiliary's primary missions is recreational boating safety. This mission is accomplished by qualified members delivering Public Safety Boating Education training and classes, by providing voluntary vessel safety checks to boaters, by visiting with and educating local marine related industries, and by general outreach to the boating public through boat shows and other public venues and events.
Air and Surface Operations, Marine Safety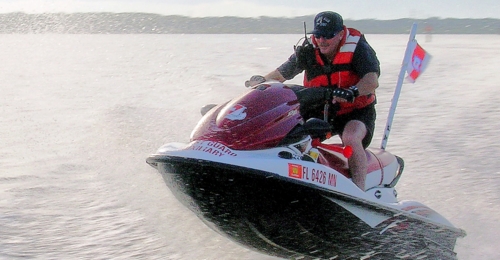 For those interested in boating, the Auxiliary offers a rigorous level of hands-on training and qualification as boat-crew and coxswain. Qualified Auxiliarists perform regular safety patrol missions in their local area and support local boating activities on-the-water such as regattas, fireworks & fleet visits.
In addition, the Auxiliary works side-by-side with their active-duty USCG counterparts in many other mission areas, including environmental protection, Commercial Vessel Safety Inspections, Port Security and Planning, Licensing and Documentation, and other vital operational roles. Auxiliarists receive training virtually identical to that of their active duty and reserve counterparts.
Mission Support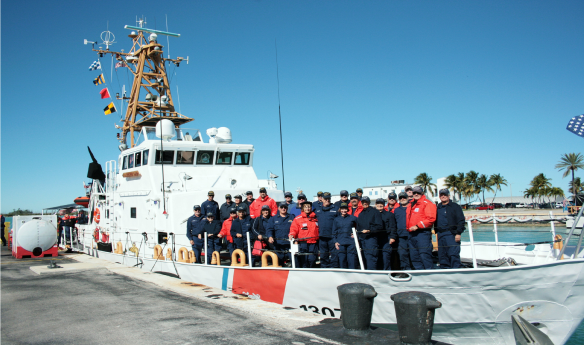 The Auxiliary needs people with leadership, administrative and technical skills (such as web site design, computer server administration, graphic design, photography, videography, communications, public relations/public affairs, instruction and instructional design, and personnel services) to support those Auxiliarists involved in the recreational boating safety and operations & marine safety missions.
What is the US Coast Guard Auxiliary?
The U.S. Coast Guard Auxiliary is the uniformed volunteer component of the United States Coast Guard. Created by an Act of Congress in 1939, the Auxiliary directly supports the Coast Guard in all missions, except military actions.
The Coast Guard's philosophy is to be SEMPER PARATUS (ALWAYS READY) against all threats and all hazards. The Coast Guard Auxiliary is an integral part of that philosophy and the Coast Guard Forces.
We conduct safety patrols on local waterways, assist the Coast Guard with homeland security duties, teach boating safety classes, conduct free vessel safety checks for the public, as well as many other activities.
The Auxiliary has members in all 50 states, Puerto Rico, the Virgin Islands,American Samoa, and Guam.
Applicants must be U.S. citizens, at least 17 years old, and pass a basic background check. There are no upper age limits or height/weight standards, although for operational activities, you must be physically able to perform certain tasks. There are no minimum service hours – you can serve as little or as much as you want.
You do not have to own a boat or participate in water-based operations to join the Auxiliary.
Finally, the Auxiliary supports its members through local unit meetings, regional conferences and enjoys heartfelt fellowship with each other.
What Can I Do in the US Coast Guard Auxiliary?
Chart your own course for the future!
As a member of the Coast Guard Auxiliary, you will be able to choose from many exciting opportunities for service. You can be challenged to learn, train and excel in areas and at levels you didn't think you were capable of, all at your own pace and in your own time. And you will be formally recognized by the Auxiliary, the USCG and our country for your accomplishments.
Help save lives––Through boating safety instruction in the classroom, through Vessel Safety Checks, or in on-the water operations. Your direct contribution to boating public safety can, and often does, literally save lives.

Increase your skills––Take advantage of advanced training in surface operations, leadership, or one of the many courses available through the Auxiliary and Coast Guard. As a member of the Auxiliary, there are no fees for these courses.

You can learn or greatly enhance your boating skills. Once qualified, you can use your own boat if you have one and help train new crews and members of the future.

You can leverage your existing talents, skills and experience to gain new positions and qualifications as you progress in the Auxiliary.
Support the Coast Guard–– Become qualified to serve at Coast Guard units in radio watchstanding, marine environmental protection, Homeland Security, and other operational and administrative support positions.
Fun and fellowship–– Enjoy the company of fellow Auxiliarists during training missions, at meetings, or social events. We enjoy our work and we enjoy each other's company!
Sharpen your leadership skills - Bring your leadership skills to the Coast Guard Auxiliary, or let us teach you how to be a great leader.
In the Seattle area? Contact us here!
Don't live in the Seattle, WA area? You can use this form to have a flotilla near you send you more information.