Flotilla 2-1 Uniform Information
Some Auxiliary Uniforms are shown below. The two most common uniforms are the Tropical Blue (called Trops for short) and the Operational Dress Uniform (ODU for short). Trops are usually called for anytime Auxiliarists have meetings, conduct public education, or are in front of non-Coast Guard people...such as at the Boat Show. ODUs are an operational uniform used primarily for surface operations or boat crew training (or other operational training). Unit leaders should issue the call for the proper uniform when meetings and/or training sessions are announced.
Unless otherwise stated in the meeting call, Flotilla 21's "uniform of the day" is Tropical Blue.
The reference for any uniform question, such as what pin or device goes where, what order should the ribbons be, or what accessory can I wear for a given uniform is the
AUXILIARY MANUAL
. [
WARNING - BIG DOWNLOAD
] . A second source is the April 2012 edition of the
UNIFORM PROCUREMENT GUIDE
. Your local expert is the FSO-HR.
Women's uniforms often propose questions for issues that us men don't have or even think about (I don't care what kind of earrings I can wear since I know the answer is NONE).
Jeanne Suchodolski
of Flotilla 22 posed a series of questions about women's uniforms which were forwarded to
Commodore Carol Urgola
of the Auxiliary's Leadership and Guidance Team.
COMO Urgola's answers are here,
.
---
ODU - More information ---
There are some technical issues regarding the ODU. For example the AUXOP device must be on a full name tape as the Coxswain, PWC operator or trident devic - the name tape extents across the top of the pocket the full width of the pocket. Past officer devices ARE NOT WORN ON THE ODU. Consult your FSO-HR for any detailed uniform instructions:

Tropical Blue (Trops)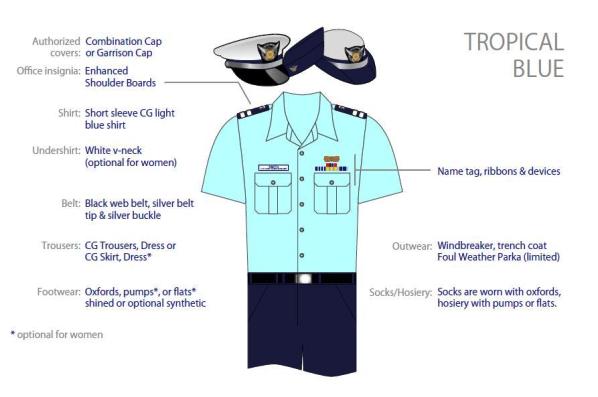 Operational Dress Uniform (ODU)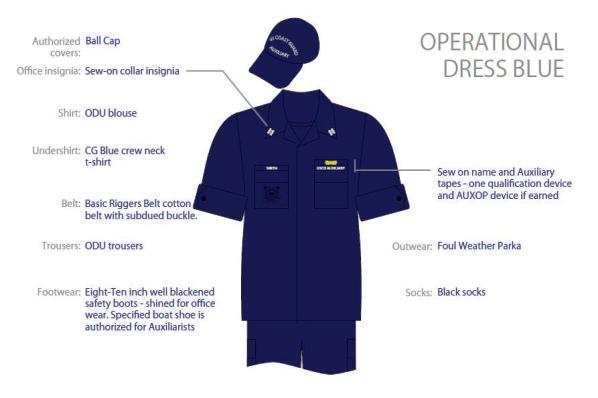 Winter Dress Blue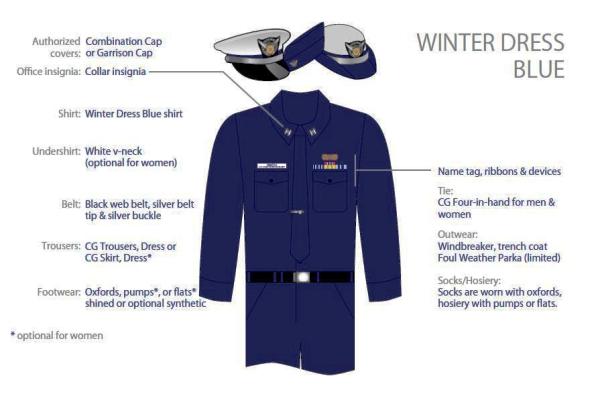 Service Dress Blue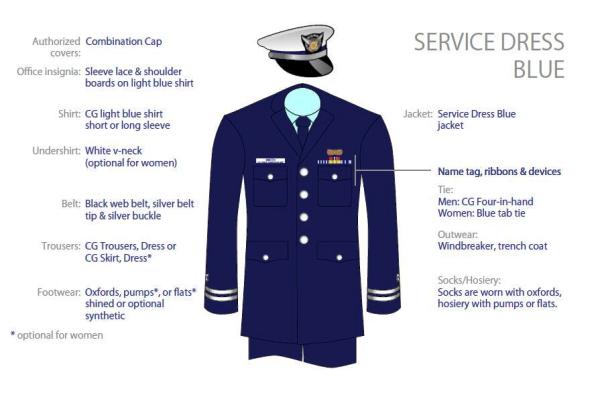 Special recognition and thanks goes to COMO Daren Lewis, ANACO-IT, for creating these uniform reference cards.