Auxiliarist of the Week
US COAST GUARD AUXILIARY DISTRICT 13
AUXILIARIST OF THE WEEK
17 SEPTEMBER 2018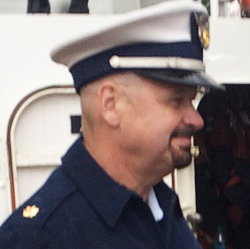 Flotilla 66 member Ed Kairis is recognized for his outstanding coordination of Auxiliary support provided to Coast Guard cutters participating in the Portland Rose Festival Fleet Week in 2017 and 2018. He arranged for Auxiliarists to conduct cutter tours, thereby relieving active duty crew members of those responsibilities. This required close coordination with active duty officers on the cutters, soliciting Auxiliary volunteers, and establishing tour staffing schedules for all cutters. In addition, Auxiliarist Kairis is a member of the Navy League and arranged social event invitations for active duty cutter crew members during their stay in Portland. Ed is a former Flotilla Commander, Vice Division Commander as well as District Staff Officer and is currently a qualified Assistant Pollution Investigator.
---
US COAST GUARD AUXILIARY DISTRICT 13
AUXILIARIST OF THE WEEK
10 SEPTEMBER 2018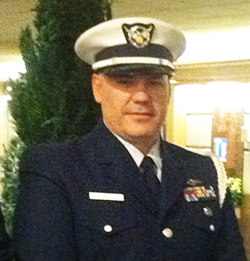 Division 10 Commander Jon Wells was contacted by a representative of the National Park Service on 12 August requesting assistance following a boating accident with fatalities on the Yellowtail Reservoir in Big Horn Canyon near Fort Smith, MT. A large multi-engine fast boat had hit the canyon wall and exploded. Orders were quickly obtained from Sector Puget Sound for Jon and two other Auxiliarists to maintain a perimeter around the accident scene the next day with PWC OPFACs while Park Rangers searched for survivors and remains. The PWCs were also used to search coves and shallow areas where other larger vessels could not reach. Jon's professionalism, qualifications, and availability on short notice produced an excellent example of interagency cooperation involving the Coast Guard Auxiliary in areas where the active duty Coast Guard does not have a presence. In addition to being a DCDR and qualified PWC operator, Jon is also certified as an Instructor, Vessel Examiner, Telecommunications Operator and Fingerprint Technician, holds the offices of SO-CS, FSO-FN, FSO-HR, FSO-MT and ADSO-HR.
---
US COAST GUARD AUXILIARY DISTRICT 13
AUXILIARIST OF THE WEEK
03 SEPTEMBER 2018
Mike Allert, a member of Flotilla 12, is recognized for his outstanding performance as the Auxiliary's Point of Contact for the Seattle Seafair Festival hydroplane races and air shows. Beginning in February, he represented the Auxiliary at the Seafair planning meetings, solicited Auxiliary volunteers and operational facilities, arranged for facility moorage, and coordinated regatta patrol assignments with the Active Duty Coast Guard. Thanks to his years of experience with Seafair and ability to work with others, the Auxiliary was well represented throughout the six months leading up to and during festival activities on the first weekend in August.

In addition to serving as the Flotilla 12 FSO-OP, Division 1 SO-OP and ADSO-OP for the Northern Area, Auxiliarist Allert serves as the AUC for Station Seattle and is the Alternate ASC for Sector Puget Sound. His certifications include AUXSCE, AV, BCCOX and IT. Mr. Allert is a valuable member of Team Coast Guard!
---
US COAST GUARD AUXILIARY DISTRICT 13
AUXILIARIST OF THE WEEK
27 AUGUST 2018
Ronald Buckley, a member of Flotilla 24, is recognized for serving as a Legal Instruments Examiner at the Regional Exam Center in the Seattle Federal Building for the past twelve years. Examiners are responsible for providing administrative assistance in the processing of applications and associated documentation for merchant mariner credentials. Auxiliarist Buckley spends 10 hours each Thursday correcting pilot exams and has 5,300 Marine Safety hours recorded in AUXDATA. He also serves as an Auxiliary Fingerprint Technician and Vessel Examiner, and is studying for his final life raft inspector exam as well as preparing to recertify as a boat crew member. Mr. Buckley is a valuable member of Team Coast Guard!

---
US COAST GUARD AUXILIARY DISTRICT 13
AUXILIARIST OF THE WEEK

13 AUGUST 2018

Flotilla 73 member John Stuhr is recognized for his dedicated support to the DIRAUX office in Seattle. John has worked over 850 hours including eight trips to Seattle in the last year supporting DIRAUX. When Auxiliary Affairs Specialist Charles Claytor retired last August, John was appointed the leader of the Auxiliary support team. From September 2017 until February 2018 he was responsible for ensuring all Auxiliary member qualifications, awards, offers for use, certificates, and correspondence were processed in a timely manner. John has been instrumental in training and supporting the new Auxiliary Affairs Specialist hired in February. He has also written several procedures that aided in training the new staff and will continue to support DIRAUX as needed. John is currently responsible for broadcasting the Underway message from the Commodore and messages from the Director of the Auxiliary to all District 13 Auxiliary members. John is also active as a Boat Crew Member, Air Crewman and Vessel Examiner, and holds the offices of FSO-HR, FSO-IS, SO-IS, ADSO-AV, and DSO-IS.


---
US COAST GUARD AUXILIARY DISTRICT 13
AUXILIARIST OF THE WEEK
06 AUGUST 2018

Deborah Heldt Cordone, Public Affairs Specialist and FL52 member, is recognized for her Public Affairs assignments both for active-duty Coast Guard and Auxiliary. She has worked over 1,400 hours this year with nearly a thousand hours in Public Affairs. The lion's share of those hours have been augmenting active-duty at STA Siuslaw River and Sector North Bend, with various assignments mostly generated via their request. She takes photos, writes press releases, produces videos and helps maintain two active-duty social media sites. Earlier this year, she completed an assignment taking aerial photos of Coast Guard Stations along the Oregon Coast, aboard an MH65D helicopter. More recently, she was assigned primary photographer for Sector North Bend Change of Command, CAPT Mullen's last military flight, as well as COCs at STA Siuslaw River and Umpqua River. She received an Achievement Medal from CAPT Mullen in front of crew minutes before he departed on his last flight. Also in July, a unit photo she took of Sector North Bend personnel became part of the National Coast Guard Art Exhibit at Coos History Museum. She is currently assigned as an FSO-PA, FSO-DV, SO-PA (Division 5) and DSO-PB doing a thorough job in all areas, particularly as editor of the D13 newsletter BUOY 13. She also initiated and administers the new public D13 Facebook page and assists with the private D13 FB group.
---
US COAST GUARD AUXILIARY DISTRICT 13
AUXILIARIST OF THE WEEK

30 JULY 2018
Flotilla 51 member Mike Barnard is recognized for his Auxiliary Clergy Support (AUXCS) activities in Coast Guard Sector North Bend. In support of two District 13 active duty chaplains, he regularly visits most of the Sector's 10 Coast Guard stations along 217 miles of the Southern Oregon coast to serve Coast Guard personnel and their families. Most recently, Mike participated in the change of command ceremony for the Sector North Bend Commander where he gave both the Invocation and Benediction. In addition to his Auxiliary duties, Mike is a full-time pastor for a church in North Bend. In spite of his busy schedule, he plans to continue his duties in service to the Sector's Coast Guard personnel and their families for the foreseeable future.


---
US COAST GUARD AUXILIARY DISTRICT 13
AUXILIARIST OF THE WEEK

23 JULY 2018

Flotilla 11-04 FSO-PA Scott Prestel has

demonstrated an outstanding ability to publicize the US Coast Guard and Coast

Guard Auxiliary missions in Southern Idaho. In May, he submitted an article

promoting National Safe Boating Week that was published in the Idaho

Statesman and initiated a meeting with Governor "Butch"

Otter in which a proclamation was made promoting National Safe Boating Week. He

also persuaded a TV news crew to attend, film and air a Vessel Safety

Examination at the Lucky Peak Reservoir near Boise, Idaho. These achievements

of promoting the Auxiliary and safe boating are outstanding examples of what

can be done with a little initiative and imagination. In addition to his

accomplishments as the FSO-PA, Scott serves as his flotilla's VFC and FSO-PV as

well as the Division 11 SO-PA and SO-PV.

---
US COAST GUARD AUXILIARY DISTRICT 13
AUXILIARIST OF THE WEEK

09 JULY 2018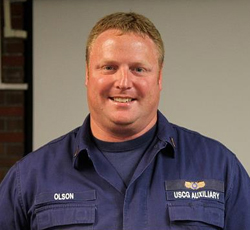 Flotilla 76 member Earl Olson is recognized for his outstanding leadership during the 2018 Portland Rose Festival Fleet Week in June. His participation in the planning and preparation with the Auxiliary operational facility owners, active duty Coast Guard, and other agencies enabled him to develop an operational plan for Auxiliary activities during the week-long festival. Mr. Olson not only coordinated Auxiliary operations but acted as AUXPATCOM to orchestrate communications among the operational facilities charged with maintaining the safety zone for visiting naval ships, guiding recreational and commercial vessels through the safety zone, and maintaining watch during the dragon boat races. His hard work, planning and leadership skills resulted in a very successful effort by the Auxiliary throughout the festival. Earl Olson serves as the Division 7 Operations Staff Officer and holds certifications for boat coxswain and telecommunications operator.
---

US COAST GUARD AUXILIARY DISTRICT 13
AUXILIARIST OF THE WEEK
02 JULY 2018



The Aids to Navigation Team (ANT) Astoria (Tongue

Point) provides all of the dayboards for District 13. At one time there were 6

Auxiliarists involved in this very important mission, now there is just one

dedicated member, Corey Deck, who has been working at the ANT almost every day

for several years producing approximately 100 boards a month. His commitment to

duty is greatly appreciated by the Coast Guard. Steve Feldscher, D13 ATON

Hardware Equipment Specialist, stated "It is a pleasure to work with Corey. He

is a very

valuable asset to the Coast Guard and I wish we had a few more volunteers just

like him." In addition to his work at the ANT, Corey serves as the Flotilla 71

Vice Flotilla Commander, Assistant District Staff Officer-Vessel Examiners for

the Southern Area of the District, and stands ramp duty at the Hammond Boat

Ramp during Buoy 10 fishing activities.
---
US COAST GUARD AUXILIARY DISTRICT 13
AUXILIARIST OF THE WEEK
18 JUNE 2018

George Long is an experienced and knowledgeable Auxiliarist who has served in offices at the flotilla, division, and national levels. Although he recently transferred to Flotilla 73 in Portland to be closer to his home, his reputation as a participating member of Flotilla 71 in Longview, WA, is that of a person always willing to assist and mentor other members. He is also recognized for sharing his in-depth knowledge of the boating practices and policies of the lower Columbia River to visiting Auxiliarists and anglers. George currently assists at MSU Portland and Sector Columbia River, and his certifications include AUX-ACP, Trident, CFVE, IT, AUX-MEES, AUX-MSAM, MDV, TCO, AUX-PA3, and VE.
Auxiliarist of the Week Nomination Form