Flotilla Activity
Another busy day on patrol with Twin Anchors (Aug 11, 2012)
The victim had a severe laceration on his left hand and a doctor called in a Mayday.
When we heard the Mayday, we proceeded from the Embarcadero near Anthony's to Glorietta Bay. We were first on scene and took the patient to Coronado Yacht Club where we met the Coronado Paramedics. The picture shows them transferring the patient from the boat.
Ralph Salerno's Ancora was also on scene to offer assistance if necessary. The two boats had just finished practicing stern tows and side ties in the Shelter Island Basin.
All in all, it was a proud day for the Auxiliary.
Semper Paratus
Bob Simons FSO-OP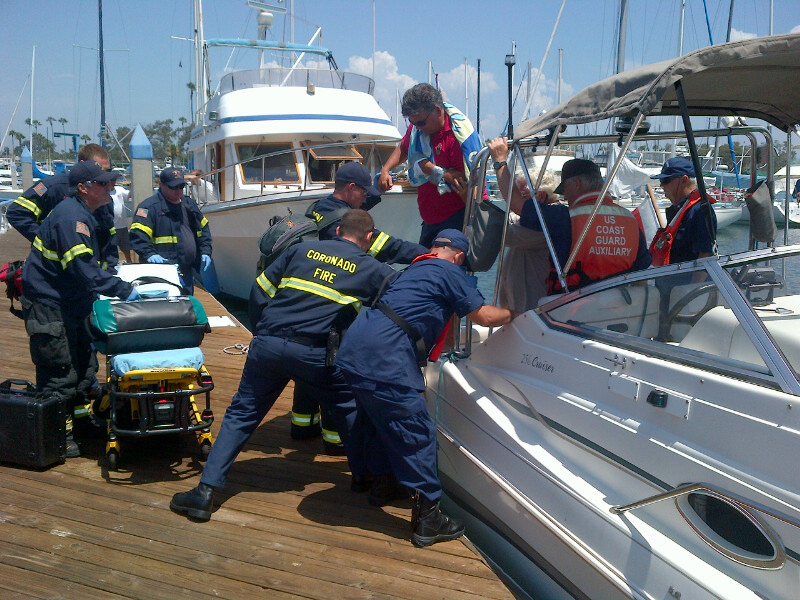 ---
During the Flotilla 18 monthly meeting in January, Dianna J. Jones - Flotilla Commander (FC) and Robert B. Hogue - Vice Flotilla Commander (VFC) presented Service awards to the following people.
Joe Stevens
30 Year Service Award

Art Goldberg
15 Year Service Award
---
---
Flotilla 18 member Kathleen Johnson arranged an incredible tour for our members on the famous FLIP vessel moored at the docks at Point Loma Research Facility across from the police docks.
The date for this extraordinary opportunity was Sunday, November 27. There was room for twenty members for this tour and depending on the popularity we might be able to arrange another tour early next year.
FLIP

(Floating Instrument Platform) is the US Navy's oldest, and most unusual research vessel. Commonly referred to as the FLIP ship, it is actually a 355ft long, spoon-shaped buoy which can be flipped from horizontal to a vertical position by pumping 700t of seawater into the 'handle' end while flooding air into the 'cradle', causing it to rise up out of the sea.

For more info on FLIP, click

here

.




~~~~~~~ FLIP ~~~~~~~
(Floating Instrament Platform)



| | |
| --- | --- |
| | |
| Jon Coats - Provided all photos and info about the tour | Joe Stevens |
---
Flotilla 18 member Chris Salerno graduated from the Coast Guard Academy this spring, and was assigned to the Coast Guard Cutter Mellon. It is sometimes interesting to read the activities encountered by ships at sea. Click
here
to read about an incident that occured on Nov 4, 2011.
---
Jon Coats (Flotilla 18 Member) went to Sector LA LB on Aug 20th with about 8 other AUXCHEF members to cook/serve for the retirement party for about 150 people.
---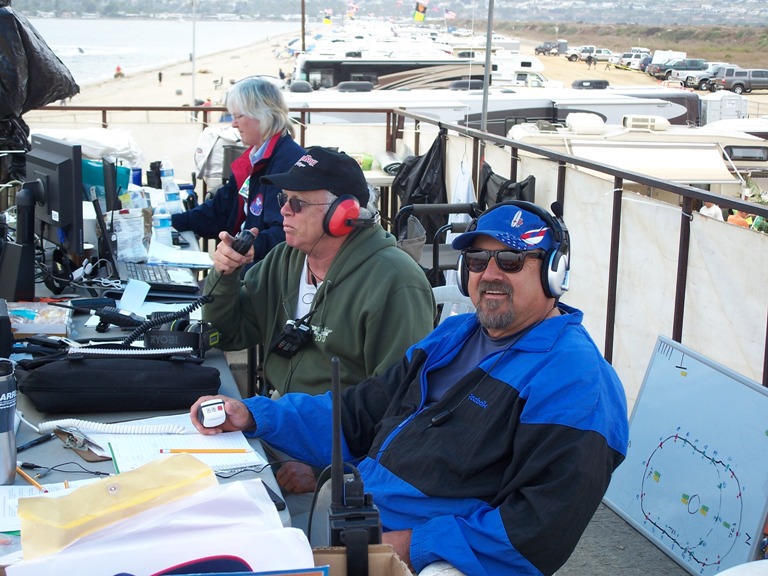 Aux members: Jon Coats, Joe Stevens, Randy Houk, Jim Davis, and Donald Van Orman all volunteered/worked the SD Bayfair (i.e. Thunderbolt races) on Sept 16-18 (Fri-Sunday) as the "Course Control" at the official start finish platform for the races. Course control was broken into 3 main radios: ch 16 watch; Inside course (Fire, Rescue, Judges, etc.); and outside course (perimeter boats, shuttles, etc.) We all cross-trained in each radio position. This was NOT an AUX event, but good training on net control and working in a event setting. It was a lot of fun and we learned a lot. Thanks to Don Van Orman.
---
Flotilla 18 members Jon Coats, Kathleen Johnson,
Rey Armstrong, Dianna Jones, Robert Simons
The 2011 11SR District Cruise and Bar-B-Que

was held in San Diego this year.
The Coast Guard Cutter George Cobb
with 150 members and guests aboard
cruised San Diego Bay.
Pictures and information were provided by Jon Coats
and Rey Armstrong, and information about the Tender
George Cobb came from the Anchor Bay Ships website.






Memorial Marker Service
at Sector LA/LB
April 2011
the stones with engraved names.
---
Flotilla 18 member

Christopher Salerno

graduated from the

United States

Coast Guard Academy

on May 18th, 2011,

and his diploma was

presented by President Obama.
---
2nd Saturday each month, and the 5th Saturday when it occurs
VESSEL SAFETY CHECKS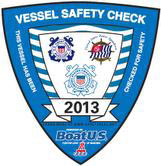 8:30am - 2pm
Laurel Street Station
---
3rd Monday of each month
Division 1 Meeting for staff and officers
6:15pm - 8:30pm
Sector San Diego Training Room