Flotilla 114-01-08 Mtgs

Flotilla 114-01-08 meetings are held at
SOUTHWESTERN YACHT CLUB
2702 Qualtrough Street

San Diego CA. 92103

Directions from Highway 8 (traveling West) or Interstate 5 (traveling South)
Take Rosecrans exit West to Owen Street
Turn Left on Owen Street, drive 1 block to San Antonio
Turn Left on San Antonio, drive 2 blocks
Turn right onto Qualtrough and follow to SWYC entryway at end of street.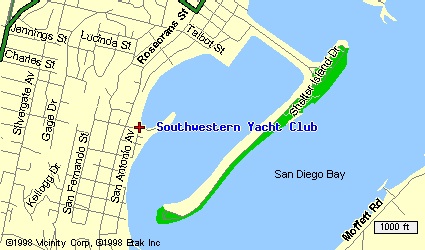 Flotilla meetings are held on the 4th Tue of every month starting at 19:00 hours (7pm-9pm)

(
with occasional exceptions that will be noted below
)
The flotilla meeting is open to all Auxiliary members and non-members interested in joining the Auxiliary. This is a monthly meeting giving the membership a chance to get together for business and fellowship. Members have the chance to catch up on the accomplishments of other members and be brought up-to-date on future plans.
Contact: Bob Simons, 619-294-4137

calusa@cox.net
(Subject Line = "AUX Interest")