Member Spotlight
Quindy Sammler, SO/FSO-MS

Quindy Sammler is the Division Staff Officer and 12-01 Flotilla Staff Officer for Marine Safety and Environmental Protection (SO/FSO-MS). She has been in the USCG Auxiliary for seven years and recently relocated from Washington, DC to Alameda, CA.

You would think that as a mother with three children, wife of an active duty Coastguardsman, and herself, a student seeking her Bachelors degree in Environmental Science, that would be enough to keep anyone busy; but that's not the case with Quindy. Her motivation for joining the Auxiliary was to have fun while learning important skills.
For example, when her husband was stationed in Washington, DC, Quindy decided to learn how to be a Watchstander for USCG Station Washington working alongside the Gold side. In the picture below, you see her being taught by Don Goff of Flotilla 25-06.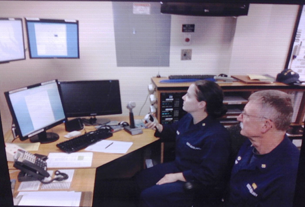 As it works out, Quindy's Auxiliary staff roles aligns up perfectly with her interests and her degree in Environmental Protection.
Quindy recently completed Dockwalkers training, which is an environmental boating program run by California State Parks Division of Boating & Waterways.

In addition to her many accomplishments, Quindy recently completed her Boat Crew qualifications at Division 12's OPTREX in Richmond, CA.

Does she still have time for her personal interests and hobbies? You bet—Quindy manages to still find time for kayaking, SCUBA diving, surfing, hiking, camping, and traveling to new places.
As mentioned earlier, Quindy's husband is an active duty Coastguardsman, stationed at Coast Guard Island, as a HS1 (Corpsman) at HSWL and is in the same building as DIRAUX. If you are ever at DIRAUX, feel free to look him up and say hi.

So, what's so unique about Quindy's husband being on the USCG Gold side, while Quindy's on the Silver side? Aren't there other husband and wife teams that have similar positions?
Well, maybe so, but can you find another anyone else in the Coast Guard named "Quindy," or whose last name is "Sammler?" I think not.

So, I asked Quindy what advice she would give anyone interested in joining the Auxiliary? Her words, "be patient and make copies of EVERYTHING" (which are words of wisdom based on her difficulty in having her transfer papers process in a timely manner, as well as receiving her many awards that should should have received long ago."
"Have fun and be as active as you can be so you get the most out of the training that is available to you." And in the picture below, it sure looks like she's having fun. Good for you, Quindy.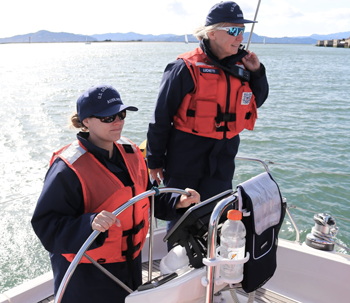 "Ready about?" "Ready." "Helms a lee."

Rajiv Bhardwaj
Rajiv Bhardwaj has been in the USCG Auxiliary for two years. He transferred to Flotilla 12-01 at the end of 2017. His motivation for joining the Auxiliary is to be an integral part of the community where he lives and serve the country by focusing on public safety.

Serving is a big part of the fabric of who Rajiv is—Rajiv is a Veteran, having served in U.S. Navy and the U.S. Army Reserves. Of his many skills, Rajiv is well equipped to serve in public affairs, diversity, training, and as an instructor.

Rajiv's technical skills include public safety, psychology, and counseling, as well as speaking several languages—Hindi, Punjabi, Urdu, Bengali, Kannada, Haryanvi, Rajasthani, Gujarati, Ukrainian, and Russian, to name a few. Rajiv is currently the FSO-NA for 12-01.

He has a big heart and always ready to help in any way that he can, including supporting the FC and VFC whenever called upon. Rajiv has a Masters of Business Administration from Augusta Stye University and a B.S. in Counseling from Liberty University. He ran his own hospitality business working with Comfort Inn, Choice, and ABVI from Vantage hospitality.

Rajiv is a husband and a father. His spouse, Tetiana Bhardwaj, is an active member of the U.S. Coast Guard. Rajiv has two children—his daughter Angel Bhardwaj is in her first year of college UGA, Athens, GA. His son Kevin Bhardwaj, is in the 3rd grade and goes to school at Ruby Bridges.

Rajiv's personal interests are as varied as his impressive background—painting with water and oil, horseback riding, and traveling the world—India, Poland, Dubai, Poland, Canada, Mexico, France, United Kingdom, India, Nepal, Ukraine, Russia, Romania, Italy, Ukbekistan, Germany— and spending time by the ocean—he has a great tan, doesn't he. ;>)

When asked what advice he would give to others who are interested in the Auxiliary, he was quick to answer—a community with like-minded professionals and volunteers who have diverse backgrounds, knowledge, skills, and experiences.

Please join me in welcoming Rajiv to Flotilla 12-01.