USCG Auxiliary University Program for CMA Students
AUXILIARY UNIVERSITY PROGRAM (AUP) at
CALIFORNIA MARITIME ACADEMY, VALLEJO CALIFORNIA
The Coast Guard Liaison Office is pleased to announce the Auxiliary University Program is available at the California Maritime Academy (CMA) in Vallejo. The AUP offers cadets an exciting opportunity to serve as a member of the Coast Guard Auxiliary during completion of their college education.
Members will receive leadership experience, field training, education, and internship opportunities.
Participation in the AUP requires no military service obligation, and does not guarantee a commission or enlistment upon graduation. AUP is great stepping stone for cadets interested in being competitive for enlistment or commissioning within the United States Coast Guard. The AUP is open to all cadets of the California Maritime Academy regardless of their degree program.
Training
As a member of the Auxiliary University Program, you will complete three phases of training through a 1-2 or 3-4 year option: General Nautical Requirements, Elective Qualification, and Maritime Leadership Capstone.
Phase I: The member will receive training in Incident Command System, safe boating, seamanship, communications, weather, basic indoctrination and administration procedures.
Phase II: The member may choose any of five exciting courses of study including boat operations,
telecommunications, marine safety, public affairs and vessel exams.
Phase III: As a senior member of the unit courses offered in the AUP include leadership and management, small-boat coxswain, professional internships and the Homeland Security Seminar series.
Are you interested?
Contact the Coast Guard Liaison Office if you are interested in Coast Guard programs at California Maritime Academy. Further information on AUP may also be found at http://college.cgauxnet.us/.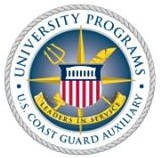 On-Campus Liaison Office:
Lieutenant Dylan McCall
Coast Guard Liaison Office
707-654-1722 Office
808-205-9328 Mobile
Dylan.K.McCall@uscg.mil