Questions about Flotilla 41?
Do you have questions about the Coast Guard Auxiliary, Flotilla 41, or interested in joining?
You can contact us at:
dnaumann23@gmail.com
Dave Naumann (408) 497-5667
Flotilla Commander
Flotilla 41's public education trailer and member operational facility
Flotilla 41 members are active in the Operations and Vessel Safety Check programs.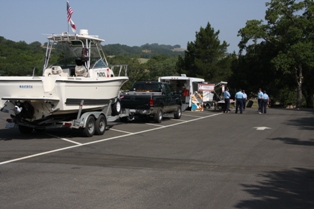 Photo: J. Sparrer
For information regarding USCG Auxiliary Flotilla 41 please contact Dave Naumann, Flotilla Commander, @ 408-497-5667.