Vessel Safety Checks in Division 113-04, South Bay
Tue, 08 Dec 15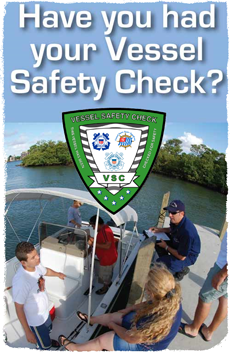 Even experienced boaters need a Vessel Safety Check!
15 min. could save the life of you and your family.
Does your vessel meet the requirements of safe boating law? Do you have the necessary safety equipment on board to ensure that you and your family will be safe at sea? Is your safety equipment operational and up to date?

Even the most cautious boaters can sometimes experience unexpected problems on the water. That's why the United States Coast Guard recommends that all recreational boaters, including personal watercraft and paddle sport users, take advantage of the free Vessel Safety Check program every year.
The Vessel Safety Check (VSC) is performed by the U.S. Coast Guard Auxiliary or U.S. Power Squadrons at your boat. Whether in a slip, at the launch ramp, or in your driveway, the Vessel Safety Check will be completed by a certified Vessel Examiner at a mutually convenient time, and will usually take 15 to 30 minutes, depending upon the size of your boat. Depending on your policy, a VSC may also save you on insurance costs.
There is no penalty if your boat fails to meet full compliance. You will simply be given a report listing the deficiencies found, along with encouragement to make corrections on your own. Your boat may at your request be rechecked at some convenient time in the future.

If you would like to request your free Vessel Safety Check, please contact our Web Manager.
THE PROCEDURE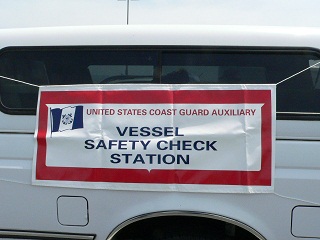 The goal of every Vessel Safety Check is to increase boating safety with safe and compliant boats. Vessel Examiners will work with boaters to achieve a passing safety check (this may take multiple attempts). VSC parameters are available to boaters so they can determine their own boats compliance with rules and standards prior to the safety check. Some of the VSC criteria an examiner will be looking at are:
Current registration and/or documentation.
On-board equipment, such as fire extinguishers, sound producing devices, navigation lights, engine ventilation, and pollution placards (as required for the vessel).
Overall condition and safety considerations of vessel equipment.
Compliance with additional state and local requirements.
Vessel examiners can also discuss the following items with the boater:
Recommended extra items for your vessel such as marine radios, de-watering pumps, anchors and lines, first aid kits and distress signals.
Vessel capacity and certification of compliance.
General operating procedures as applicable including: fueling and fuel management; boating check lists and float plans; charts, navigation aids and survival tips; safe boating classes; and insurance considerations.