District 11NR RESPONSE - Surface Operations
SURFACE OPERATIONS

The mission of District 11 North's Auxiliary Operations Division is: to provide oversight, assistance, and support for surface operations of the Coast Guard Auxiliary; to further the goals of Recreational Boating Safety; and to assist the United States Coast Guard and/or local State Boating Agencies when called on.

Bill Stolz DSO-OP
[Latest Report]

QUICK LINKS (Click Item Below)

Response Report (January 2016)

---

---
OPEX & OPTREX Events
OPEX and OPTREX events are kept on the
District Calendar
Each Division is to schedule at least one OPEX or OPTREX per year, preferably two. This training opportunity increases qualified members for greater mission strength.
The Exercise Guide provides helpful information for Flotilla and Division leaders for planning.

Please advise Wally Smith, DCOS, the dates you have chosen so they can be placed on the District Calendar. To avoid conflicting dates, check District Calendar.


USCG Training Opportunity
Would you like to receive excellent training that only the Gold side can provide? Please email DSO-OP (Bill Stolz) and you will receive more information on this training that is scheduled a year in advance. Facility should be less than 30 feet and will be underway for three to four hours. This is not an eight hour Safety Patrol; this is Operational Support for the Coast Guard. The Station needs to have the opportunity to work with different type vessels as this is what they come across on a day to day basis.

---
Response Reports

---
Mission Hours Reports
AUXINFO provides information from AUXDATA, updated weekly. The 2014 Mission Hours are posted below. The following links are for 2014. For flotilla report, click on a division. For member report, click on a flotilla.

AUXINFO REPORTS (Click Menu Item)
MENU (Click Item)


---
Photo Gallery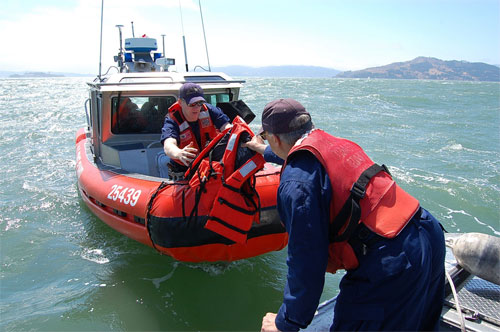 Submitting Photographs to the District Gallery
When summiting photographs please insure that the photographs meet the USCG Auxiliary Digital Photography policy. Make sure that everyone in the photo is wearing proper Coast Guard Auxiliary uniform according to the Uniform Guidelines. Carefully check your shot for safe activities. Look for such things as, no one standing right behind an active tow line, no one sitting on the side of the facility when under way, not wearing a life jacket while underway, or the life jacket is on but not buckled, etc..

If there are children (Anyone under the age of 18 years) you must have a signed model release form allowing the Auxiliary to use that shot or the photograph of the minor must be unrecognizable. {USCG Auxiliary Photographing Children Policy as of January 2013}

---