District 11NR - From the Director


Coast Guard District Eleven Director of Auxiliary- North (dpa-n)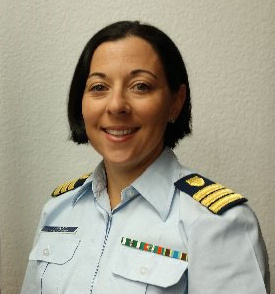 Commander Paige Keenan, U.S. Coast Guard
PERSONAL BIOGRAPHY

CDR Paige Keenan joins the District 11 Auxiliary Team from the Surface Forces Logistics Center Long Range Enforcer Product Line (SFLC LRE PL) in Oakland, California. While at SFLC LRE PL she was responsible for the coordination of Major Cutter Decommissioning and Foreign Military Sales for LRE assets and was the product line's lead for future Acquisition Projects to include HEALY Midlife Maintenance Availability (MMA), POLAR STAR Service Life Extension Project and Polar Icebreaker (PIB) Project. Her branch was also responsible for the Dive Equipment Section Light and provided the CG Dive Program mission support throughout the Coast Guard.

Previous Coast Guard assignments include Surface Forces Logistics Center Icebreaker, Buoy and Construction Tender Product Line (SFLC IBCT PL) in Boston, MA, USCGC MACKINAW (WLBB 30) and USCGC CHASE (WHEC 718). She is a 2002 graduate of the Coast Guard Academy and received a Master's of Science degree from the University of Michigan in 2008.

CDR Keenan is originally from Southern California and married to Kevin, who is stationed at Base Alameda. They have a son Tyler. CDR Keenan looks forward to working with the Auxiliary in District 11, particularly because the D11 SR Auxiliary is who provided her with the opportunity to attend AIM 22 years ago and started her path to the Coast Guard Academy!