District 11NR RESPONSE - Aviation
Aviation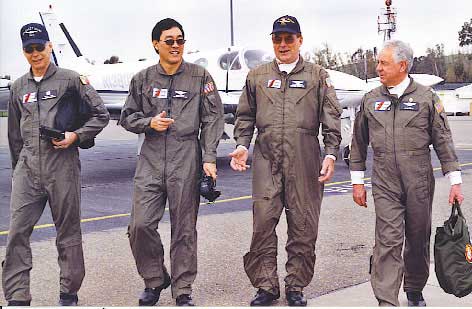 Private pilots in uniform . . . "Count on Us"
[Latest Report]
Welcome to the 11North Squadron
Northern California's U.S. Coast Guard District 11, Auxiliary Squadron 11N, prides itself as one of the most highly trained and capable AuxAir units in the country. Operating an average of 10 general aviation aircraft from six airports between San Francisco to Sacramento, Squadron 11N has compiled a distinguished history from routine weekly operations to special missions.
Deployed in operations from the California/Oregon border South to Morro Bay, throughout the San Francisco Bay and into the vast and complex labyrinth of the San Joaquin Delta Region, the Squadron has conducted extensive operational missions, taskings, search and rescue and special patrols that has earned an impressive list of awards from the Coast Guard; among which is Group San Francisco Unit Citation when conducting Alpha surveillance missions during the 2004 Presidential election.
AuxAir pilots and air observers fly small, private aircraft that are the ideal choice for many types of operations to which the Coast Guard is dedicated. As important is the number of Aux aircraft facilities available to augment limited Coast Guard aviation assets. As important, Squadron objectives continually concentrate on new ways to maximize potential through consistent training and evaluation of Squadron capability.
Become an AuxAir Aviator
Auxiliarists have considerable opportunities to increase individual participation in numerous activities and becoming an aviator in Squadron 11N is among the most exciting and rewarding. Although an aviation background is always helpful, no aviation experience is required or necessary. For those who have always yearned to fly, becoming highly trained as an Auxiliary flight crew and enjoy that special right of passage into the aviation community, AuxAir Squadron 11N might be just right for you!
Your First Step is to contact the Squadron Personnel Officer, Mr. Leo Gross, for additional information; an Auxiliary air program introduction package and to arrange an aviation interview and orientation.


---
Missions
Operational Plan
Squadron 11N is organized into an aircraft/mission-specific operational plan. Single engine aircraft patrol the California coastline, San Francisco Bay, and inland waterways from the Golden Gate bridge following the deep water channels to Stockton and Sacramento. Included are reviews of the hundred of inland islands, channels, rivers, and levees in the inland Delta area. Twin engine aircraft patrol offshore (30+ miles) Marine Domain Awareness patrols, Search and Rescue, transportation and logistics operations. An additional task of AuxAir is in support of Homeland Security conducting various security checks of specialized targets throughout the San Francisco Bay Area.

---
Squadron 11N also coordinates with the the regular Coast Guard helicopter units fro Air Station San Francisco for Search and Rescue tasks, and specialized helicopter crew training.
---
Auxiliary aircraft pilots and air crews are spread throughout the District. The Squadron concept was organized to bring in aviators from various Flotillas. Organization using the Squadron concept allows all aviators to fly together and train together, mixing crews from various Flotillas.
---
Official Patrol Orders are issued from Air Station San Francisco for each patrol. Although an Auxiliarist is charged with determining patrol schedules and assigning pilots and crew, the Air Station is charged with the approval of every flight. Orders are sent to all qualified aviators on the Air Ops Mailing List. If orders (flights) cannot be undertaken because of inclement weather or other unforeseen events, the pilot must report the cancellation to the scheduler as soon as possible so the flight can be reissued. Total flight hours per/week are set and flights can be adjusted when problems occur.
Pilots need not have orders in hand before launching on scheduled flights, although that is preferable. Pilots and/or flight crew must have a patrol number and report that number on the official flight log.
---
Following their missions, pilots submit their patrol order claims for signature and submittal to the Finance Center for payments. Short or no-notice missions are handled on a case-by-case basis. Orders will be good for seven days from the date of issuance.

---
How to Participate
District 11NR is looking for dedicated people interested in aviation safety and willing to assist the Coast Guard as an Auxiliary Aviator. Facility (airplane) ownership is not required to participate in Aux Air. All one needs is the desire and ability to assist the Coast Guard by becoming a crew member on an Auxiliary aircraft.
---
Why Participate
Training
- All training courses are given at no cost to the Auxiliarist. AuxAir will not teach members to be a pilot, but will provide detailed instruction for becoming a qualified flight-crew member.
Personal Growth
- Mastering new skills and participating in aviation activities assisting the Coast Guard provided a sense of pride and accomplishment that comes from helping other. As a qualified AuxAir participant, you enjoy the honors and privileges of wearing Air Operations patches, wings and awards.
Member of Team Coast Guard
- As a member of Team Coast Guard, your actions directly reflect on the Coast Guard and the Auxiliary. You are eligible to receive Coast Guard and Auxiliary mission orders. In conducting these missions, you will be interacting with the public as well as other Coast Guard and Auxiliary members.


---
How to Qualify
For persons new to the Auxiliary:
The New Member Training program explains the Auxiliary and its functions, and assists you getting started. You will be enrolled as a member of the Coast Guard Auxiliary, entitling you to many training opportunities. There is something for every interest, whether it's boating, aviation, assisting the Coast Guard programs like the Sea Marshals, encouraging young people to explore attending the Coast Guard Academy. Additionally, many Coast Guard specialty "C" schools are available to all Auxiliarists
All Auxiliarists interested in AuxAir:

All persons interested in AuxAir, even a current GSA Pilot, must undergo Observer Training, and become a Qualified Observer, before applying for Air Crew, Co-Pilot, Pilot, or Aircraft Commander status.
Specialization:
If you desire to participate in any of the several specialty activities, you first complete New Members Training, and then begin qualification in the Aux Air specialty. See the training side-bar for more information.
Current District 11NR Auxiliarists:
If you have an aircraft or communications facility and want to use it to assist the Coast Guard and Auxiliary operational programs, you can become qualified to use it as an Aux Air Operational Facility. See the sidebar for AuxAir Qualifications and Training schedules.

---
Training
Observer
Auxiliary Observer Training Checklist, Appendix C,
Auxiliary Air Operations Training Text, M16798.5B.
Air Crew
Auxiliary Air Crew Training List, Appendix D, Checklist
Auxiliary Air Operations Training Text, M16798.5B.
Pilot
All candidates for Air Crew, Co-Pilot and Pilot shall review sections in the Auxiliary Operations Policy Manual COMDTINST M16798.3E

A-1 (Flight Operations),
A-2 (Aircrew Qualifications)
A-3 (Aviation Safety)
Search and Rescue
All Aircrew candidates shall review the Search and Rescue procedures in the Auxiliary Air Operations Training Text, M16798.5B.

---
Qualifications
1st Level - - Air Observer
Be an Auxiliary member.

Complete the required fingerprint cards.

Successfully pass a Coast Guard boating course (BQ)

Score 90% on the open book Air Observer Exam.

Prior to the first flight as an Observer trainee, demonstrate the ability to swim 75 yards and enter a life raft.

Obtain a flight suit and all appropriate safety equipment and maps.

Prior to the first flight pass the "ground school" phase of the Observer training check-off (includes sign-off on each section).

After passing the first "ground school" phase, complete the "demonstrated abilities" phase of the Observer check-off plus complete a minimum of training flight hours.




Complete the final Observer interview with the training team and associated paperwork necessary for Observer qualification.
2nd Level - - Air Crew
Hold a current FAA 3rd Class Medical or physician's equivalent.

Score 90% on the open book Pilot's Exam.

Complete the Air Crew training syllabus.
3rd Level - - Co-Pilot
Have Qualified and flown under orders at least two missions as a qualified Observer.




---
Operations
United States Coast Guard Auxiliary aviation (Aux Air) has a significant area operational responsibility (AOR) in Northern California that reaches from the California/Oregon border south to Morro Bay and inland from San Francisco Bay through Carquinez eastward into the large, complex San Joaquin Delta Region and deep water shipping channels to the ports of Sacramento and Stockton.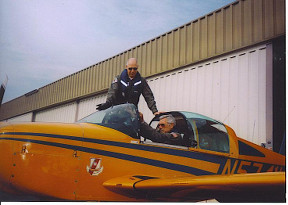 An aviation capability has always been a primary extension of the Coast Guard in all operations and AuxAir certainly compliments that capability. The use of small general aviation (GA) aircraft are ideally suited for a wide range of operations particularly search and rescue (SAR), aides to maritime navigation (ATON), reconnaissance and air to surface photography. Use of AuxAir aircraft conserves regular Coast Guard aviation for more hazardous or specialized missions and the wide range of Auxiliary aircraft provide a considerable 'mission-specific' variety to undertake an equally wide range of mission assignments.
Ever since the beginnings of WWII when the services required efficient observation and liaison aircraft that could operate from short and unimproved runways the requirement was filled by GA aircraft. From that time to Vietnam light general aviation aircraft, in numerous modified variants provided the right asset and served in most every theater and climate from WWII through Korea and Vietnam. Use of light, civilian-owned and flown aircraft continues that role in the U.S. Coast Guard Auxiliary aviation program.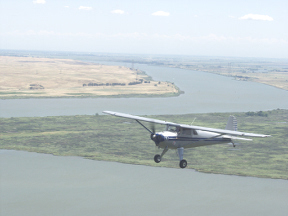 ---
Programs
Search and Rescue (SAR)
The Coast Guard has been given the specific statutory authority for developing, maintaining, and operating rescue facilities and for rendering aid to distressed persons and property (i.e. personnel, ships and aircraft, both military and civil) on, over, and under the high seas and waters subject to the jurisdiction of the United States. The Coast Guard may render aid to persons and property at any time and location in which Coast Guard facilities and personnel are available and can be effectively utilized. In carrying out its search and rescue function, the Coast Guard may utilize the facilities and personnel of the Coast Guard Auxiliary in performing SAR missions.
Marine Safety and Marine Environmental Protection
Marine Safety and Marine Environmental Protection (MEP) are two key Coast Guard programs. The principal objectives of the MEP program are to:
a. minimize damage caused by pollutants released into navigable waters,

b. overcome or reduce threats to the marine environment caused by

potential spills of oil or other hazardous substances, and

c. assist in national and international pollution response planning.

Auxiliary Air Operations facilities and personnel can be of material assistance to the MSO's when responding to the first two objectives above and should be included as potential assets in response planning.
Aids to Navigation (ATON)
The Aids to Navigation (ATON) program helps to insure the safety, security and efficiency of the maritime transportation infrastructure. The Coast Guard Auxiliary provides assistance to the Coast Guard (and other concerned federal agencies) in myriad ways, including reporting discrepant aids to navigation, verifying private aids, and submitting chart corrections/updates. The ATON program is particularly demanding of specialized expertise and detailed local knowledge. Pilots and (particularly) observers seeking to employ aircraft in support of the ATON and chart updating programs should be thoroughly familiar with applicable guidance documents and district policy.

---