Vessel Safety Check
Upon your vessel passing a safety check, you and your vessel are awarded a U.S. Coast Guard / Auxiliary Decal that informs others that your boat was in full compliance with all Federal and State boating laws during a safety check for that year. Vessel Safety Checks are 100% free of charge!
If your boat does not pass, you are provided details on how to correct any discrepancies. You get the peace of mind that your boat meets federal safety standards and that in an emergency you will have the necessary equipment to save lives and summon help. Boating insurance agencies may also offer discounts for vessels which undergo a Vessel Safety Check every year.

Find out more details or attend an event listed below. Alternately, you can fill out the form on this page to have someone from our flotilla contact you to make special arrangements.
---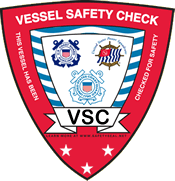 Vessel Exam Events
---
Check the "Calendar" - specific times will be provided as dates approach.