Free Vessel Checks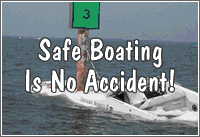 Here is an online virtual Vessel Safety Check.
Contact a local Vessel Examiner by submitting this form.
Vessel Safety Checks on Recreational Power Boats
Vessel Examiner checks over various
required equipment on a power boat
in a marina.

Boater points out location of fire extinguisher while another examiner checks out the backflame fire arrester.

This boater passed his Vessel Safety Check and is placing a decal on the port side window. Note that we do VSCs on trailered boats as well as dockside boats.
We also do free vessel safety checks on sailboats...
| | |
| --- | --- |
| blog.seaeagle.com | www.interstatehaulers.com |
... and on paddlecraft and PWCs, too.
| | |
| --- | --- |
| photos courtesy of U.S.C.G. | |