Our Missions
Missions of Division 45
9th Western Region
Operations
Division 45 has four boats designated as U.S. Coast Guard Operational Facilities which we use to patrol the lakes and rivers of the Madison area. We provide safety patrols on weekends and holidays as well as for various water events such as Syttende Mai Sailboat Races, Dragonboat Races, Rhythm and Booms, Paddle and Portage, Fishing Has No Boundaries, the Master's Swim, Ironman Triathlon, and Lights on the Lake Boat Parade.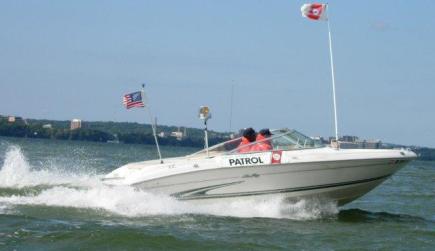 Our Boat Crew and Coxswain Training Program is excellent. In winter, we teach several classes in the classroom covering various topics, and in summer, we get out on the water to learn and practice numerous tasks. We test for mandated standards and train for excellence, even after becoming qualified crew and coxswains. Every spring, we have our Ready for Operations Training Day, coordinated with Coast Guard personnel who come to our area for the day. During this event, we run though a series of exercises and drills to make sure we're ready for the boating season.
When on a typical safety patrol, we cruise the lakes looking for boaters who may need assistance. We often tow disabled boats back to their piers. We monitor Channel 16 on marine VHF radios, listening for boaters needing assistance. Sometimes the Sheriff's Lake Patrol or DNR will come across a disabled boat and call us to do the tow. We can assist with medical emergencies as well. Some of our crew and coxswains are nurses, nurse practitioners, and EMTs. Many of us are certified in first aid and CPR, and all of us have had training in basic first aid. When we patrol for events, we keep an eye on the participants and assist if they run into problems. We also keep spectator boats back far enough so they don't interfere with participants.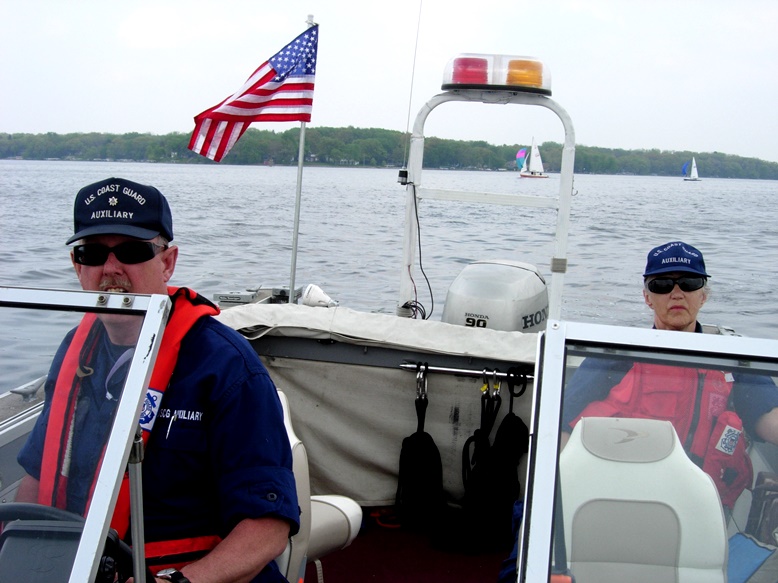 Many crew and all our coxswains are trained in Navigation and in Search and Rescue. Sometimes we are called to assist with missing boaters, paddlers, or swimmers. Since we don't have the new Rescue 21 on inland waters (the new method by which the Coast Guard can get a fix on a boater by using the Ch 16 radio signal), knowing these techniques is important in our local waters.
Public Education
We teach numerous safe boating classes in our Division. About Boating Safely (ABS) is an excellent class we teach at various locations around our area in the spring and early summer. Anyone born after 1988 is required to take this DNR-certifying class in order to operate a powerboat in Wisconsin.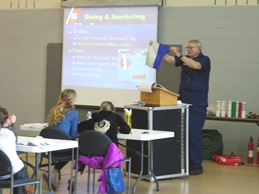 It's also great for sailors and paddlers!
The class is usually taught all in one day, 8 am-5 pm, lunch and snacks are provided as is the text. A test follows the instruction, and passing the test earns you your DNR safe boater certification. Occasionally, the class is offered in shorter segments during 2-3 evenings in the Janesville/Beloit area. The class consists of audio-visual presentations, experiments, and demonstrations. It's fun! Go to Boating Courses to find a class near you.
Vessel Safety Checks
The main way to be safe on the water is to know boating rules and laws and have the required and recommended safety equipment on board. If you are stopped by the Sheriff's Lake Patrols or DNR, they will inspect your boat. If you don't have the required equipment aboard, you will get a ticket. If you do illegal things on the water, you'll get a ticket.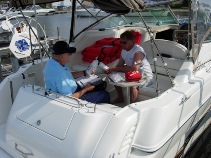 A Vessel Safety Check (VSC) is a complimentary service provided by the U.S. Coast Guard Auxiliary to make sure boaters have their required equipment in good working order. This check is not a law enforcement mission. We just want to make sure you are safe and in compliance with state and federal regulations so you don't get citations from law enforcement personnel. We can also discuss the boating rules and laws with you. Go to Vessel Safety Check to see what is involved in a VSC or to request a check for your boat.
We also will discuss safety items that are recommended to have aboard and why they are important. An example is a marine VHF radio. If you get into trouble and make a radio call, any boater with a radio will hear your call and may be close enough to immediately come to your assistance. If you use a cell phone to make a call, you are only going to be talking to one person who must then get you the help you need. That takes more time.
Public Affairs
We provide information to hundreds of people at various events by setting up a booth and passing out literature. You can find us at the Fishing Expo, Canoecopia, the Kick-off for National Safe Boating Week, Safety Saturday on the Square, and Paddle and Portage.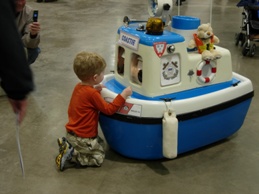 A small robotic boat, Coastie, often accompanies us at public affairs events. His job is to talk to kids and tell them about safety on the water. Coastie finds the kids to be quite smart - they already know lots of boating safety knowledge! Good for them!! They can even teach their parents some things - such as to wear their life jackets!!