Who We Are
Welcome to Flotilla 35-07 - Calumet Harbor, Chicago, Illinois
About 35-07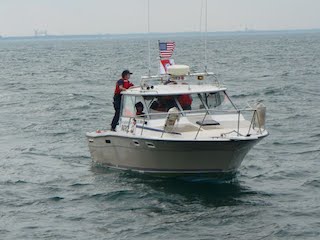 The mission of the United States Department of Homeland Security Coast Guard Auxiliary, the uniformed volunteer component of Team Coast Guard, is to assist the Coast Guard in the performance of its recreational boating safety goals. The Auxiliary does this through its Surface Operations Programs, Public Education Programs, Vessel Examinations, and Training Programs.
Saving lives is our #1 goal. Flotilla 35-07 is committed to supporting Coast Guard Station Calumet Harbor in having highly trained operations staff ready to go at a moments notice by training new volunteers. Our AOR (Area of Operation) is the southern half of Lake Michigan and its adjoining rivers.
About the Auxiliary
The Coast Guard Auxiliary was established by Congress in 1939 to assist the Coast Guard in promoting boating safety. It includes more than 37,000 members from all walks of life who receive special training so that they may be a functional part of the Coast Guard Forces.
Auxiliarists assist the Coast Guard in programs such as: safety patrols, search and rescue (SAR), maritime security, environmental protection, public education, vessel safety checks (VSC), watch standing, air wing operations and Coast Guard Academy introduction programs for youth (AIM).
Auxiliarists volunteer more than 2 million hours a year to benefit public safety and education on the water. We also host social gatherings, national conferences, and many training opportunities for auxiliarists.