Marine Skills Article
New York State
First-Responders
Learn Marine
Skills
from
Auxiliary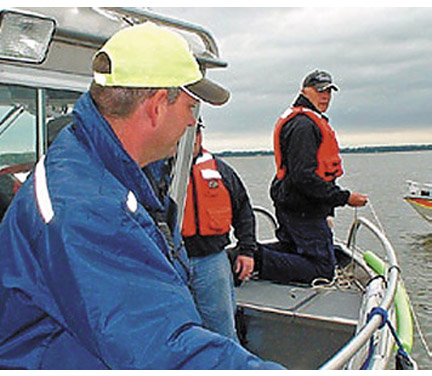 Photo: Ken Straw, SO-PA 2
D9ER
Two of Flotilla 2-14 D9ER workshop participants from Central New York
State Public Safety agencies prepare to take a 'disabled'boat in tow during
evolution on Oneida Lake..
By John Conroy
FC 2-14 D9ER
In April 2006, members of Flotilla 2-14 D9ER (Bridgeport, N.Y.) and local fire and police departments began engaging in serious conversations aimed at sharing the knowledge and resources of first responders in Central New York State's Oneida Lake area. The goal of these discussions was to improve cooperation and skills between the various organizations that protect boaters on that body of water
.
One of the flotilla's goals was to forge a closer partnership and understanding of how the other units operate in their home area, as well as to share Coast Guard training components with those groups.
History shows that fire departments respond to the vast majority of search and rescue (SAR) cases on Oneida Lake, since they usually are the first responders to be dispatched through the 911 Communications Center. These units are well-trained in rescue operations, including the use of divers, and in fire-fighting capabilities. However, in this area at least, more often than not these first responders have had little formal training in seamanship and marine operations. We felt it would be helpful to meld Auxiliary expertise in marine rescue topics with fire and law-enforcement assets and specialized training. The goal of this cross-training has been to develop a more cohesive response to the various incidents that occur each year.
A formal towing curriculum was developed last August by Stan Wilber, SO-MT 2, and John Conroy, FC 2-14, both D9ER, and firefighter Rick Kunz, a former Coastie. At the training session held at a local fire station, Conroy served as lead instructor and presenter, supported by Wilber; J.J. Phillips, DCO 9ER; and, other Auxiliarists. BM1 James Roddy represented Coast Guard Station Oswego. Other agencies were also represented, including the Onondaga County Emergency Management Service, Onondaga County 911 Communications Team, South Bay Fire Department, Madison County Sheriff's Department, and Erieville Fire and Rescue.
Following the formal presentation, teams paired up to engage in practical training on Oneida Lake to practice what they had just learned. Based upon the success of that first session, the planners decided to continue the training sessions, expanding to other relevant areas of interest and need for the participating agencies.
In November, the second training session was held at South Bay Fire Headquarters. The topic was
Fundamentals of Charting and Basic Navigation
. Conroy again served as lead instructor, supported by Wilber; John Steinbarge, DCP-2, and William Cummings, VCP-2. Many of the original agencies attended once again, and they were joined by members of the Cleveland (N.Y.) Fire Department and Onondaga County Sheriff's Department. This time, components of the first four chapters of the Auxiliary's
Advanced Coastal Navigation
course (Basic Navigation & Charting) were taught. And, once again, practical work was included – specifically, charting problems utilizing Oneida Lake charts.
Feedback from surveys completed by the participants ranged from appreciation for the knowledge shared to the fact that the information would be valuable in the daily operation of their respective patrols on the lake. Several suggestions were offered for future sessions. Many of the trainees indicated their wish for training in such topics as weather, seamanship, search and rescue plotting, and knot-tying. It was expected that the next series of training sessions would begin during spring 2007.
Meanwhile, the initial goals of greater cooperation and relationship-building were advanced with every meeting held. There are no certifications or other acknowledgements for taking these courses, but Conroy said his flotilla was looking forward to a long and continuously growing partnership with its fellow marine responders.
Article appeared in Navigator Spring 2007
-