Flotilla 26-12 What's New!
Flotilla 28-12 Change in Command
US Coast Guard Auxiliary Flotilla 28-12 held a Change of Command Ceremony at their November meeting. Karla Bowen was unanimously elected to the position of Flotilla Commander. Karla has previous experience serving in this capacity. The Flotilla Commander provides primary leadership and supervision to the flotilla. The Flotilla Commander is responsible to assure that the overall Flotilla program conforms to the Coast Guard and Auxiliary Policies and procedures, as well as provide the communications link with Division elected officers. Robert Hughes, Jr. was unanimously elected to the position of Vice-Flotilla Commander. A Vice-Flotilla Commander has the primary responsibility for administration and coordination of the flotilla staff and is essentially the Chief of Staff for the flotilla. Bowen and Hughes accepted the Oath of Office and were sworn in by US Coast Guard Operations Training Officer Ursula Walther. The flotilla members salute Immediate Past Flotilla Commander Chris Siegwart for his stalwart leadership over the past two years.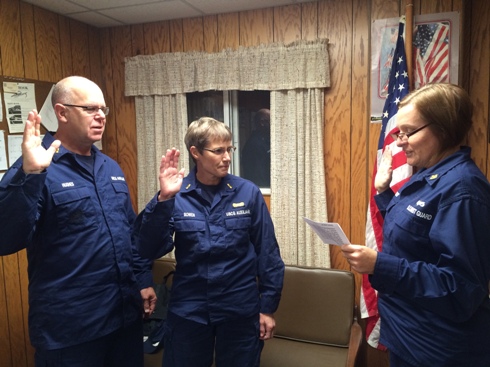 New Online Course Now Available: Modern Marine Navigation
Whether you want to improve your navigational skills on your local waters, or you're longing to cruise in foreign and exotic locations, Modern Marine Navigation will help you on your way to become a better boater conveniently, in your own home. With this course you will learn the basics of plotting, reading charts, identifying ATONs and using them to find your way on the water as well as an introduction to electronic navigation all presented online where you can study at your own pace.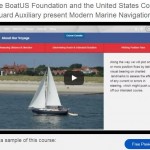 This is the only navigation course to be completely vetted by the US Coast Guard Navigation Center.
Lessons Include:
Introduction to Navigation: Our First Voyage, Our Second Voyage: Exploring ATONs, Our Last Voyage: Electronic Navigation Basics

Modern Marine Navigation was developed by members of the US Coast Guard Auxiliary. Members of US Power Squadrons, of USCG Auxiliary, and of the Great Lakes Cruising Club are eligible for discounts on the course price.

For more information and a FREE preview visit: http://cgaux.org/mmn
** DISCOUNTED RATE: Use PROMO Code: 0912612 **

FLOTILLA 26-12 COMPLETES HELICOPTER OPS TRAINING WITH AIR STATION TRAVERSE CITY

Our flotilla recently had the privilege of completing an on-water helicopter operations training with the crew of USCG Air Station Traverse City. After a safety briefing and orientation, we conducted mock hoists of a victim from rescue vessels to the helicopter.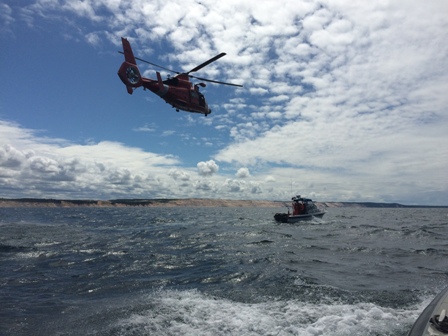 CREW OF THE AUX VESSEL "RESULTS" ASSISTS THE USCG WITH RESPONSE TO AN OVERTURNED SAILBOAT OFF AU SABLE POINT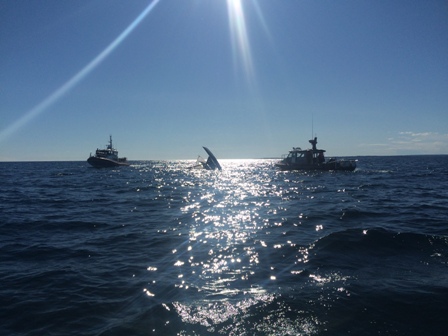 AUX VESSEL "BURT 2" CONDUCTING NIGHT SAFETY PATROLS ON LAKE SUPERIOR
As part of our summer training/patrol schedule, our Aux Vessel the "Burt 2" has been conducting patrols into the evening hours.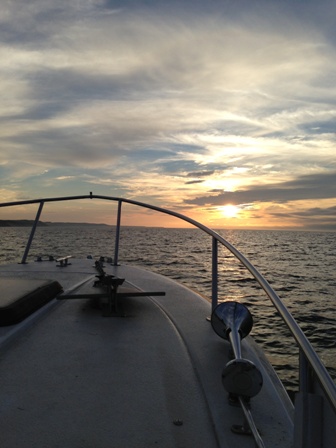 AUXILIARY MEMBERS PARTICIPATE IN BOAT SCHOOL

On August 21 and 22, 2013, members from Flotilla 26-12 participate in a boat school instructed by Leo and Kathy Fix. This school involved navigation, boat operations, towing, docking, anchoring, man-overboard drills and more! This is just one example of your local auxiliary members training hard all year long to maximize their effectiveness under stress.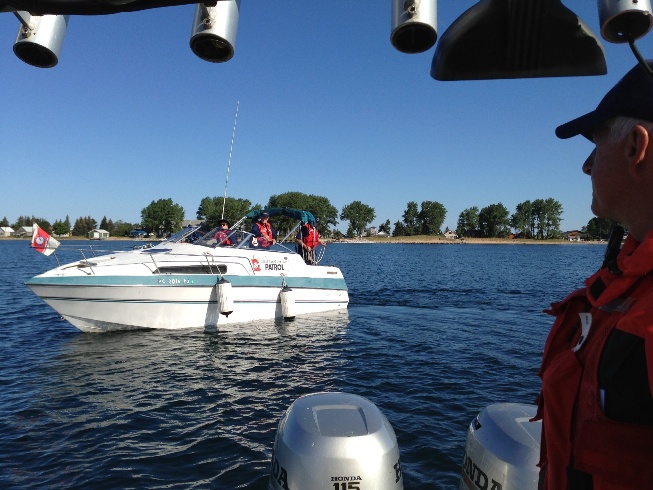 BURT II PATROL - GRAND MARAIS HARBOR TO SPRAY FALLS

In August 2013, the BURT II conducted patrols on the western half of its Area of Responsibility (AOR), including one to Spray Falls. This is the western end of Flotilla 26-12's area with the eastern end at Crisp Point.
SEARCH FOR KAYAKER IN DISTRESS - KAYAK SYMPOSIUM 2013

During the Grand Marais Kayak Symposium in July, visitors reported seeing a kayaker in a white kayak having difficulty returning to Grand Marais harbor. They saw this person approximately 1 mile north of Grand Marais Harbor until this lost sight. The US Coast Guard was called and began coordinating a search and rescue response involving a Coast Guard Vessel from Station Marquette, the BURT II from Grand Marais, 2 National Park Service Vessels, the Alger County Sheriff's Office, and the US Coast Guard Helicopter. After hours of searching in rough water and high south winds, a head count found all kayakers at the symposium accounted for. The US Coast Guard concluded the search operations and the BURT II returned to its dock in Grand Marais Harbor.
SEPTEMBER 2, 2012: AUXILIARY 26-12 MEMBERS ASSIST WITH RESCUE OF SAILBOAT
On Sunday September 2, 2012, personnel from the Alger County Sheriff's Office, Pictured Rocks National Lakeshore, US Customs and Border Protection and the United States Coast Guard Auxiliary teamed up in a response to an overturned sailboat outside of the Grand Marais Harbor. They were able to right the vessel and assist its crew in getting underway. Great example of agencies working together for a common cause once again!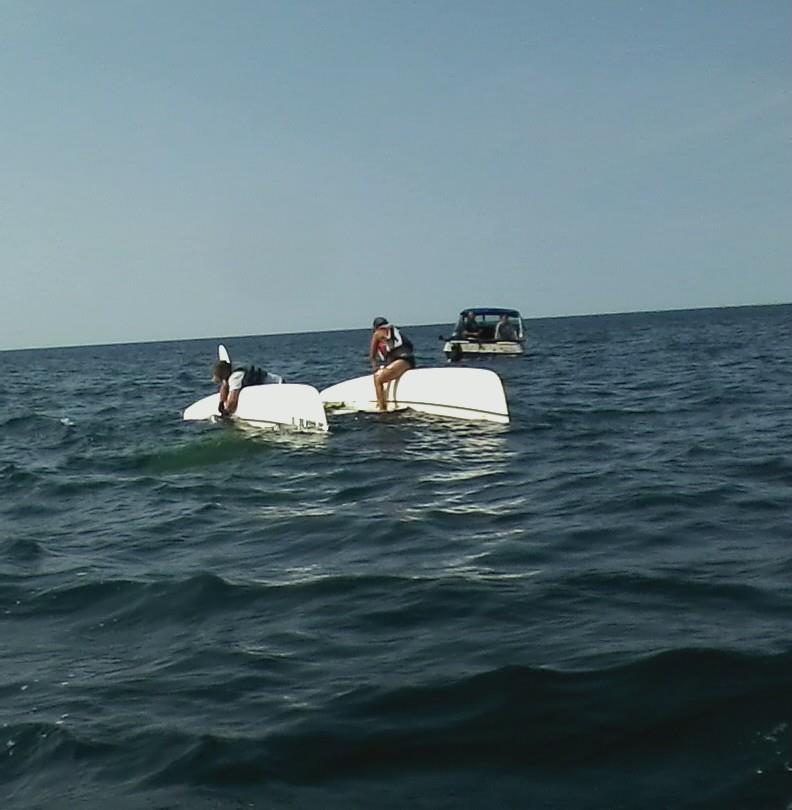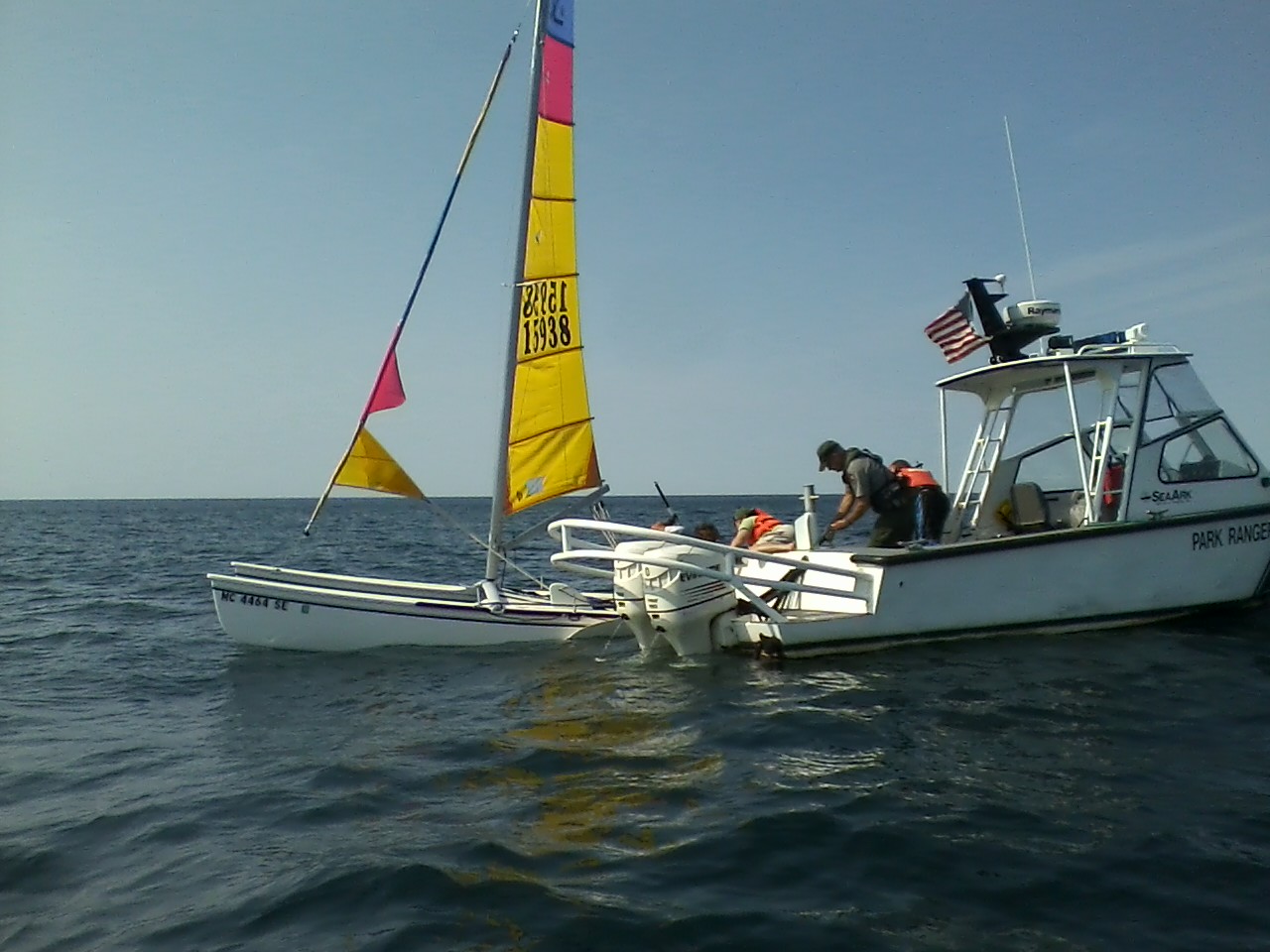 AUGUST 15, 2012: Auxilary 26-12 Rescues Vessel in Distress
Late afternoon on August 15 a distress call was received from a boat operator of a 19 foot run about with eight people on board. Four of the passengers were children including two toddlers. The boat had left Munising on a Pictured Rocks cruise and had stopped in the vicinity of the Log Slide and spent time on the beach and in the water. Approximately 6:00 PM, the group boarded their boat to return to Munising and found that the engine would not run. They started a small kicker motor and were making way very slowly toward Grand Marais. They made a distress call via cellphone and explained that they were running low on fuel for the kicker motor. Gene Lepeak, Karla Bowen and Chris Siegwart got the CGA vessel (Burt II) under way on a search for the boat in distress. Terry Richardson and Jan Siegwart with binoculars spotted an intermittent sun reflection in the direction of the log slide that appears not to be moving. Suspecting that it might be the boat in distress they hailed the CGA crew via cellphone and then relayed their findings to the crew via marine radio. The Burt crew got a fix on the tiny random flash and later confirmed that it was the boat in distress.
The boat was towed back to the Grand Marais Harbor Marina after 9:00 PM. Sheri Shafer, Jan Siegwart and a visiting sailboat couple supplied blankets, sweatshirts and jackets for the still damp and chilly boat passengers. Gene Lepeak, volunteered to drive the two men to Munising to pick up their vehicles and boat trailer. Jan drove the grandmother to pick up dinner at the Sportsman's for the boaters who had not eaten since lunch time, while Chris drove the mother and four children to the North Shore Lodge where they spent the night. The grandmother commented that she thought her home state of West Virginia was very hospitable, but said that the helpfulness and hospitality that her family received from Grand Marais even tops that.
SUMMER 2012 - The crew of Flotilla 26-12 has had a busy summer filled with on-the-water trainings. We have 3 crewman currently training for Coxswain and 6 members training for the Crewman level.