New Members and Prospects Start Here
New Members F.A.Q. Flotilla 091-18-11

Thank you for your interest in Flotilla 9CR18-11 of the United States Coast Guard Auxiliary. We want you to join us and to enjoy your experience with us. The greatest asset of the Coast Guard, the Auxiliary, and this flotilla is our people. Your success ensures our success! We are a very active Flotilla participating in all three areas of Operations (water, air, communications). We also are very active in Public Education and Public Awareness!

As a new or prospective member, it is expected that you have a great many questions and some confusion about how things work. Believe me, we have all been there! Fear not, for we will help you navigate through them. If you don't find the answer to your questions here, we are happy to answer them in person, by phone, or email. When you decide to join us, our Human Resources Flotilla Staff Officer, (FSO-HR) will see that you have a Mentor that will be available to assist and guide you through the process.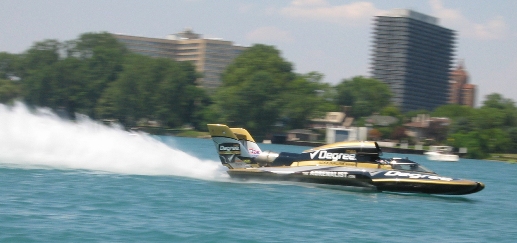 We often have front row seats at events while we perform our duties!

For now, let's talk a bit about the United States Coast Guard, the Auxiliary, our flotilla; and how we can help you get involved. During our talk, we'll show you where to find more information on the internet either here, on our site, or on other Coast Guard sites. We expect you to have many of the same questions that we all once had.
Where can I find basic questions about the Auxiliary?
Why should I join 18-11?
What's in it for me?
What can I do in the Flotilla and in the Auxiliary?
How Do I Start?
Costs of Membership
What About Uniforms?
What if I want to do something outside the flotilla?
I don't like being on the water, what else can I do?
Other Opportunities
New Member Handbook

Where can I find basic questions about the Auxiliary?
As a potential member of the Auxiliary, a great place to start looking for answers is the New Member Handbook. This can be found in the Directorates pull down menu above. There, you will find information about the basic organization of the Auxiliary, as well as some of the programs and missions the auxiliary performs. You will also find out how you can fit in as a new member and what you can expect to get out of your participation in the "Aux".

Why should I join 18-11?
We pride ourselves in our dedication to the US Coast Guard Auxiliary missions and our efforts to do it right! We have some truly gifted and dedicated leaders and a talented membership with a good mix of old hands and new blood. We try to focus on aspects that energize our membership. This means you will have the opportunity to learn about many aspects of our programs from people who have expertise and a devotion to developing our new members. We are very active in Surface and Air Operations, Public Education, and Member Training. Flotilla 9CR18-11's geographical Area of Operational Responsibility (AOR) is along the Detroit River and currently we are developing a special relationship with the community of Belleville, MI to promote improvements in recreational boating safety (RBS) on both Belleville Lake and Ford Lake.
What's in it for me?
What you get out is proportional to what you put in. We will guide you to find your place in our organization, but you will have to apply yourself.
If you have particular interests, we'll help you to find your place in the program that best meets your needs. We will also introduce you to programs with which you may not be familiar. You will have the chance to expand your interests.
We are proud of our members and their devotion to the Coast Guard and the community. Come and meet a diverse group of folks, make new friends, learn about and contribute to your community, and build your expertise.
What can I do in the Flotilla and in the Auxiliary?
Plenty -There are so many options. One place to start is to once again look at the Directorates pull down menu above. You will see information on many aspects of what it takes to run this organization. We have needs from the local to the national levels. When you attend a Flotilla Meeting, you will hear what 18-11 is working on and where our needs lie. Your mentor will ask you what you like to do, what you wish to learn, and what skills you may have. We need teachers, sailors, cooks, IT people, party planners, shopkeepers, tradesmen, writers, business people, etc. -you name it!

Read this article by Maxine Cavanaugh to learn about our missions and how we can find a place for you to excel and grow! Or watch this video to see some exciting activities we are a part of!

How Do I Start?
Well, you already have! Today you can do a couple of things. Investigate the flotilla and national websites. Check out the programs and calendars. Contact our Flotilla Commander or our Human Resources officer. (They are good people!) Come to a meeting and meet us, we'll make you feel welcome. Go to the Join Us Now! pull down and enter your zip code to find the flotillas nearest you. But don't forget to check us out. Many of our members think we are worth the drive!
Costs of Membership
Membership dues run $45.00 annually. However, for most of us, the biggest cost in the beginning was the purchase of uniforms. Uniforms are also one of the most daunting questions for the new Auxiliarist.
What About Uniforms?
Wearing the uniform is a right and responsibility. However, information can be found under the Human Resources Directorate pull down menu above. As always, the final source for information is the Auxiliary Manual (AuxMan), Chapter 10. You will have to pay for your own uniforms and that can run a couple of hundred dollars. Uniform and certain other costs associated with participation in the Auxiliary can be tax deductible. Consult your tax adviser. The price of the uniform varies depending on the programs in which you choose to participate.
The Human Resources Directorate menu has a guide to the uniform regulations and procurement. The two most common uniforms are the Tropical Blue Uniform (TBU or "Trops") and the Operational Dress Uniform (ODU). There are a variety of ways to acquire these uniforms, the most popular however is to go online to the USCG Uniform Distribution Center. Also remember outerwear! If you wear the uniform in public, you'll need to consider the appropriate cold weather outerwear! To get a proper fit, it is very important to follow the size directions. Beware of buying from other sources! They may not meet the current requirements. Your mentor can help guide your purchase and how to wear and care for the uniform.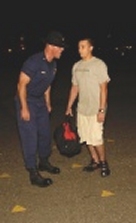 Unlike the rest of the Coast Guard, you won't have the benefit
of this guy to gently and patiently guide in how to wear the uniform!


USCGAUX MANUAL.
NEW MEMBER MANUAL: http://hdept.cgaux.org/pdf/handbook-16DEC10.pdf
REPORT YOUR HOURS OF SERVICE WHICH INCLUDE STUDY AND MEETINGS HERE: http://webforms.cgaux.org/forms/7029/7029_cover.php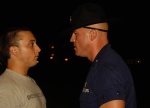 What if I want to do something outside the flotilla?
There are many options for one to offer direct support the Coast Guard and there are several members who do so regularly. Some members spend their winters in warmer climates and participate with other units in the south. Others are active in programs that don't organize through the flotilla level. We value those members too. For most of us, being active in a vital and dynamic flotilla makes for a more satisfying and enjoyable experience. We all still identify 18-11 as: "Our unit".

I don't like being on the water, what else can I do?
One of our big programs includes Public Education in matters of boating safety and seamanship skills. We are always in need of experts in the topic and gifted teachers. If you have teaching experience we can help you develop as a subject matter expert. If you are experienced on the water we can help you develop as teacher and classroom leader. Outreach to the public is another area we are hoping to grow.

Other Opportunities
Our Public Affairs team carries our message to the area community. We have Program Visitors who identify community partners to share our message. We have Vessel Examiners who provide "one on one" assistance to boaters to review the safety features of their watercraft and to be proactive in assuring they are ready to safely go to sea. If you have energy, good people skills and are also willing to put on the uniform to help the public; then we could use your help!

If you prefer to be a: "Behind the scenes type". We have all sorts of administrative needs to keep the unit running smoothly. We need people with skills in writing, IT, photography, and materials management as well as a host of other areas. We provide training and guidance as you learn these critical missions for our unit.

Your mentor will help you learn about all the US Coast Guard Auxiliary has to offer and help you identify places and programs that fit you, help us and serve your country and community too! Like we said: It starts right here!

To join Flotilla 18-11 or find out more information about one of the most active flotillas in the Detroit Area contact our Flotilla Commander
Kyle Corcoran
(248) 242-1209
Contact Email: Anisekyle@gmail.com
Thank you!
The Members of District 9 Central, Flotilla 18-11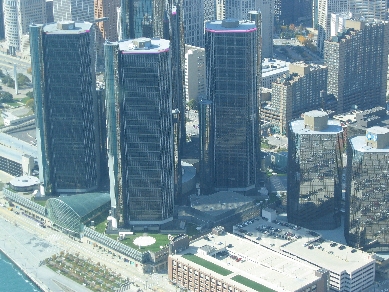 Downtown Detroit RenCenter Buildings on the Detroit River from the air!