Flotilla Commander's Message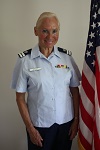 Welcome to the U S Coast Guard Auxiliary Flotilla 37, Washington, and webpage. We hope you will check us out and come to one of our monthly meetings. We meet at 103 Elm Street in Washington, MO at 7:00 PM on the third Tuesday of the month. Please feel free to contact us at the left column links for telephone numbers and email addresses.
We are a member of Western Rivers Division and the 8th Western Rivers Region District. We are located in Washington, Missouri on the Missouri River at mile marker 68.We serve Franklin County to include the MO River from mile marker 50 to 104 assisting any boaters in trouble.We also patrol the Mississippi River, Alton pool, and nearby lakes to include Lake of the Ozarks.We actively perform courtesy vessel safety exams, teach boating safety classes for the public, and visit marine dealers to provide them boating safety information. We do Public Affairs events to promote boating safety and we have several fellowship events.We assist and support the active duty U S Coast Guard. The U S Coast Guard is an armed maritime service with military, law enforcement, marine environmental protection, preventive safety, and search and rescue missions. The U S Coast Guard Auxiliary is a uniformed civilian volunteer service assisting the U S Coast Guard in all their missions except for law enforcement.
The flotilla is always looking for new members, especially those with boats for patrols. We train auxiliary personnel to perform search and rescue missions. However, you do not have to have a boat to join. We have other mission areas to keep non-boaters busy. We offer our boats to the Coast Guard as operational facilities. The Coast Guard reimburses us for fuel and provides us personal safety equipment for our missions. They also cover us for liability issues.
The flotilla was originally formed in 1942 to support the war effort in the St Louis area. The flotilla was located in South St. Louis on the Mississippi River and helped the Coast Guard with port security and other duties. As membership changed over the years, the flotilla moved to Washington, MO. The 8th District Auxiliary covers a 16-state area here in the Midwest to include the Mississippi River, the Missouri River, the Illinois River and all their tributaries. It further covers many lakes in the area to include Lake of the Ozarks.