Elected Officer and Staff Duties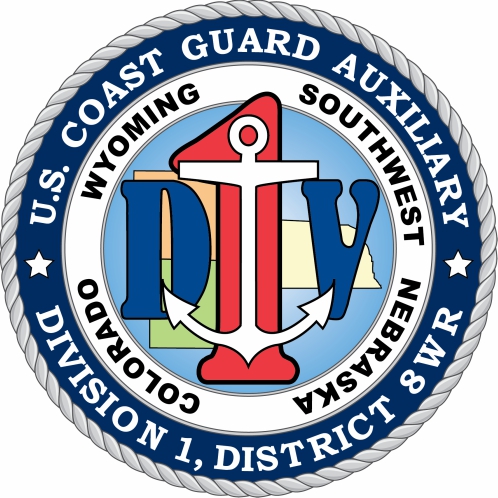 United States Coast Guard Auxiliary Division One
8th District, Western Rivers Region
---
2018 Division Officers
R. Patrick Hickey, Division Commander (DCDR)
Steven R. Riddell, Vice Division Commander (VCDR)
Jeffrey G. Geddes, Immediate Past Division Commander (IPDCDR)
Flotilla Commanders
Flotilla 1-1, Charles O. Hailbronner, Flotilla Commander

Flotilla 1-2, Thomas Bellinger, Flotilla Commander

Flotilla 1-4, Steve Cohan, Flotilla Commander

Flotilla 1-6, Deborah Green DR, Flotilla Commander

Flotilla 1-10, Barry C. Siegel, Flotilla Commander

Flotilla 1-11, William R. Furbee, Flotilla Commander
Division Staff Officers


(SO-FN) Penny A. Conyers, Finance
(SO-MA) Andrew Lucas, Materials
(SO-SR) Dorene E. Wendland, Secretary/Records
(SO-DV) Kim Watson, Diversity
(SO-IS) COMO Karel Kester, Information Systems
(SO-CS) Steven R. Riddell, Communication Services
(SO-CM) Douglas Parker, Communications
(SO-HR) Steven T. Liddy, Human Resources
(SO-PA) Howard H. Hillman, Public Affairs
(SO-PB)
Howard H. Hillman

, Publications
(SO-MS) Thomas Larson
, Marine Safety
(SO-NS) Wes Morosco, Navigation Systems
(SO-MT) Carl D. Koonsman, Member Training
(SO-VE)
Steven R. Riddell

, Vessel Examinations
(SO-PV) Frank H. Merrill, Program Visitors
(SO-PE) Thomas Bellinger
, Public Education
(SO-OP) Thomas Larson, Operations
Chief of Logistics, Gail Redin
Chief of Prevention, Carl Koonsman
Chief of Response, Thomas Larson
General Goals and Duties for all Division One Staff Officers:
This list of General Goals and Duties is not intended to replace the job description for
each staff officer contained in the Auxiliary Division Procedures Guide, COMDTPUB
P16791.3. Rather it is presented to focus Division One Staff Officers on priority issues
within Division One.
1. Communicate with your respective Chief and fellow staff officers to ensure that your
program is implemented and run in an effective manner that will help attain these
2017 Division One goals.
2. Contact your District staff counterpart for coordination and technical assistance.
3. Create an online mailing list of Flotilla Staff Officers in your area of responsibility and
use it at least monthly to determine their program needs. Provide support and
guidance as needed.
4. Attend all Division meetings. At least 1 week prior to the Division Meeting, provide a
quarterly report of your program activities to the, Division Commander, Vice Division
Commander, all Flotilla Commanders and SO-SR. If you are unable to attend the
Division meeting, notify your Chief in advance to deliver your written report to the
Division.
5. Maintain the necessary records required by your job. These records, property and
any associated job publications will be passed to your successor. This is necessary
to insure continuity in your area of responsibility.
6. Know the reports required in your area. A sample Division report can be found in the
Auxiliary Division Procedures Guide. Insure that reports are complete and submitted
on time. These reports are the only contact some Staff Offices have with Division
and the District. Make sure the Division and the District knows they are dealing with
an outstanding Staff Officer and an outstanding Division.
7. Assure that all required workshops needed to maintain qualification are conducted
timely to avoid delays in program execution and loss of qualification. Encourage
presentation of optional workshops.
Specific Goals and Duties for Division One Staff Officers:


This list of Specific Goals and Duties is not intended to replace the job description for
each staff officer contained in the Auxiliary Division Procedure Guide, COMDTPUB
P16791.3. Rather it is presented to focus Division One Staff Officers on priority issues
within Division One.
Communications –
Encourage the obtaining and use of additional radio facilities.
Ensure that all Auxiliary radio facilities are listed in POMS.
Ensure that every activation of an Auxiliary Radio facility is under Coast Guard orders.
Work with the SO-MT to encourage increased member participation in communication training and qualification as communication specialists.
Communication Services –
Unless otherwise directed, create and maintain a Division Website that is in full compliance with Auxiliary Web policies.
Utilize social media outlets.
Coordinate and cooperate with the Division Staff Officers, (SO) for Publications (PB) and Public Affairs (PA), to ensure that both electronic and printed media are used to their fullest extent in providing information to the membership and to the boating public
Ensure that Flotilla Websites are in full compliance with Auxiliary Web policies.
Foster interest in electronic communication among the members.
Encourage and facilitate the use of electronic communication throughout the Division.
Diversity –
Will ensure that the Strategic Plan for Managing Diversity is carried out and work to drive diversity throughout the Division.
Will compile, track and review all diversity statistical information for the Division and report said information to the DSO-DV and be the contact for all information on the NACO 3 Star Award for Excellence in Diversity.
Will be responsible for conducting and coordinating all Division level training in the areas of Diversity.
Will work with any and all Division staff for outreach, recruiting and training in all areas served.
Will submit highlights of diversity information and best practices to the Division members for use and implementation as a part of member recruitment.
Will solicit information and pass along ideas up the chain and onto the Auxiliary Diversity Leadership Council.
Will be a role model and leader in the creation of a comprehensive approach to behavior and attitude change for all leaders.
Finance –
Keep a complete and accurate accounting of funds.
Promptly pay Division One invoices as approved.
Work within the budget approved by the Division Board.
Human Resources –

Assist Flotillas with the recruitment and retention of members.
Forward all potential member information to the respective FSO-HR's for their follow-up.
Maintain records of all referrals.
Use Coastie as a recruiting tool.
Work with the SO-MT to ensure that any required HR workshops are conducted properly.
Information Services –

Insure that member information is current, accurate and updated in a timely manner in POMS, AUXDATA, AUXINFO and e-directory as appropriate.
Insure that annual awards are properly calculated and awarded.
Marine Safety –

Obtain and forward MS/MEP information to FSO-MSs and DSO-MS on a monthly basis. Provide copy of the information to the Chief of Prevention.
Provide assistance to others (SO--‐MT and FSO–MSs) with any workshops, seminars and training related to MS/MEP.
Materials –

Place orders in a timely manner and follow-up to insure members receive their order(s).
Maintain accurate and up-to-date inventory records.
Insure that Division staff officers receive the Auxiliary Division Procedures Guide at the beginning of their elected term in office.
Member Training –

Through the FSO-MTs and FSO-HRs, direct and promote an aggressive basic qualification program for new Members. Do not consider this program complete for each new Member until that Member has achieved "Basically Qualified" status.
Direct and promote aggressive training for the Surface Operations Program.
Coordinate training, workshops and priorities with the SO-OP.
Anticipate needs and arrange for Mentors, QEs and other specialists.
Arrange for training facilities, equipment, vessel facilities and Crews, etc.
Through FSO-MTs, encourage and promote a continuous MT program, including but not limited to training at Flotilla meetings, development of annual
Member training plans, etc. to advance the general goals of the Auxiliary.
Encourage FSO-MTs to assess specific Flotilla training needs for qualifications, in conjunction with FCs and VFCs, FSO-PVs, FSO-OPs, FSO-PEs and other Staff Officers, as needed or requested.
Encourage and assist with an ongoing Specialty Course program with the goal of qualifying one new AUXOP in each Flotilla annually.
Ensure that all training activities are conducted safely and under orders, when required.
Provide the training program for the annual Operations Exercise (OPEX). (There is a Division publication designed to assist with this duty.)
Operations –

Exercise staff responsibility over the Division's surface and air operations, including SAR, Regattas and Safety Patrols.
Work with the SO-MT to accomplish the goals of the Division One OPEX planning guide.
Work with the SO-MT to develop and encourage training in SAR procedures for airs/surface/communication, facilities and crews.
Ensure that every deployment of an operational facility for any activity on behalf of the Coast Guard or Auxiliary is under Coast Guard reimbursable or non-reimbursable orders.
Navigation Services –
Exercise staff supervision and responsibility for chart updating patrols, verification of private aids to navigation and the prompt reporting of discrepancies in aids to navigation (ATON) using Aids to Navigation Report (ANSC 7054), chart discrepancies and chart updating information using NOAA Form-77 (ANSC 7037), and to inform division members of all developments.
Foster interest for members to maintain their own navigational publications in an up-to-date condition.
Program Visitors –

In conjunction with the SO-MT aggressively pursue PV qualifications for new Members.
Monitor performance by all qualified PVs to ensure that the requisite numbers of visits are made annually to maintain qualifications.
Provide leadership and assistance in identifying websites, newsletters and other sources of PV information, assuring that the sites and information is passed on to FSO-PVs.
In conjunction with the FSO-PVs, review the list of possible sites where the program might be effective, and assure that these sites are covered by a PV in that area.
Public Affairs –

Establish effective working relationships with newspapers, radio and television media in a manner that will facilitate coverage of Auxiliary activities.
Utilize and encourage Coastie use and training to promote Auxiliary exposure.
Encourage member participation in PA events.
Publications –

Publish the Division Publication "First Watch" at least twice in 2015.
Use First Watch to assist in the recruitment and retention of members.
Public Education –

Establish public education goals and objectives for the Division along with the necessary plans to achieve those goals. Develop PE goals that are measurable and maintain a periodic review of the progress.
Coordinate with the SO-MT to ensure that any required IT workshops are properly conducted.
Monitor the Division education schedule, update as necessary and coordinate with Flotillas to ensure instructors are available and classes can be conducted.
Cooperate with the SO-PA to encourage programs and activities to promote and publicize boating safety and PE courses in school systems, camps, clubs and industry groups.
Coordinate with SO-PA and FSO-PEs to encourage the presentation of the Auxiliary and Auxiliary membership, to the students of each PE course.
Establish an aggressive program for training new instructors and incorporating them into the PE program.
Vessel Examinations –

In coordination with the SO-MT and FSO-MTs and FSO-VEs, promote an aggressive program to qualify new Vessel Examiners in each Flotilla annually.
Assist the SO-OP to complete 100% of the vessel facility examinations well in advance of the operating season.
Secure all needed materials and distribute them to the FSO-VEs well in advance of the boating season. These include but are not limited to forms, decals, banners, Auxiliary membership material, state regulations, discount coupons for safety equipment, etc.
Identify those VEs who may not complete five examinations annually and thus could lose their VE qualifications.
Encourage FSO-VEs to coordinate with FSO-PAs to publicize VE-related events such as ramp days, National Safe Boating Week, etc.